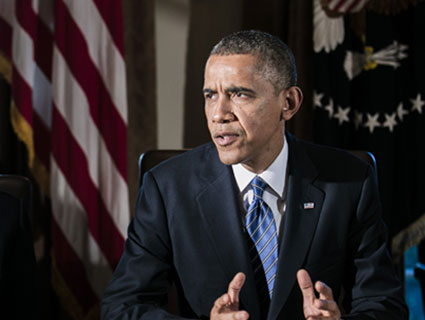 Fight disinformation:
Sign up
for the free
Mother Jones Daily
newsletter and follow the news that matters.
In the ongoing bout between President Obama and House Speaker John Boehner—call it, the fiscal bluff—the main focus, as far as the media coverage goes, has been the Bush II-era tax cuts for the wealthy. (As Bloomberg reported, Obama "will make no deal on the country's fiscal future unless congressional leaders first accept tax-rate increases on top earners.") Obama has indeed insisted marginal tax rates for the rich go up to boost deficit-busting revenue, and he advocates a return to the levels of the booming Clinton years, with the tax cuts for the lower 98 percent extended. Boehner has countered with a vague offer to raise revenues but only by closing loopholes (which he will not identify) while lowering tax rates for the wealthy and nonwealthy. If the president stands fast on this position, as his aides assert he will, there will be no agreement unless Boehner yields. But there is another red line for Obama: the fiscal debt ceiling.
White House aides maintain that the president will not accede to any pre-cliff accord that does not avert a repeat of the last debt ceiling debacle. "He's unequivocal on this," a senior administration official says. For Obama, it's personal and it's historical: He's committed to preventing the House Republicans from once again holding him hostage and bolstering the precedent that Congress can use the debt ceiling to blackmail a president.
This past weekend Treasury Secretary Tim Geithner hit the Sunday talk show circuit to tout Obama's proposal for deficit reduction and spending, and he repeatedly noted that the president's package includes extending what's become known as the McConnell Provision, named after Sen. Mitch McConnell (R-Ky.), the wily Republican leader in the Senate. During the last dustup over the debt ceiling in the summer of 2011—when Republicans were insisting that Obama sign off on drastic spending cuts, or otherwise they'd refuse to raise the debt ceiling and prompt a default (which could lead to a global financial crisis)—McConnell cooked up a detour around the impasse. Under his plan, the president would request a hike in the debt ceiling (to pay the bills already accrued by Congress!) and then Congress would have a chance to disapprove. If Congress did so, the president could veto the measure, and the debt ceiling would be raised. Only if Congress mustered a veto-overriding two-thirds majority could it block the president from lifting the debt ceiling. With this provision, McConnell offered his fellow GOPers an escape route: They could vote against raising the debt ceiling without bearing the responsibility for triggering a financial panic. And that's what the tea partiers did.
"I want to send a very clear message to people here," President Obama said on Wednesday. "We are not going to play that game next year. "
Now Obama is saying that what was good enough for that near-crisis is all right by him for the next debt ceiling showdown. He and Geithner are proposing to extend the McConnell Provision to cover the pending debt ceiling tussle, which could come within weeks, and future ones. "[T]he virtue of that mechanism proposed by Sen. McConnell, a man of impeccable conservative credentials, is to make sure that the country is not left at risk of periodic threats of default," Geithner said on Meet the Press, laying it on thick. "It's a very good idea. It was a Republican idea. And we're suggesting they extend it." A subsequent posting on the Treasury Department's blog noted that adopting this idea would "remove politics from future debt limit debates, while preserving Congress' essential role in spending revenue, and borrowing decisions." (The post included a handy chart on how the McConnell Provision works.)
During a Wednesday morning meeting with business leaders, Obama was blunt: "I want to send a very clear message to people here. We are not going to play that game next year. If Congress in any way suggests that they're going to tie negotiations to debt ceiling votes and take us to the brink of default once again as part of a budget negotiation, which, by the way, we have never done in our history until we did it last year, I will not play that game."
The public comments from Geithner, Treasury, and the president do not fully reflect how passionate Obama is on this matter. "He really means it," a senior administration official insists. And Obama's top aides have seen him in private display fervor regarding this issue. During a meeting with his senior aides in the middle of the prolonged and heated negotiations in the summer of 2011, Obama let them know that he believed the debt ceiling face-off was in part a fight to save his presidency and those of future chief executives.
At that time, Obama was holding daily bargaining sessions with Republican and Democratic congressional leaders to resolve the debt ceiling crisis and possibly to craft a "grand bargain" budget agreement that would include tax revenue hikes, spending cuts, and reductions in entitlement programs. But with the talks not yielding much progress, Republicans—and some Democrats—were raising the prospect of proceeding with a short-term extension of the debt ceiling. On July 13, 2011, as Obama gathered in the Oval Office with Geithner, then-budget chief Jack Lew, senior economic adviser Gene Sperling, and other aides to prep for the next meeting with the legislators, he drew a line, telling his advisers, "I want to make something clear. I'm not going to accept a short-term extension of the debt." There was no way, he insisted, he would go through this again in 3, 6, or 12 months—certainly not before the next election.
Obama's aides empathized with him but explained that the president might have to yield on this to secure a deal that dodged a default. "I'm not doing it again," Obama said. "This is wrong."
Obama believed a constitutional principle was at stake: If the Republicans could threaten default to get their way on budget issues, it would distort the separation of powers. This was not what the framers of the Constitution intended, he believed. Moreover, it was embarrassing for the United States. He was determined to prevent this scenario from occurring again.
His aides could see that Obama would not bend. He was willing to go to the brink. Toward the end of that day's meeting with Hill leaders, when House Majority Leader Eric Cantor raised the idea of a short-term extension, Obama angrily said, "I'm not going to do it. We're not putting the country through this again. Don't call my bluff."
Through the subsequent weeks of those negotiations, Obama stubbornly held to this position, and the final deal ended up with the McConnell Provision and no short-term extension. Fast forward 16 months, and Obama is again (for the time being) sticking with a version of this demand.
Republicans and conservatives who fret that Obama may get his way on tax cuts—after all, the Bush tax cuts for the rich will disappear at the end of the month if there is no deal—have pointed to the debt ceiling, which will have to be raised in the next month or two, as the true showdown, threatening again to block an increase in the debt limit unless Obama buckles on spending and entitlements. Yet Obama seems willing to have this throw down with Boehner, McConnell, and the Republicans and blame them for endangering the credit rating of the United States and possibly causing a financial crisis. He certainly knows that the Rs took a bigger hit in public opinion polls at the conclusion of the 2011 debt ceiling fiasco than he did. Obama's resolve to thwart the Republicans on this front has not been widely noted, a senior administration official says, because "the emphasis has been on tax cuts with the December 31 deadline."
At the moment, the president appears to have the better hand on taxes. Consequently, he has the opportunity to bargain toughly with the GOPers and eschew a deal that doesn't meet his fundamental demands. If no agreement is reached by December 31, the odds are not bad that in the following weeks he and the Democrats, with the acquiescence of a sufficient number of Republicans, can succeed in enacting legislation that lowers tax rates for only those making under $250,000.
Yet if no deal covering the debt ceiling is hammered out by New Year's, a new game of chicken will ensue—one that has more potential to cause a financial calamity and one that would test Obama's determination to shield his presidency from GOP hostage taking. It could well make the current fiscal cliff seem like no more than a molehill.