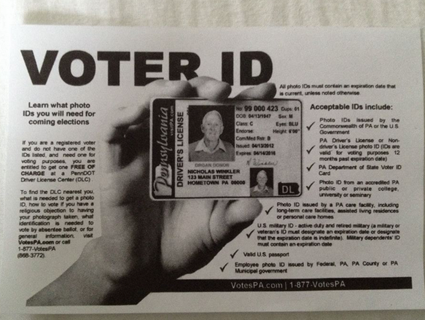 Fight disinformation:
Sign up
for the free
Mother Jones Daily
newsletter and follow the news that matters.
Pennsylvania is quickly emerging as the national epicenter of voting chaos. In addition to epic lines, voting machine malfunctions, and what voting rights advocates describe as a possible "unreported purge of voters," Mother Jones has received numerous reports of voters being asked to show ID at the polls. In March, Pennsylvania passed one of the strictest voter ID laws in the country, but last month a state judge blocked it from taking effect until 2013.
Nevertheless, voters across the state report encountering signs and election volunteers requesting identification. Even the polling place in Shaler where Pennsylvania Gov. Tom Corbett voted this morning boasted a hand-scrawled sign informing voters to be prepared to show a photo ID, a poll worker at the precinct told Mother Jones.
The main source of confusion is the court ruling itself: While it temporarily halted the law from being implemented, it also said that poll workers in the state must ask voters if they have a photo ID. Voters, however, aren't required to show it. If they refuse, they receive a handout about the law, explaining what to expect during forthcoming elections. Perfectly logical, right? How could anything go wrong?
As you can imagine, this convoluted court ruling has led to widespread confusion among poll workers and voters alike, and indignant Pennsylvanians have bombarded Mother Jones with on the ground reports of being asked for ID at the polls. Some knew they weren't required to show it. Others didn't. Some poll workers were aware of what the law was. Others not so much. In other words, chaos. Pennsylvania's Republican-led Department of State added to this mess by erecting scores of billboards suggesting that voters would need ID to vote.
Dylan Blystone, a 24 year-old who voted in Union City had this story to tell: "Almost as soon as I walk in I was told that you might not be required to show ID in other places, but you have to show it here." Poll workers didn't just ask if he had ID, as per the law, they said he had to show it in order to vote. Blystone then approached an election supervisor, who told him that actually no, you don't need an ID to vote.
Kimberley Shore voted today at Kenhorst Borough Hall in the southern part of the state. When she was asked for an ID, she refused, telling the poll worker she knew full well the law isn't in effect yet. "They said okay, we are just practicing," she wrote Mother Jones in an email. "This really doesn't sit well with me…I don't doubt the senior ladies were practicing…but what if I didn't know the law was stayed? How do I know someone won't be turned away during their 'practice'?"
"Talk about mixed messages being sent to Pennsylvania voters," wrote Kip Ruefle who voted in Glenshaw, and had a similar experience.
Another Pennsylvania voter told Mother Jones that when he and his mother visited their Lancaster polling location today, they were asked for not just one form of ID, but two: "We are registered to vote and our names were in the signature book," he said. "We both provided photo IDs, but the polling helper said it was not good enough and tried to turn us away. We asked her why and received no answer. We asked the election judge and he wanted us to fill out an affirmation form even though our address has not changed. We signed the form and were finally able to vote. I also noticed that no one else was asked for a photo ID, and there were no signs on the premises indicating that they were required. I do not understand why this happened, but I hope it doesn't happen to anyone else."
It's not just voters who are fed up. Some poll workers are, too. When Lily Roblin voted in Emmaus, a poll worker asked her if she had ID. "I only got as far as saying, 'Yes, but I am not required—' before [the poll worker] said she knew, she was really frustrated that she had to ask," Roblin recounts. "She said everyone was very confused, and it had been a difficult day at the polling station because of this."
A database of voting complaints maintained by the Election Protection Coalition contains more than 300 reports of people having problems related to ID requirements at Pennsylvania polling sites.
Tamping down Democratic turnout seems to have been the point of Pennsylvania's voter ID bill in the first place. The state's House majority leader, Republican Mike Turzai, candidly acknowledged this when the voter ID law passed back in March, saying that that it would "allow Gov. Romney to win the state of Pennsylvania." Pennsylvania leans blue, but it hinges on turnout. Muhlenberg College pollster Chris Borick told RealClearPolitics, "If Republicans pull an upset in the state, it would all be about turnout." While the voter ID law was blocked, it could potentially still achieve the same effect.
It's unclear how many people may have been discouraged from casting their votes today, but Rebecca Goldman, who voted in Philadelphia, tells Mother Jones she nearly got tricked. When poll workers told her she needed a valid photo ID, "I presented my university employee ID, which they said wasn't valid because it didn't have an expiration date. They tried to get me to fill out a provisional ballot, but I refused. When I started crying, they decided to let me vote after all."