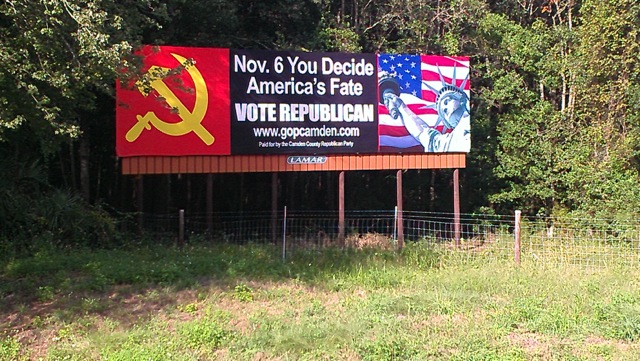 Camden County, Georgia, don't need none of that smart-growth communism. That's the apparent message behind this billboard, flagged by Mother Jones reader and Camden County resident John S. Myers. "Nov. 6 You Decide America's Fate," the billboard's copy blares, with a US flag-and-Statue-of-Liberty collage pasted on its right wing… and a hammer and sickle emblazoned on the left. "VOTE REPUBLICAN," it concludes, with a smaller message below: "Paid for by the Camden County Republican Party."
Anyone who's shuttled back and forth on the byways linking North Florida to Georgia and South Carolina has probably seen dozens of billboards like this, but rarely do they come directly from the GOP. It could be another sign of the party's rightward march into Bircher and birther territory. Just last week, a Virginia county Republican party came under fire for distributing Photoshopped images depicting President Obama "as a witch doctor, caveman and thug."
The Camden County Republican Party's website links to a rambly blog post, "Defeating Obama's Socialist Agenda," that calls Woodrow Wilson "the father of democratic socialism" and suggests Wilson got his income-tax idea straight out of the Communist Manifesto. President Obama, the post concludes, is continuing an "American socialist propaganda" campaign of "Leftist Tyranny versus Essential Liberty." (Next, he'll take away your freedom to capitalize unnecessarily!)
The message is especially strange here, given that Camden County's main economic engine is the federal government—namely Kings Bay Naval Base, home to half of the US Navy's nuclear submarine fleet and America's second-largest arsenal of atomic weapons; a massive contingent of Marines and sailors safeguards roughly 2,000 nuclear warheads there.
I left a message for Mike Harris, chairman of the county GOP, asking for his thoughts on the billboard, as well as how the 15 percent of seniors living below the poverty line in Camden County might thrive once Republicans liberate them from their commie Medicare and Social Security checks. So far he hasn't responded; I'll let you know if he does.
In the meantime, if you happen to see a particularly wingnutty piece of electioneering propaganda, pass it on!