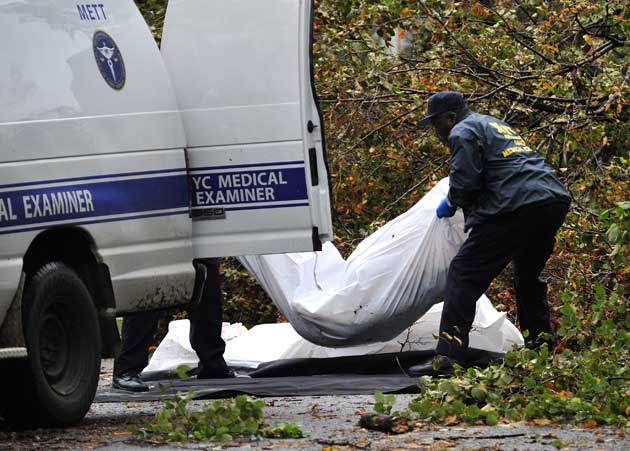 This explainer has been regularly updated; click here for the most recent post.
Some are calling it a "Snoreastercane." Others have dubbed it a "Frankenstorm." Whatever its nickname, Hurricane Sandy is bringing gale-force winds, flooding, heavy rains, and possibly even snow to the Eastern seaboard. 
---
UPDATE 21, 5:30 p.m. EDT, Thursday, November 1: Limited bus and subway service returned to New York City Thursday morning, but cars remained one of the only options for moving between boroughs. As a result, the streets of Brooklyn—which normally depends heavily on public transit—were overwhelmed with drivers, and they were all looking for one thing: gas. But the city's main artery for this staple, the Port of New York, was closed during Hurricane Sandy and only just re-opened, leading to massive shortages, closed stations, and excruciating—and tense—lines for the pump.
The Climate Desk was on the scene in Brooklyn earlier today:
UPDATE 20, 11:55 a.m. EDT, Thursday, November 1: The Climate Desk team visited one historic high-rise apartment in Manhattan where residents were running perilously low on water, food, and patience:
UPDATE 19, 2:15 p.m. EDT, Wednesday, October 31:
The Climate Desk team headed over to Breezy Point, Queens, to survey the damage from the neighborhood's massive fire and flooding:
Sandy's strength will continue to weaken throughout the next 24 hours, but the storm's impact continues to linger. The US death toll has risen to 59, with 26 in New York City, including a young couple killed by falling trees in Ditmas Park Monday night. At an afternoon press briefing, Gov. Cuomo reiterated his belief climate change is responsible for the power of this storm saying, "I think part of learning from this is the recognition that climate change is a reality." The Washington Post's Capital Weather Gang has a good round up of weather related stats from Sandy.
More than 8 million people remain without power, and utility companies say it might be a week before power is fully restored in New York. City buses resumed full service this morning, and limited subway service is expected to resume on Thursday. JFK and Newark Liberty International airports re-opened with limited service this morning (LaGuardia remains closed), and Mayor Bloomberg rang the bell to reopen trading this morning at the NYSE. IHS Global Insight's latest estimate of the cost of damages from Sandy is $20 billion in property damages and $10 to $30 billion in lost business.
In an interview with Bloomberg Businessweek, Rick Ostfield of the Cary Institute of Ecosystem Studies in Millbrook, NY expressed concern about how the historic flooding has likely displaced hundreds or possibly thousands of rats, which could lead to the spread of rat-borne diseases: "You get infected individuals mixing with uninfected individuals and that's a recipe for an outbreak."
People continue to take to Twitter to document the aftermath of the storm: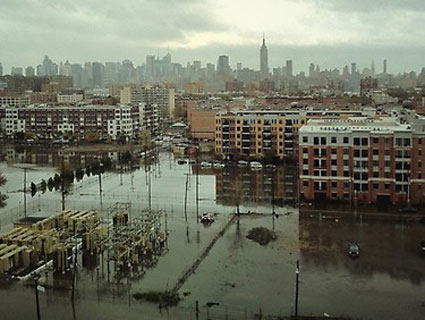 The disaster zone formally known as Hoboken. Some areas still have waters chest deep and no power. #sandy # instagr.am/p/Rcrp2RBbco/

— jacob santiago (@jacobsantiago) October 31, 2012
Evacuating SW #Hoboken, NJ. Clinton & 2nd #sandy Oct 31 @nydailynews instagr.am/p/RdHURTnxha/

— Claus Guglberger (@clausg) October 31, 2012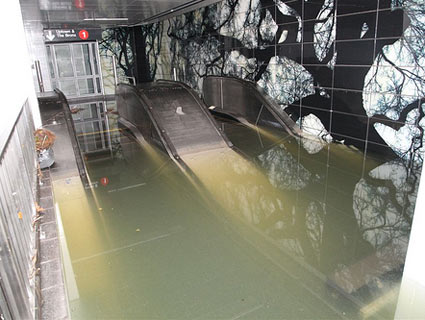 Photos showing damage to the MTA New York City Transit system in the aftermath of Hurricane #Sandy. flic.kr/p/dprpQv

— MTA (@MTAInsider) October 31, 2012
---
UPDATE 18, 10:15 p.m. EDT, Tuesday, October 30:
The US death toll from Hurricane Sandy has now climbed to at least 50, including numerous victims killed by falling trees. Millions are still without power up and down the Eastern seaboard, including 684,000 in Manhattan. Con Ed officials called Sandy the worst storm in the company's history. An explosion at a substation on the east side of Manhattan on Monday night led to the outages in Manhattan south of midtown. John Miksad, Con Ed's senior vice president of electric operations, told the Wall Street Journal that the equipment is under several feet of water and operators are in rowboats working to pump it out, and that it could take up to a week to restore power to parts of Manhattan. Con Ed customers outside the city who lost power due to downed lines and trees may be without power for up to two weeks.
The industry forecasting firm IHS Global Insight is estimating that the superstorm could cost up to $50 billion in damages and lost business.
In Brooklyn, pedestrians are steering clear of standing water for fear of toxic sludge that could contain heavy metals and human waste. An apiary at the Brooklyn Navy Yard was destroyed, and 1 million honeybees were lost. A representative of the Brooklyn Grange, which managed 25 of the hives each containing about 40,000 bees, called the loss catastrophic.
Around Manhattan, people were gathering around power outlets.
What an interesting future we live in: "@zephoria: People huddled around power outlets in nyc charging devicestwitter.com/gilgul/status/… #Sandy

— Janna W. (@jannaw) October 30, 2012
The superstorm dumped three feet of snow in parts of West Virginia.
1st Halloween snow storm of the year via #Sandy. Courtesy of lil sis from West Virgina. twitter.com/dmgirt/status/…

— Jesse Martinez (@dmgirt) October 30, 2012
For the first time since 1888, the New York Stock Exchange was closed for two consecutive days.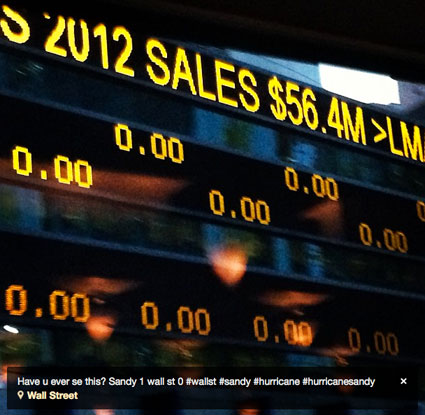 Have u ever se this? Sandy 1 wall st 0 #wallst #sandy #hurricane #hurricanesandy@ Wall Street instagr.am/p/Ra8eGaiCpw/

— dean bertsos (@deanbertsos) October 30, 2012
The storm made landfall along the Jersey shore.
Northern portion of AC's Boardwalk post-hurricane. #Sandy #njsandy #sandynj twitter.com/NewsWorksNJ/st…

— NewsWorksNJ (@NewsWorksNJ) October 30, 2012
yo this is no joke #Pray4NJ #sandy twitter.com/RealAndrewRile…

— Andrew Riley (@RealAndrewRiley) October 30, 2012
The WSJ's Eric Holthaus has been a steady hand from the build up to the storm and through its aftermath, though he cites Wikipedia in this tweet.
At >8 million customers, it appears #Sandy has caused the most power outages of any hurricane in US History. Ike #2 bit.ly/SaSOep

— Eric Holthaus (@WSJweather) October 30, 2012
---
UPDATE 17, 1:45 p.m. EDT, Tuesday, October 30:
During a press conference this morning, Gov. Cuomo directly linked Hurricane Sandy to climate change, saying, "There has been a series of extreme weather incidents. That is not a political statement, that is a factual statement. Anyone who says there is not a dramatic change in weather patterns I think is denying reality."
The Associated Press is reporting that Sandy's US death toll is up to 33 and there are at least 7.4 million without power. Check out this interactive from the New York Times to see where damage was done to the city. More than 80 homes were destroyed in a fire in Breezy Point in Queens on Monday night, and there were reports of fires in Long Island as well.
House destroyed by fire. Flood prevented Massapequa FD from saving it. #Sandy twitter.com/TonyAielloNY/s…

— Tony Aiello (@TonyAielloNY) October 30, 2012
Flooding continues throughout New Jersey and New York, as well as property damage from fallen trees.
Taxi terminal in #Hoboken, NJ. @abc7news #Sandy #NYC @tvnooz #weather twitter.com/SteveRudinABC7…

— Steve Rudin ABC7 (@SteveRudinABC7) October 30, 2012

Historic section Montclair, NJ 10/30/12 After #Sandy instagr.am/p/RaeOz1i-Eb/

— Susan Durrwachter (@DespSeekSusan) October 30, 2012

#hurricane #sandy #destruction #terror #mayhem #nyc @ Park Slope instagr.am/p/RadaOlJjFR/

— Iz Real (@MrIzReal) October 30, 2012
---
UPDATE 16, 10:56 a.m. EDT, Tuesday, October 30:
There are many crazy storm photos popping up online–some legit, some fakes. They seem to be confusing many people; a friend working abroad says her colleagues keep asking her if there are really sharks swimming in the NYC subway system. In service to the public, both Buzzfeed's Katie Notopoulos and The Atlantic's Alexis Madrigal have posted great real-time fact-checking on some of the most unbelievable photos. Please check these out before tweeting any wild photos: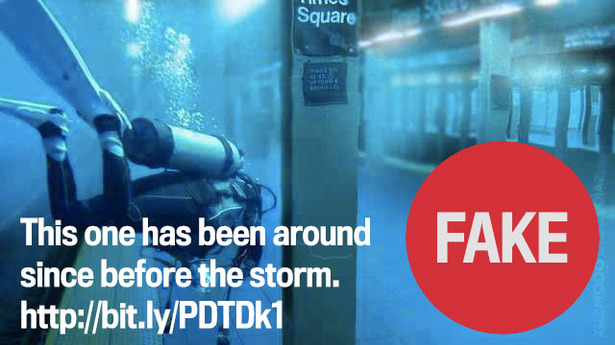 UPDATE 15, 10:15 a.m. EDT, Tuesday, October 30:
In television appearances Tuesday morning, New Jersey's Republican Gov. Chris Christie praised the federal government's response:
"The federal government's response has been great. I was on the phone at midnight again last night with the President, personally, he has expedited the designation of New Jersey as a major disaster area," Christie, a top surrogate for Republican presidential candidate Mitt Romney, said on NBC's "Today."
He added, "The President has been outstanding in this and so have the folks at FEMA."
On MSNBC's "Morning Joe," Christie was equally laudatory, saying "the President has been all over this and he deserves great credit." Obama, he said, "told me to call him if I needed anything and he absolutely means it, and it's been very good working with the President and his administration."
UPDATE 14, 6:58 a.m. EDT, Tuesday, October 30:
President Obama has issued a disaster declaration for New York and surrounding counties, USA Today reports, making federal aid available for those areas. In Bergen County, New Jersey, emergency responders are battling a levee breach that has reportedly sent several feet of water into three towns, and in Breezy Point, Queens, a six-alarm fire has destroyed nearly 60 homes. Up to 7 million are now without power; you can check which areas are blacked out on the Google Maps team's Sandy map. The storm is expected to keep battering the East Coast all the way into Ontario, but winds are predicted to weaken through the day. 
UPDATE 13, 1:45 a.m. EDT, Tuesday, October 30:
CNN tallies at least 13 US deaths so far; the New York Times reports "once-in-a-generation flooding." Several sources say that a New York City ConEd plant exploded earlier this evening, causing massive power outages in lower Manhattan. Outlets are also reporting a large fire in the Breezy Point section of Brooklyn.
In a statement early Tuesday morning, MTA chairman Joe Lhota said, "The New York City subway system is 108 years old, but it has never faced a disaster as devastating as what we experienced last night."
Meanwhile, the National Weather Service predicts continuing high winds in New York and New England, more heavy rain in the mid-Atlantic, and 2-3 feet of snow in the mountains of West Virginia.
UPDATE 12, 8:30 p.m. EDT, Monday, October 29:
The water is starting to recede at New York City's Battery Park, but the worst dangers of the storm may still be ahead. New York University Hospital lost power and has had to begin evacuating patients. Since many patients at the hospital are in poor health and some are on ventilators, the evacuation is very dangerous. (WYNC's Fred Mogul reported that the hospital's backup generator failed.) The New York Fire Department has tweeted that firefighters are on the scene at Coney Island hospital and there is no fire, despite earlier reports. There are unconfirmed reports of trouble at other area hospitals.
The Metropolitan Transit Authority has confirmed that there is water in the subway tunnels under the East River—an event that the New York Times reported in September could be a $55 billion disaster. Charles Seaton, a spokesman for the MTA, told the Weather Channel on Monday night that it would take a "significant amount of time" to get subways running again. And Long Island is now completely cut off from the mainland: all bridges and tunnels are closed.
UPDATE 11, 7:15 p.m. EDT, Monday, October 29:

Hurricane Sandy made landfall in southern New Jersey just after 6 p.m. EST, and is quickly moving towards New York City. Approximately 3,000 people have not yet evacuated Atlantic City and according to Politico, Governor Christie has said, "They're going to have to ride out the storm there until at least 7 o'clock tomorrow morning. I cannot in good conscience send rescuers in as the storm is about to hit, nor can I send them in the dark given all the various hazards that would potentially occur for them."  Sandy is expected to hit New York at 8 p.m. Governor Cuomo ordered the closure of NYC bridges at 7 p.m. and warned that, "the worst is still coming." 
There is record breaking storm surge flooding in Battery Park, in lower Manhattan:
#NYC | ALERT: Lower Manhattan is submerged #Sandy twitter.com/HC_Sandy/statu…

— Hurricane Sandy (@HC_Sandy) October 29, 2012
And some NYC media outlets are down:
Gawker is temporarily down because the 57th Street Crane just flooded our servers with sea foam, or something. Back with you shortly.

— Gawker (@Gawker) October 29, 2012
Our site is down. Problems with NY-area servers due to Sandy. Be back ASAP.

— BuzzFeed (@BuzzFeed) October 29, 2012
Check out this time lapse video from the Climate Desk of the Manhattan skyline awaiting Sandy:
Climate Desk's James West took to his Brooklyn rooftop to talk with his home country's national breakfast radio show to describe what he was seeing across the city, and how he was preparing for something that might last days and days. Listen here.
Even before making landfall, the storm caused power outages for 1 million people, and the National Grid expects that 60 million more could ultimately be affected. This ConEd map shows where power outages have occurred in New York.
Some are predicting that overall, Sandy could cause an economic loss of $20 billion.
People continue to take to Twitter and Instagram to document the storm. According to Instagram CEO Kevin Systrom, "There are now 10 pictures per second being posted with the #sandy – most are images of people prepping for the storm and images of scenes outdoors."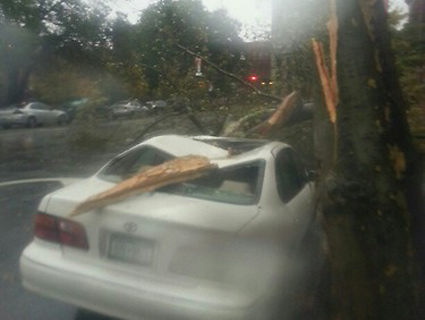 Tree down in Harlem #sandy instagr.am/p/RYUl54oKqX/

— Sebastian Delmont (@sd) October 29, 2012
OMG THE BOARDWALK IS GONE :(Atlantic City#Sandy twitpic.com/b8l5km

— Claire Sollenberger (@TheQueenBTW) October 29, 2012
Reporting from Brooklyn, Climate Desk Producer James West and Climate Desk Fellow Tim McDonnell spoke with people who were planning on staying in areas like Red Hook that have mandatory evacuations, "recalling what they thought were over-hyped precautions during last year's Hurricane Irene disaster."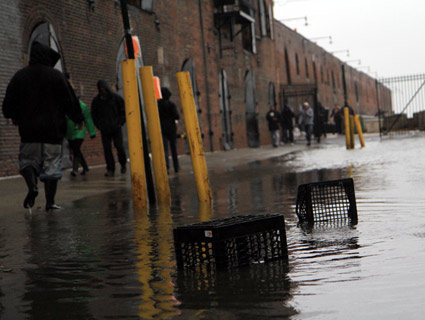 ---
UPDATE 10, 4:15 P.M. EDT, Monday, October 29:
The Coast Guard today posted this video of the harrowing rescue of 14 people from life rafts from the sunken HMS Bounty, 90 miles off the coast of Hatteras, N.C. Two people remain missing. The HMS Bounty sent out a distress beacon early this morning. The 14 people were flown to Coast Guard Air Station Elizabeth City, N.C., where they were met by awaiting emergency medical services personnel with no life threatening injuries. Coast Guard helicopters continue to search for the two missing crewmembers.
---
UPDATE 9, 3 p.m. EDT, Monday, October 29:
Coastal communities up and down the Mid-Atlantic coast and in the Northeast are already experiencing heavy flooding, but Hurricane Sandy hasn't even made landfall yet. A crane in midtown Manhattan collapsed due to high winds.
"The last time we saw this threat was never," Connecticut Gov. Dannel Malloy said during a press conference today.
Below is video of the Hudson River overflowing on the west bank.
A girl with "snazzy new rainboots" on the East River at 18th Street in Manhattan posted a video shot at 11 a.m. EST of the East River overflowing its bank as an NYPD officer announces over a bullhorn that the area is a mandatory evacuation zone.
An ominous NASA video shows the storm gathering steam as it approaches New York City, displaying the massive scale of the storm which has already broken the record for being the largest storm in recorded Atlantic basin history.
People all up and down the East Coast have been posting their photos (real and, uh, less real, like the one above) to Twitter of the flooding and storm surge encroaching upon the landscape.
"@daweeq: HURRICANE #SANDY IS GETTING REAL twitter.com/Daweeq/status/…" that's some crazy shit!!

— Mohammad Ali(@Lil_Mad) October 29, 2012
Flooding in #AtlanticCity caused by Hurricane #Sandy twitter.com/CruiseMiss/sta…

— Danielle (@CruiseMiss) October 29, 2012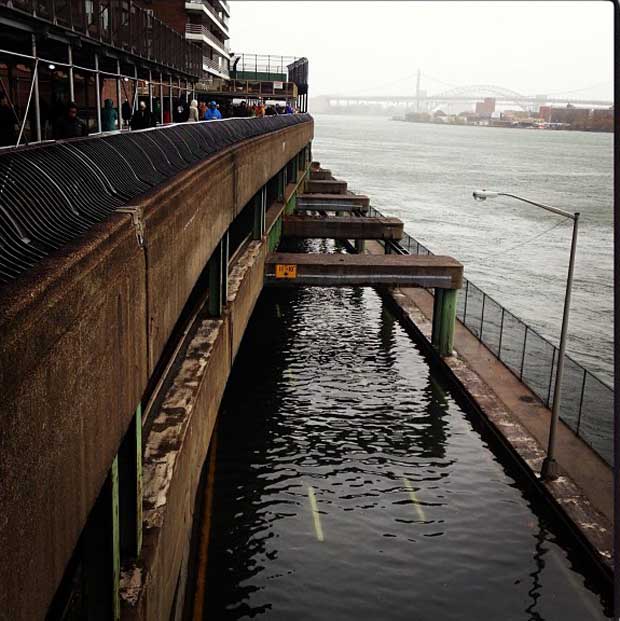 sarahleingang's photo FDR flooded already. instagr.am/p/RX7GDhnkyu/ #sandy #nyc #flooding #cocktailtime

— Lesa Wright McHale (@MissLesaMac) October 29, 2012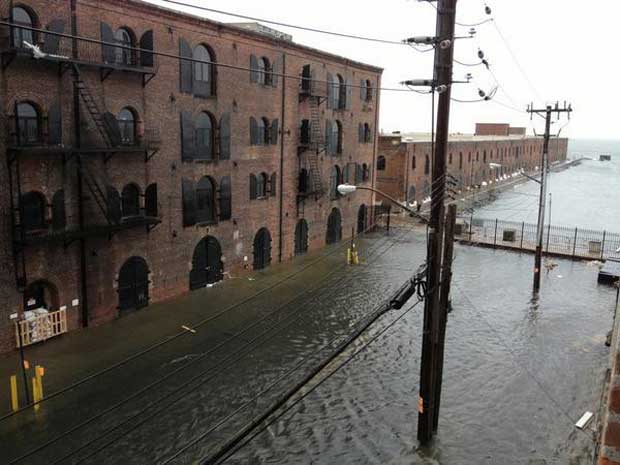 Early flooding from Sandy.Red Hook section of Brooklyn.twitpic.com/b8i8a1

— John Robb (@johnrobb) October 29, 2012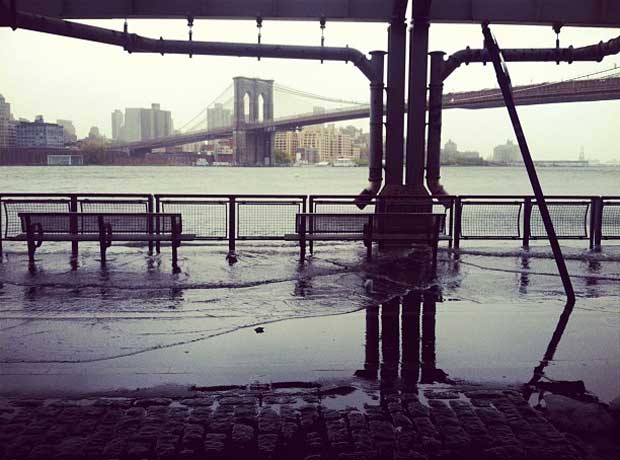 East river flooding by the FDR. #Sandy instagr.am/p/RX36K0s-5d/

— CJ Dunn (@youknowcj) October 29, 2012
---
UPDATE 8, 11:30 a.m. EDT, Monday, October 29:
According to the National Weather Service, "Sustained winds of 30 to 40 mph are expected by 8 am this morning, then increasing around noon to 35 to 45 mph with hurricane force wind gusts 60 to 70 mph lasting into early Tuesday morning."
The New York Times has created an interactive map to help New Yorkers figure out whether or not they need to evacuate.
Mother Jones' Adam Serwer analyzes how Hurricane Sandy could swing the 2012 election, concluding that if it "turns out to be as bad as the meteorologists fear, it could have a real impact."
Mike Ryan, senior writer at Huffington Post Entertainment, tweets out a photo of FDR Drive in New York underwater: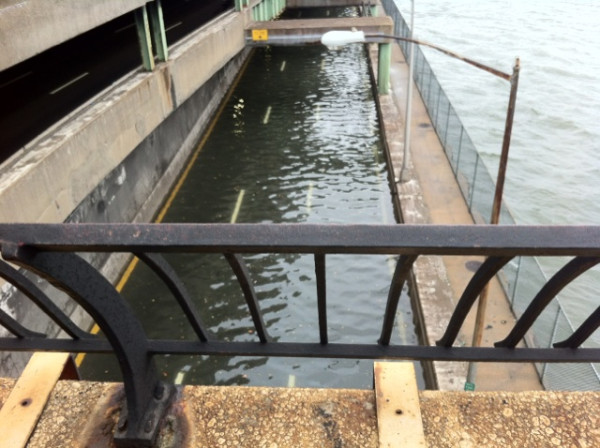 @startingptcnn Thank you for your amazing coverage Soledad! Here we are marooned in Red Hook, Brooklyn!! #Sandy twitter.com/greenpainting/…

— Nick Cope (@greenpainting) October 29, 2012
---
UPDATE 7, 10:00 p.m. EDT, Sunday, October 28: Cities from Washington to Boston were ordering mass evacuations on Sunday night and public school was cancelled for all of New York City, Boston, Washington, Baltimore, and many of their suburbs. Airlines canceled more than 5,000 flights, and Amtrak began suspending train service across the Northeast.
President Obama today reviewed emergency response plans with FEMA administrator Craig Fugate in advance of what the president has called a "serious and big storm." He urged residents in the path of the storm to heed the warnings and directions of their local emergency officials and to leave their homes if evacuation is deemed necessary.
The New Jersey National Weather Service station sent out a particularly disturbing emergency bulletin to residents who would avoid evacuation warnings, telling them to think of the emergency responders who will "recover your remains if you do not survive."
A high-wind warning will go into effect Monday at 6 a.m. (EDT) for New York City, with gusts expected to reach 80 mph. People living in the strike zone, especially those in high rise buildings above the 10th floor, are warned to stay away from windows as flying debris could pose a threat.
The National Guard has called upon 61,000 troops to prepare for storm response.
 
---
UPDATE 6, 3:00 p.m. EDT, Sunday, October 28: Sandy is threatening to bring significant storm surge flooding to Long Island Sound and New York Harbor with winds near hurricane force at landfall, according to the Sunday afternoon bulletin from NOAA which was tracking the hurricane about 270 miles off the coat of Cape Hatteras in North Carolina. Heavy snow is also forecast in the Appalachian Mountains. The death toll in the Caribbean is up to 65.
Already hundreds of flights have been canceled and mass transit systems are shutting down all along the Mid-Atlantic and Northeast in advance of the storm which is supposed to make landfall in Southern New Jersey by late Monday or early Tuesday.
With just over a week before the election, President Obama has scrapped campaign plans for Monday and Tuesday to focus on storm response, and Republican challenger Mitt Romney has been scrambling his schedule, canceling events in Virginia and joining running mate Paul Ryan in Ohio.
While just a few days ago, weathermen and journalists were coming up with playful monikers for the storm, the descriptions have gotten notably more ominous. Meteorologists are calling Sandy extraordinary, historic, and potentially the worst storm on record. Indeed, Sandy is now the largest storm in recorded Atlantic basin history, with a diameter of gale force winds over 1000 miles.
For those in the path of the hurricane looking for infomation, the Red Cross has a Hurricane App which will allow users to monitor conditions in their area or throughout the storm track, prepare their family and home, find help and let others know they are safe even if the power is out.
 
---
UPDATE 5, 8:00 p.m. EDT, Saturday, October 27: While tropical storm warnings regarding Sandy have been discontinued for the Bahamas, the death toll throughout the Caribbean has risen to 59, with 44 in Haiti. High wind warnings and watches are now in effect for southeastern Virginia, the Mid-Atlantic, and southern New England, and near hurricane force winds could reach the Mid-Atlantic, as well as Long Island, by late Monday, according to NOAA's latest report. Mandatory evacuations have been ordered for Fire Island in Suffolk County, as well as Delaware's coastal communities, and Governor Christie has ordered Atlantic City's 12 casinos to shut down at 4 pm on Sunday. Massachusetts has declared a state of emergency and has mobilized 200 members of the National Guard.
According to the Guardian, there is a major threat of coastal flooding, especially in low-lying areas like Alexandria, Virginia and New York City. Dr. Jeff Masters from Wunderground.com predicts that there is a 30% chance that the New York City subway system will be flooded and the New York Times reported in September that flooding resulting from storm surges can cost $55 billion in economic damage. AccuWeather.com expects that Sandy "will be more like a Nor'eastern on steroids", with 60 million people in its path and storm surge levels that could range from five to ten feet. 
To continue to track the storm's path, check out the New York Times' interactive tracker, and make sure to follow @capitalweather, @twc_hurricane, and @wunderground for updates.
 
---
UPDATE 4, 1:00 p.m. EDT, Saturday, October 27: Early Saturday morning, Sandy was briefly downgraded from a hurricane to a tropical storm, but hurricane strength winds were observed a few hours later. According to an update from NOAA at 11 am EST, tropical storm watches and warnings for the east coast of Florida have been discontinued, but they are in effect for areas in South and North Carolina, the Bahamas, and Bermuda. Maximum sustained winds are near 75 mph and the storm is expected to move parallel to the southeastern coast of the US throughout the weekend. Gale force winds, storm surge, and rainfall from four to eight inches are likely to reach the Mid-Atlantic coast by Sunday evening. Some are predicting that Sandy will make landfall in Delaware on Tuesday, and Maine, New Jersey, and Connecticut have joined North Carolina, Virginia, Maryland, D.C., Pennsylvania and New York in declaring a state of emergency. According to the NY Daily News, city officials are considering evacuating 375,000 New Yorkers and three to six feet of water could be seen in subways in a worst cast scenario. AccuWeather senior meteorologist Henry Margusity warned MarketWatch, "There will be school closures, travel will be messed up for days and major airports will be closed. This could be a disaster of biblical proportions – a multi-billion dollar disaster."
Some have taken to Twitter to share how they are preparing:
Two walmarts and a target. None have water. #sandy twitter.com/ericjodom/stat…

— Eric Odom (@ericjodom) October 27, 2012
well i went out for food. came back with 6 bags of candy corn, cosmo, diet cokes, and nail files. mission hurricane prep accomplished #sandy

— Jennifer Wakeling (@jennywakes) October 27, 2012
---
UPDATE 3, 5:45 p.m. EDT, Friday, October 26: As the storm leaves the northern Bahamas, death tolls from its path through the Caribbean continue to rise. The Associated Press is reporting that 40 have been killed, with 26 in Haiti. Throughout the Caribbean there are reports of power outages, heavy crop damage, blocked roads, and collapsed houses. In Jamaica, where the hurricane first hit, officials are saying it is still too early to estimate the cost of damages.
Meanwhile, several states in the US—North Carolina, Virginia/D.C., Maryland, Pennsylvania, and New York—have declared a state of emergency. Officials in New York City are considering shutting down mass transit before the storm hits. Weather.com has a good round-up of how various states are preparing for Sandy.
Folks are sounding off on Twitter:
This about sums it up.#Sandy twitter.com/amichalenicz/s…

— Andrea Michalenicz (@amichalenicz) October 26, 2012
And with the Romney campaign cancelling their planned rally in Virginia Beach due to the storm and potential disruptions to early voting, many are speculating that the hurricane could ultimately impact the election.
"The Sandy Effect":Sandy will hamper voter turnout through election day due to post-stormimpact.Swing states VA & NH in its path.

— Mike Seidel (@mikeseidel) October 26, 2012
---
UPDATE 2, 2:45 p.m. EDT, Friday, October 26: The latest weather models show Sandy on a collision course with the mid-Atlantic and Northeast with 50 million people in its projected path. The Capitol Weather Gang at the Washington Post is predicting a one-in-three chance of a direct hit on New York City, in which case city officials may call for evacuations as a storm surge could flood parts of Lower Manhattan, Brooklyn and Queens. Many are freaking out about this storm. On his blog, Accuweather meterologist Mike Smith quoted a "prominent National Weather Service meteorologist" as saying: I've never seen anything like this and I'm at a loss for expletives to describe what this storm could do.
The National Hurricane Center says Sandy is moving slowly due north at about six mph with wind speeds of up to 80 mph and are calling the storm a hybrid with tropical characteristics. Eric Holthaus, contributing meteorologist at the Wall Street Journal, said a midwestern snow storm is currently generating over the Great Lakes and will pull the hurricane inland. The full moon on Monday could play a role in coastal flooding, bringing higher tides. He said a direct strike on New York City might actually be a better scenario than if the storm hits in Southern Jersey as it is currently forecasted to do. Coastal flooding could bring a storm surge between six to 10 feet in the city in a worst-case scenario, he said.
The financial markets, utilities, and the tourism industry are also bracing for impact with storm damage estimates already predicted at upwards of $1 billion.
 
---
UPDATE 1, 1:10 p.m. EDT Friday, October 26: During a teleconference call on Friday morning, James Franklin, branch chief of NOAA's National Hurricane Center, predicted that the coastline from Florida up through through North Carolina will experience peripheral impacts from Sandy through Sunday, and that the storm will move north to Virginia through New England Monday through Wednesday. The expectation is that the storm will move slowly and there will be two or three days of impacts for many people. According to Dr. Louis Uccellini, director of NOAA's National Centers for Environmental Prediction, the West Virginia and Appalachian area could potentially get one to two feet of snow, and there is likely a risk of river flooding in Delaware and Pennsylvania. New York City may experience tropical storm force winds as well as flash flooding. "Someone is going to get a significant surge event out of this, much broader than Irene," said Franklin.
 
---
Read on for a primer:
Where's Sandy headed?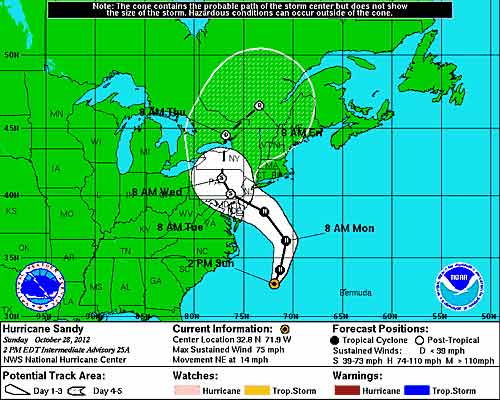 The hurricane first hit just south of Kingston, Jamaica, on the morning of October 24 and blew through Haiti, Cuba, and the Bahamas. The storm is expected to make landfall in the Mid-Atlantic on Monday evening as a Category 1 storm with winds up to 95 mph. Forecasters predict that it will lose some steam as it bears due north toward the greater New York City area on Tuesday, likely becoming a tropical storm. However it could collide with an early winter storm out of the west and a blast of Arctic air from the north to potentially wreak more havoc than an ordinary hurricane.
To see for yourself where the hurricane is headed, check out this live map, as well as this interactive hurricane tracker.
The storm has already caused flooding in Jamaica, Cuba, Haiti and the Bahamas. Folks in those places have taken to Twitter to share videos, pictures, and updates about the damage. 
Lane Plaza Liguanea twitter.com/JamaicaObserve…

— JamaicaObserver (@JamaicaObserver) October 25, 2012
Water surges under bridge by the Spanish Town bypass twitter.com/JamaicaObserve…

— JamaicaObserver (@JamaicaObserver) October 24, 2012
Santiago de Cuba "devastated" by #Sandy, reports of 1 dead, dozens injured and widespread damage to homes & buildings. Total power blackout.

— Nick Miroff (@NickMiroff) October 25, 2012
#Sandy aftermath. twitter.com/sheniquemiller…

— Shenique Miller (@sheniquemiller) October 26, 2012
Have there been any casualties?
65 are dead across the Caribbean, according to the Huffington Post.
Could Sandy impact early voting/the elections?

It's possible, according to AccuWeather. They suspect that as the storm batters the east coast at the end of this week and into next week, early voting may seem less appealing to those planning on heading to the polls. Several of the states that might be hit by the storm, such as Florida, Maryland, D.C., Vermont, and Maine, allow for in-person early voting. According to AccuWeather meteorologist Bernie Rayno, "The worst case scenario is that if this storm does go up into New England…we could see lots of power outages, we could see flooding. That could have an impact even a week later, depending on how bad the storm is." A recent survey conducted by the Weather Channel showed that 35 percent of undecided likely voters would be less inclined to head to the polls if there is bad weather on Election Day. 
Isn't it a little late in the year for a hurricane?
No. Hurricane season in the Atlantic begins June 1 and ends November 30. However, 2012 has seen an extremely active hurricane season filled with oddities.
Is climate change to blame for the active season?
Possibly. NOAA scientists have shied away from blaming human activities and climate change outright on the more active hurricane seasons in recent years. However, they do say that anthropogenic warming by the end of the 21st century will likely cause hurricanes globally to be more intense on average.  Forecasters have also said warmer-than-normal sea surface temperatures and wind patterns that favor storm formation mean chances are higher for an above-normal season.
How has Obama reacted?
President Obama has been briefed on the hurricane, and the White House is encouraging those along the Eastern seaboard to monitor weather reports and listen to local officials.
How can I stay on top of the latest news?
We'll be updating this post with the latest.
Weather.com's Hurricane Central has continuous updates about Sandy's course, as does AccuWeather.com. The Washington Post's blog has identified various scenarios and potential impacts for the DC area.
Eric Holstaus, the weather guy for the Wall Street Journal, is tweeting up a storm.
HPC's all like "whoa #Sandy's gonna be a big snowstorm", NHC's all like "no, it's a hurricane". #cantwealljustgetalong?

— Eric Holthaus (@WSJweather) October 25, 2012
AccuWeather's Henry Margusity, NOAA, and FEMA are also tweeting continuous updates.