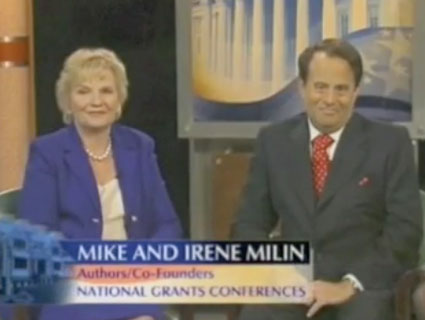 Fight disinformation:
Sign up
for the free
Mother Jones Daily
newsletter and follow the news that matters.
In a move that brings the Romney camp precariously close to the location of the candidate's 47 percent blunder, the campaign is scheduled to rake in contributions at three invite-only fundraisers in Boca Raton, Florida. One of the hosts for these events is Marc Leder, the controversial private equity fund manager who gained notoriety in 2011 for a bacchanalian party he threw in the Hamptons. Leder held the $50,000-per-plate fundraiser at his Boca mansion in May where Romney delivered his "47 percent" rant. But he's not the only member of the host committee with baggage. The organizers of this big-dollar fundraising spree include Mike and Irene Milin, a husband-wife team who have made a career out of peddling get-rich-quick schemes that state attorneys general have blasted as "deceptive," "unconscionable," and "illegal."
Mother Jones obtained an invitation to the Boca fundraisers that names Leder and the Milins as members of the host committee. Others on the list are Florida lobbyist Marty Fiorentino, former US ambassador to the Bahamas Ned Siegel, and billionaire investor Wilbur Ross. Supporters can pay $2,500 per person to attend a general reception and $10,000 per person for a "VIP Photo Reception" at the posh St. Andrews Country Club. But the real moneymaker comes later that evening, at a $25,000-per-plate dinner at the home of Mike and Irene Milin. Vice presidential nominee Paul Ryan (not Romney) will attend the fundraisers, according to the invitation.
So who are the Milins?
The Milins—it's pronounced MY-lin—have amassed millions of dollars in personal wealth by pitching schemes to consumers on how to make bundles of money through real estate and via government grants and loans. Over the years, their companies have faced numerous legal complaints and criticism from 34 state attorneys general for dubious business practices. The Milins' companies promised quick and easy fortunes in real estate and "free" government money to anyone. But to pocket that windfall, customers had to attend the Milins' seminars and buy their instructional materials. In reality, state attorneys general say, the "Milin method" did little, if anything, to benefit consumers, while the Milins charged nearly a thousand dollars a pop for their products. (The couple no longer appear to be in the get-rich-quick business.)
The Milins' road to becoming big-time Romney fundraisers began in the 1980s, the heyday of get-rich-quick schemes in the United States. Back then, the Milins' pitch revolved around real estate; they claimed that anyone could work a few hours a week and get rich. Irene regaled audiences with the Milins' rags-to-riches story: how "an out-of-work waitress and an unemployed schoolteacher" became millionaires buying, renting, and selling real estate. One newspaper ad touted them as "America's Best Known Real Estate Couple!"
In the 1980s, the Milins also hit the airwaves nationwide with a half-hour marketing video titled "Two Years to Financial Freedom." It featured the the couple hobnobbing with Lifestyles of the Rich and Famous host Robin Leach in a white Rolls Royce and a private jet. Leach talks of "all the future millionaires the Milin method is going to create."
But the Milin method landed the couple in trouble. The owners of Leach's show later sued the Milins for copying the format of Lifestyles.
Thirty-three state attorneys general singled out NGC in a letter to the Federal Trade Commission for "deceptive advertising" in its sales pitches.
In the 1990s, the Milins unveiled their next get-rich-quick scheme, which they called National Grants Conferences. NGC claimed there were hundreds of billions of dollars in "free" government grants and no-interest loans. NGC's scheme worked like this: Customers were invited to attend a free seminar where an NGC pitchman hyped the wonders of free government money. But only with NGC's materials—which cost $999—could customers unlock the secrets to accessing this cash. NGC testimonials featured consumers who claimed to have banked tens of thousands of dollars to fix a roof or rewire a house's electrical system.
To be clear, there are not hundreds of billions of dollars sitting in government coffers waiting to be doled out to American citizens. The website Grants.gov stresses that few individuals ever receive government money. It urges people to ignore "late night infomercials" and "reference guides." The Federal Trade Commission warns consumers never to pay for "free" government grants or loans.
The Milins enlisted former congressmen J.C. Watts (R-Okla.) and J.D. Hayworth (R-Ariz.) to hawk NGC's products. Hayworth's 2007 appearance in an NGC infomercial helped sink his 2010 Senate bid against Sen. John McCain (R-Ariz.). A McCain spokesman ripped Hayworth for participating in "an obvious rip-off scam," and McCain gave away to charity the more than $9,000 in donations he'd received from the Milins.
The Milins and National Grants Conferences ran afoul of state attorneys general. Vermont AG William Sorrell's 2006 complaint against National Grants Conferences accused the company of violating the state's Consumer Fraud Act for, among other things, failing to show that customers could actually obtain "free" government money. Sorrell, a Democrat, blasted the company's actions as "unconscionable and illegal." NGC later settled with the state and was ordered to pay $65,000 in legal fees and up to $325,000 in refunds to wronged customers.
In June 2007, 33 state attorneys general singled out NGC in a letter to the Federal Trade Commission for "deceptive advertising" in its sales pitches. In 2010, Texas Attorney General Greg Abbott, a Republican, alleged that NGC and the Milins misled customers into thinking that anyone can pocket government grant money in a quick and simple way. As a result of Abbott's legal action, the Milins, who did not admit to any wrongdoing, cannot engage in previously used deceptive practices in Texas.
Sen. John McCain gave away to charity more than $9,000 in donations he'd received from the Milins.
Irene Milin and NGC were also sued in 2009 by a former employee who claimed the company had failed to pay him owed overtime compensation. The suit describes NGC as a disorganized company that failed to keep track of basic employee information like daily and weekly working hours. As part of a 2010 settlement, in which NGC did not admit guilt, the company agreed to pay the employee $8,000 in alleged underpaid overtime wages, damages, and legal fees. Another suit filed in Palm Beach County court in 2010 alleged that NGC defaulted on a commercial property lease. The case is still pending.
By that point, though, National Grants Conferences had filed for Chapter 11 bankruptcy in Florida. NGC owed $2.1 million to its 20 largest creditors, according to bankruptcy records filed in December 2008. Most of that money was recovered in the bankruptcy process, says Scott Schreiber, an attorney who represented some of NGC's creditors.
In the past decade, the Milins have given nearly $130,000 to an array of political candidates, including House Majority Leader Eric Cantor (R-Va.), Rep. Ted Deutch (D-Fla.), and Sen. Rob Portman (R-Ohio). The Milins also gave thousands of dollars each to the Romney-Ryan campaign in July.
What do Romney and Ryan, who maintain they are committed to fiscal responsibility, think about making common cause in Boca Raton with 1-percenters accused of trying to scam people with unfounded promises of "free" government money? The Romney campaign would not comment on the Milins' participation in these fundraisers. When reached on the phone by Mother Jones, Mike Milin said, "I don't have any time to talk to you right now." Then he hung up.
UPDATE: The Huffington Post reports that financier Marc Leder, at whose house Mitt Romney made his "47 percent" comments, will host a fundraiser on Saturday for Romney in Palm Beach, according to three sources with knowledge of the event.