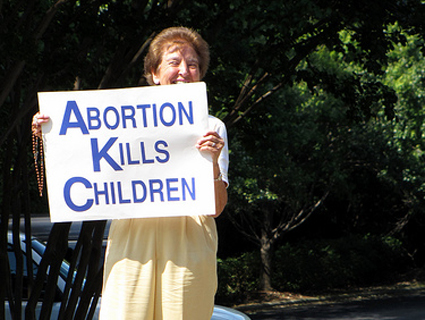 Fight disinformation:
Sign up
for the free
Mother Jones Daily
newsletter and follow the news that matters.
In February 2011, we wrote about Mila Means, a Wichita-based doctor who was training to provide abortion services. The city has been without an abortion provider since the murder of Dr. George Tiller in May 2009, but when Means tried to fill that void, she was blocked by anti-abortion activists. Now Means is back in the news, as a court case examines whether one of those anti-abortion activists threatened her life.
The Department of Justice's Civil Rights Division has charged anti-abortion activist Angel Dillard of violating a federal law that makes it illegal to use force or the threat of force to prevent someone from providing abortion services. The Associated Press reported this week (via RH Reality Check) that a jury will hear the case, which centers on a letter Dillard sent Means last year that she says was "divinely inspired":
Jurors will have to decide whether the letter Dillard sent to Dr. Mila Means last year constitutes a "true threat" intended to intimidate the doctor from providing abortion services.
In her letter, Dillard wrote that thousands of people from across the United States are already looking into the doctor's background.
"They will know your habits and routines. They know where you shop, who your friends are, what you drive, where you live," the letter said. "You will be checking under your car every day — because maybe today is the day someone places an explosive under it."
Dillard's got a longer history of extreme anti-abortion activism in Wichita. After Tiller's murder, Dillard told the Associated Press that she admired his killer, Scott Roeder, for what he did. "With one move, (Roeder) was able … to accomplish what we had not been able to do … So he followed his convictions and I admire that." Dilllard had requested that a judge, rather than a jury, hear her case because her previous friendship with Roeder might influence a jury.
The case is not scheduled to go to trial until February 5, 2013.