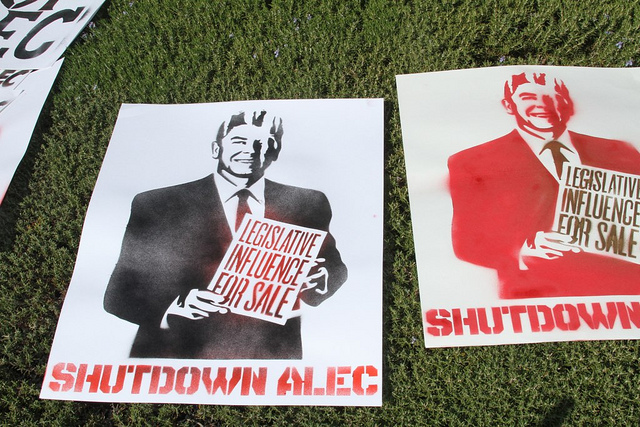 Fight disinformation:
Sign up
for the free
Mother Jones Daily
newsletter and follow the news that matters.
A prominent tax attorney has accused an organization of state lawmakers and corporations officials with improperly claiming nonprofit status, alleging the group's role is to benefit businesses, the Republican Party, and legislators, not the public.
The American Legislative Exchange Council (ALEC) "elevates commercial gain for a few over the well-being of society's less fortunate," says a complaint penned by Marcus Owens, the former chief of the Internal Revenue Service's nonprofit corporations division, on behalf of Clergy VOICE, a group of ministers from progressive churches in Ohio. (Read the full complaint below.)
ALEC has attracted attention recently for its model "Stand Your Ground" and voter ID laws, which led major corporate backers like Coca-Cola and Kraft Foods to drop their membership in the face of a threatened boycott by activists. The Florida gun law became a hot topic following the slaying of Trayvon Martin, an unarmed teen, by a neighborhood watch volunteer in February.
Until recently, ALEC has enjoyed a low profile, despite its substantial influence over legislation in the nation's statehouses. The group claims on its website that it has helped craft close to 1,000 bills introduced by state lawmakers and that "an average of 20 percent become law."
In its complaint, Clergy VOICE says ALEC has "deliberately and repeatedly failed to comply with some of the most fundamental federal tax requirements applicable to public charities" and that evidence "quite strongly" suggests that the group is violating civil and criminal tax laws.
The clergy's complaint goes beyond allegations of improper lobbying, claiming that ALEC exists for the "private benefit" of its members rather than for charitable, educational, or other exempt purposes that serve the public interest and deserve special tax treatment.
The Center for Public Integrity forwarded the complaint to ALEC's media relations representative last week via email but a call was not returned. CPI also sent the complaint and questions to the organization and was told it had been passed along to "appropriate parties" but did not receive a response.
The 30-page letter sent to the IRS on June 18 was inspired by a separate whistleblower claim lodged by consumer group Common Cause in April, which alleged ALEC is a corporate-funded lobbying group, which violates IRS rules that govern 501(c)(3) nonprofit corporations.
ALEC, formed in 1973, has consistently argued it is bipartisan and educational in nature, because it provides research and analysis for legislators. It pays no income tax and donors to the organization, including its corporate members, can deduct their contributions from their taxable income, just as they would for a charity.
The Internal Revenue Code says a 501(c)(3) organization "may not attempt to influence legislation as a substantial part of its activities and it may not participate in any campaign activity for or against political candidates." ALEC reports no lobbying on its annual filings with the IRS, according to the complaint, but state records in North Dakota show two lobbyists registered to represent the organization in 2008 and 2009: Mark Behrens and Cory Schaecher .
ALEC was formed in Chicago by a group of state legislators and the late Paul Weyrich, a pioneering conservative activist and co-founder of the Heritage Foundation. Based in Washington, DC, the group says its mission is to advance "free-market enterprise, limited government and federalism at the state level through a nonpartisan public-private partnership of America's state legislators, members of the private sector, and the general public."
Its 23-member board of directors is made up of entirely of state legislators. But it also has a "private enterprise board" consisting of corporate representatives, including GlaxoSmithKline, PhRMA, Pfizer, AT&T, Koch Companies Public Sector, Altria (formerly Philip Morris) Client Services, ExxonMobil, and State Farm Insurance. Legislators join for $50 per year while private sector members join for $7,000, $12,000, or $25,000 for the top-tier "Jefferson Club."
ALEC claims to be bipartisan, but all 23 legislative members of its board listed on its 2010 tax return are Republicans.
The criticism of the group is focused mainly on its "task forces," which bring legislators and corporate members together to create model bills. The complaint alleges that industry representatives have "effective veto power" over the recommendations of the task forces.
While ALEC describes the output of its task forces as bipartisan analysis and research, the complaint said the task force proposals "do not appear to contain 'a sufficiently full and fair exposition' of the public policy issue underlying the legislative proposal. To the contrary, they promote the ideological views and business interests of ALEC's Private Sector members—the corporate funders."
Clergy VOICE consists of 18 religious leaders who have come together in the past to challenge nonprofits. In 2006, they filed complaints against two large Ohio churches alleging they were promoting Republican candidates. They also challenged the tax-exempt status of a Christian organization and its $1.8 million Washington, DC townhouse that housed conservative Christian members of Congress. The C Street Center made news as a refuge for three Republican politicians tarnished by scandal.
The religious leaders do not represent their congregations. Half are members of the United Church of Christ, a Protestant denomination that has been historically liberal on social issues. In a cover letter to IRS Commissioner Douglas Shulman, they accuse ALEC of compromising free and fair elections, weakening union rights, degrading the environment, and a host of other offenses.
The organization singled out a handful of corporate-influenced model bills, including a cap on damages for asbestos claims, the Stand Your Ground legislation pushed by the National Rifle Association, and an immigration bill which reportedly served as the basis for Arizona's law and was drafted with help from a private prison company. The immigration law was partially knocked down by the US Supreme Court on June 25.
The complaint also said ALEC had improperly provided a benefit to lawmakers by creating "scholarships" under the control of the national headquarters that paid for the lawmakers' attendance at meetings "held in luxury hotels, frequently in vacation-worthy destinations like San Diego, New Orleans and Scottsdale." These include "perks such as meals, recreational activities, and subsidized childcare for legislators and their families" that are often not reported by the lawmakers on their state ethics disclosure forms, the complaint said.
The complaint goes beyond allegations of improper lobbying, claiming that ALEC exists for the "private benefit" of its corporate members.
"Meeting agendas include events like golf tournaments, open bar parties and baseball games—all subsidized directly or indirectly by ALEC's corporate members," the letter said, citing an estimate by ALEC that these benefits cost $1 million to $2 million each year.
ALEC claims to be bipartisan, but all 23 legislative members of its board listed on its 2010 tax return are Republicans, according to a review by the Center for Public Integrity. The clergy complaint claims 72 of ALEC's 74 filled state chairman seats are held by Republican legislators.
The group states ALEC faces potential civil penalties for "a pattern of filing multiple inaccurate" tax returns with the IRS, such as not reporting lobbying activities and providing incorrect information about its payments to legislators for travel and entertainment. It also says the group may face criminal tax penalties if the misstatements or omissions were made "knowingly or willfully."
Whether the IRS will pursue any action is difficult to say. Complaints are typically answered with a thank-you letter acknowledging their receipt and the agency does not release details about investigations or audits.
Owens, who was director of the Exempt Organizations Division of the IRS from 1990 to 2000, said he expects a reaction. "The legal analysis is done for them. They just have to read it," he said. "I would be surprised if the IRS took no action in response to this letter."
The Center for Public Integrity is a nonprofit, independent investigative news outlet. For more of its stories go to iwatchnews.org.