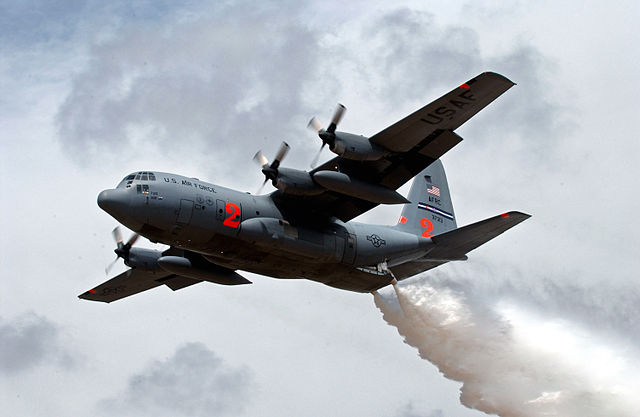 The US Air Force, which grounded the remaining seven of its eight C-130 air tankers after a crash in South Dakota on Sunday, has cleared the fleet to fly again today.
The downed C-130 was from an Air National Guard wing in Charlotte, North Carolina. Four of six crew members are confirmed killed, reports MSNBC.
The Air Force C-130s are are called upon when US Forest Service can't adequately fight wildfires with private and commercial fleets. This year all eight Air Force tankers were activated simultaneously to fight wildfires in the West. The last time that happened was in 2008.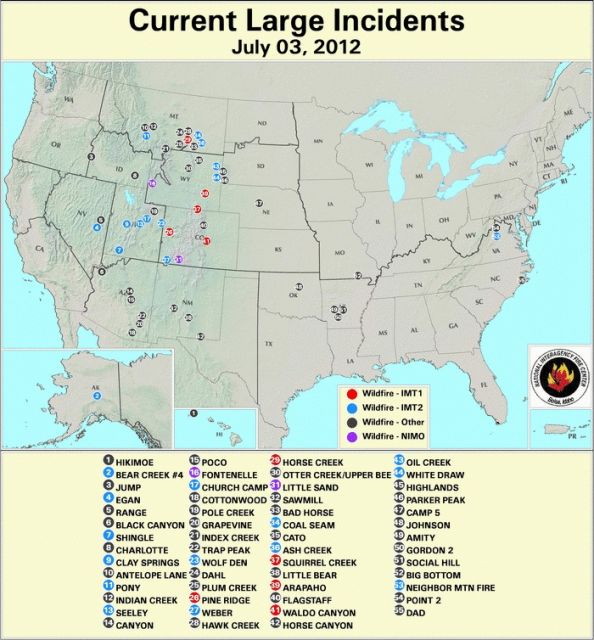 You can see in the map above the location of large fires in the US as of 03 July 2012. Until the seven remaining USAF C-130s get back online, all 55 of these fires will be sharing 14 civilian air tankers for air support.
That's a sharp decline in aerial firefighting resources since a decade ago when 44 tankers were devoted to firefighting. Today only nine air tankers are flown exclusively on US Forest Service contracts, reports the Guardian:
President Barack Obama signed a bill last month hastening the addition of seven large tanker planes to the nation's rundown aerial firefighting fleet, at a cost of $24m, but the first planes won't be available until mid-August.
Further hampering the US fleet, another aerial firefighting plane, a Lockheed P2V, crashed in Utah recently, killing two pilots. Another crash-landed in Nevada with no loss of life.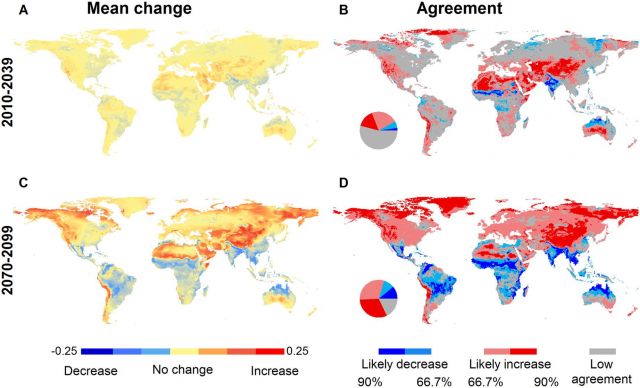 Meanwhile a paper published last month in Exosphere, the open-access, peer-reviewed journal of the Ecological Society of America, forecasts big increases in wildfires in the Northern Hemisphere this century as global temperatures continue to rise.
As you can see in the map above (image D), the intermountain West of North America, large portions of Alaska, the Canadian Arctic, northern Scandinavia, plus most of Central Asia and Siberia are predicted to suffer 90 percent more fires between 2077 and 2099. Most of the rest of the Northern hemisphere is forecast to experience 66 percent more wildfires.
The two trends—declining aerial firefighting capacity and increasing wildfires—makes for a highly combustible future.
Toss in the match from a recent paper in PNAS showing how wildfire suppression in the American West beginning in the 20th century created a monster build-up of combustible fuels, combined with a spread of fire-prone species and increased tree mortality from insects and warming temperatures…
Well, it looks like we're in danger of losing control of "the control of fire"—the only thing that truly separated us from other animals in our early evolution.
I wrote more about the PNAS paper here.