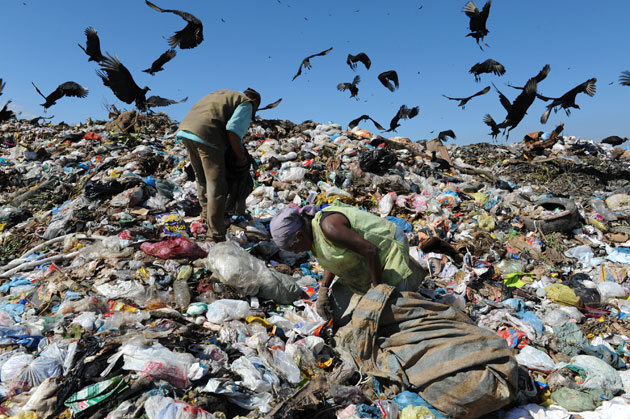 In anticipation of the UN Conference on Sustainable Development to be held in Rio June 20-22, the glamorous host city is trying to further sexify itself by laying to rest its infamous Jardim Gramacho garbage dump.
At the megaconference, dubbed Rio+20, world leaders and international organizations will try to hash out a "roadmap" on how to move towards an enviro-friendly global economy. And the 60 million-ton mountain of trash rising from Rio's Guanabara Bay doesn't exactly inspire lofty green thoughts. Among the largest open-air landfills in the world, the Gramacho dump was a ghastly example of the shoddy waste disposal system that plagued Brazil until sweeping regulations were implemented just a couple of years ago. Designed to hold 3,000 tons of garbage a day for 20 years, as Inter Press Service reports, it ended up receiving around three times that amount daily and operating 14 years longer, with no lining beneath it to prevent toxic leakage into the bay, and very little oversight.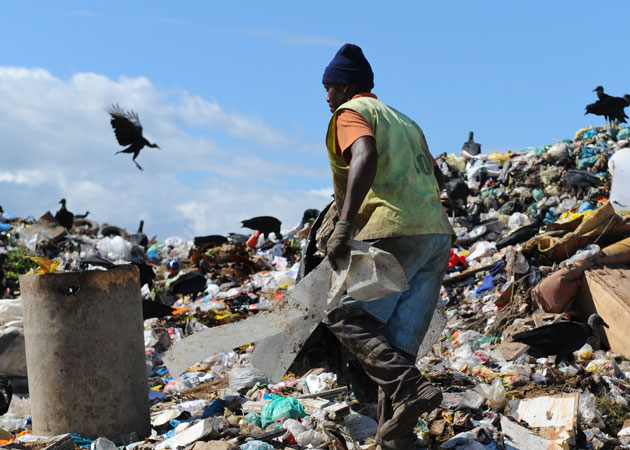 "Rio de Janeiro will not tolerate any more violence against the environment, like this environmental crime that the city has committed for so long,"  Mayor Eduardo Paes said Sunday as he announced the closure of the dump.
The site is being transformed into a biogas plant that will convert the greenhouse gas methane from the rotting trash into fuel. The transition is expected to reduce carbon emissions in the region by 1.4 million metric tons a year, according to FirmGreen, the US company exporting the conversion technology for the project.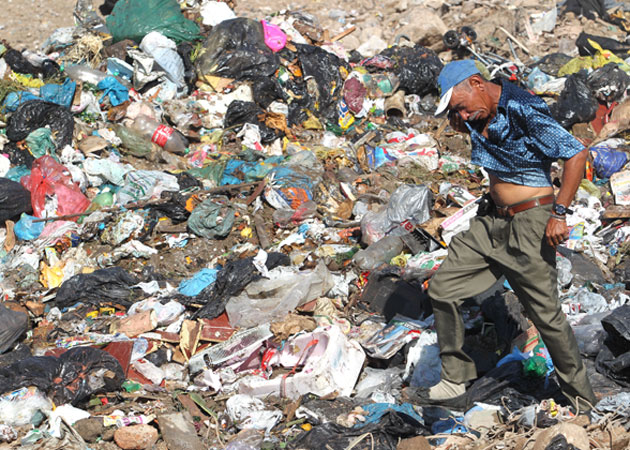 But not everyone is psyched about the closure. The 1,700 people who made a living off the massive junk pile by scavenging recyclables, and who, incidentally, gained international recognition through the 2010 Oscar-nominated documentary Waste Land, will largely be left jobless. As part of the dump's transformation, each worker will get a one-time government payout, but it may not compare to this oddly lucrative dirty work. Though they had to cope with the dangers, filth, and illnesses that accompanied working on a garbage mountain, the catadores, as they are called in Portuguese, made pretty good money–up to a whopping $1,500 a month in a country where the minimum wage is around $300, according to the AP. And finding a new vocation after being regarded as society's refuse could be rough. As one trash picker told the AP, "I've put off looking for a job because I just know that people are going to look down at me like I smell bad or something because I worked here."
But a cooperative initiated by the catadores themselves in 2006, the Association of Recycling Pickers of Jardim Gramacho (ACAMJG), may be able to pick up some of the slack. The union has worked over the years to improve the lives of those who survive off the trash, raising funds for a medical clinic, a daycare center, and a skills training center, and helping workers contract out their services to other municipalities. Now, the president of ACAMJG, Tiao Carlos dos Santos, is fighting to secure new employment opportunities for its members. Waste Land's website, which has continued to follow the workers' lives, reports that the cooperative obtained a Brazilian Development Bank contract to collect rubbish during the 2014 World Cup, as well as government contracts to service new recycling plants.
Maybe the catadores' transition will become a model for the type of green development the Rio+20 is pushing. Says the conference's spokesperson in Rio, Giancarlo Summa, "It's important to make sure that people that were working in informal situations are not victims of formalization. A different kind of economy can create better quality jobs, because theirs is no life. What they had was really hell."