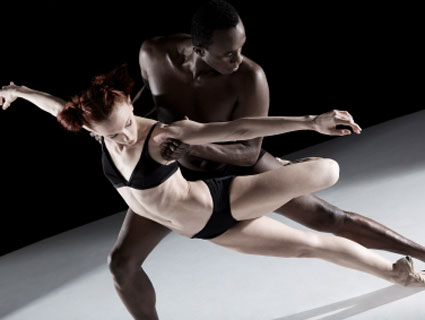 Fight disinformation:
Sign up
for the free
Mother Jones Daily
newsletter and follow the news that matters.
They call her the Punk Ballerina. For her 1978 choreographic debut, Karole Armitage, who once danced with the Ballet Theater of Geneva and later with modern dance luminary Merce Cunningham, shocked the classical vocabulary by setting ballet to punk music. Her website says Armitage is still "dedicated to redefining the boundaries and perceptions of contemporary dance." She maintains that "music is her script."
I was therefore a little mind-boggled by Three Theories, the piece that her company, Armitage Gone!, just performed in San Francisco following shows in Chicago and New York. According to the program notes, the piece "looks at the poetry underlying the pillars of 20th century theoretical physics: Einstein's General Theory of Relativity and Quantum Mechanics and String Theory." It goes on to explain that the choreography is derived from "scientific principles" and creates dance that, I kid you not, "reflect[s] the points of view held by physicists about the fundamental nature of the universe."
While anyone could be forgiven for failing to illuminate the theory of everything with dance, you'd think that at the very least Armitage would push some of those pesky boundaries—or even elevate the music beyond just an arbitrary metronome for the steps.
Ever seen Dancing With The Stars? Okay, you're fine then. You get it. Three Theories was composed almost entirely of high-speed high kicks, turns, splits, lifts, sexy hip swivels, and Olympic gymnast-style presentational gestures. Did I mention high kicks?
The music segued from from an ambient metallic drone by Rhys Chatham to yoga class-style "Eastern" sounds by Sangeeta Shankar and Ramkumar Misra. Next came what sounded like an action movie score, also by Chatham, and then a lovely, more sedate piece for piano by John Luther Adams. The musical scores were labeled what they should have been: Bang, Relativity, Quantum and String. But the choreography hardly registered these changes in tone. Armitage could have used any old sound, at any old time, with the same effect. The costumes morphed from black bikinis and briefs to white leotards. Sometimes there was "warm" lighting. Sometimes it was neon green. The movement was constant balls-to-the-wall. I was bored.
If there is no narrative, no emotion to convey, then it's got to be about the form, right? That's what Merce Cunningham, Armitage's artistic forbear, was all about: the beauty of the abstract shape. But there was a clarity and purposefulness in his forms. Absent that, I found myself clinging to the few moments of release or vulnerability or presence in Three Theories. A couple flings their hands in unison. A woman who's being dragged away flexes and points her foot awkwardly. A dancer stands simply and extends her leg slowly and quietly.
Armitage has choreographed for Madonna and Michael Jackson, so that's cool. And she makes works for the biggest ballet companies in the world. So she's is clearly doing something right. But I look back at the notes I scrawled during the show. And all I seemed to be able to write was: Really?
Click here for more music and culture coverage from Mother Jones.