Fight disinformation:
Sign up
for the free
Mother Jones Daily
newsletter and follow the news that matters.
In June 2011, Barack Obama's director of Immigration and Customs Enforcement (ICE) pledged the agency would focus on deporting illegal immigrants who were actually a menace to society—i.e., violent criminals—as opposed to those who have lived and worked in this country for years without causing any problems. It was a nice idea and one that immigrant advocates welcomed. But now new data from the Transactional Records Access Clearinghouse (TRAC) at Syracuse University show that not only has ICE failed in its goal of deporting more criminals and fewer noncriminals, but the percentage of deportations related to criminal activity has actually fallen, from 17 percent of the caseload in 2010 to 14 percent in the first three months of 2012.
Here's what the raw numbers look like in chart form:
Deportation Orders Sought in Immigration Court Based on Alleged Criminal Activity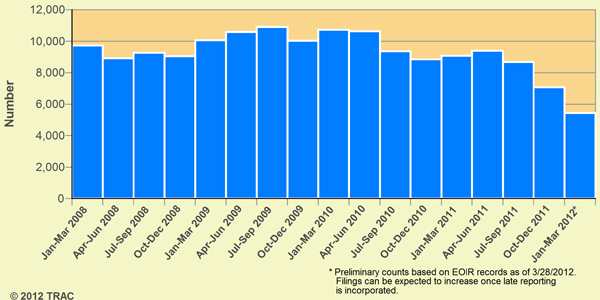 The number of deportation cases in federal courts has been going down for a while, but the number of people deported because of serious criminal activity has decreased faster than the overall caseload. That seems to fly in the face of ICE's stated policy of focusing on real bad guys as opposed to nannies and meatpackers. It also seems to contradict a New York Times story from January that reported on the Obama administration's effort to ease up on deportation proceedings against people who pose no security risk.
According to the Times story, one in every six people in deportation proceedings in Denver, where ICE was running a test model, were being offered a reprieve for good behavior. "It makes us feel good to know that some of these low-priority cases will be placed at the back burner," Corina Almeida, the chief counsel for the ICE office in Denver, told the Times. "These cases free up others to move to the front of the line: the egregious offenders, those who thumb their noses at the system or commit fraud."
TRAC's numbers suggest that although deportations have fallen nationally, ICE is still wasting resources on people who don't pose much of a threat to the country. The numbers may also reflect that both illegal immigration and violent crime have fallen pretty dramatically in the past few years (net immigration from Mexico, whose citizens make up the bulk of ICE's court cases, is now about zero), leaving ICE with fewer potential criminals to deport in the first place.
Either way, the numbers don't bode well for the Obama campaign, which is courting Latino voters, for whom immigration matters a great deal. It may also provide some fodder from Obama's opponents, who will surely find something to attack here by claiming that ICE is doing a lousy job of getting criminal aliens out of the US.