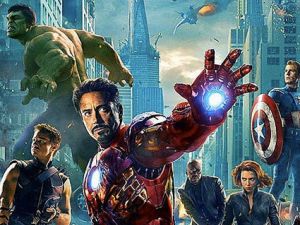 Even as popular culture becomes increasingly geekified, it's still fairly easy to find examples of mainstream cultural criticism that curls its lip in disgust at anything vaguely associated with fantasy or science fiction.
New Yorker film critic Richard Brody's latest effort, however, represents a welcome exception to that snobbish trend. Brody largely grasps the real politics behind the latest geek triumph The Avengers, and behind much of the post-9/11 appropriation of geek culture in blockbuster films:
"The Avengers" is an impressive feat of cinematic engineering, a work of prodigious skill and efficiency that carries out its cartoonish mission while addressing graver concerns—the construction of a post-9/11 revenge fantasy that takes place against the backdrop of unpopular foreign wars.

The war of the worlds is ignited by the rebellion of Loki against Thor— the wrathful perverter of a distantly alien religion that preaches peace with Earth. The story builds to an attack by the upstart and his myrmidons that lays waste to a swath of streets in a heavily trafficked Manhattan business district. The preface to the attack is a midair hijacking. The supergroup's climactic, heroic last stand takes the form of legitimate defense, harking back to Second World War movies (earlier on, Captain America even has an interlude in Stuttgart, accompanied by the water-lapping rhythms of Schubert's great "Rosamunde" quartet, that alludes to the war against Hitler); and a commando mission against the enemy's mother ship resembles nothing so much as the daring assault on Osama bin Laden's Abbottabad complex.
Brody is probably reaching with that Abbotabad comparison, but his observation about The Avengers as a kind of post-9/11 "revenge fantasy" could be applied to the superhero film genre writ large. Conservatives embraced Peter Jackson's Lord of the Rings trilogy as the invasion of Iraq went south because imagining that the war in Iraq was an existential battle between the forces of light and darkness helped them avoid the reality that it wasn't. Superhero films provide a similar reassurance for a nation that, more than a decade after 9/11, still seems willing to forfeit just about any freedom in exchange for the feeling of safety. Superhero flicks often tell us that matters of good and evil are relatively simple to discern, and that in the end, someone is always going to save us. The closest we get to moral ambiguity in The Avengers is the Hulk, whose uncontrollable, monstrous instincts nudge the audience ever so slightly into considering the danger of an angry, omnipotent child.
As Chris Hayes wrote shortly after the raid that killed Osama bin Laden, "In the wake of 9/11, the phrase 'bad guys' infiltrated our national conversation, and its continued prevalence serves as a testament to the ways the trauma has warped our national character."
The phrase is self-consciously playful but also insidious. An adult who invokes it is expressing a layered set of propositions. What "bad guys" says, roughly, is this: "I'm an adult who has considered the nature of the moral universe we live in and concluded that it really is black and white. I've decided that my earliest, most childlike conception of heroes and villains is indeed the accurate one, which only later came to be occluded by nuance and wishy-washy, bleeding-heart self-doubt. I reject that more complicated, mature conception as false. I embrace the child's vision of the world."
With films like The Avengers, we get all the unambiguously evil "bad guys" we want, and we get to see them lose, over and over again. That attitude would be fine if we were able to leave it in the movie theater along with our 3-D glasses. But most of us don't. We take it with us whenever we think about our wars, whether literal, cultural, or metaphorical. We frequently "embrace the child's vision of the world," because it's easier to want to keep fighting wars that way. There's only one thing to do with "bad guys," after all: beat them.