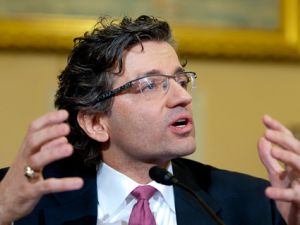 Fight disinformation:
Sign up
for the free
Mother Jones Daily
newsletter and follow the news that matters.
Sixty-four American Muslim groups have signed a letter criticizing the appointment of American Islamic Forum for Democracy founder Dr. Zuhdi Jasser—whose conservative leanings have made him a favorite of Republican Congressmen, conservative philanthropists and National Review columnists—to the United States Commission on International Religious Freedom.
The USCIRF promotes the freedom of religion and belief, and it seeks to combat religious extremism, intolerance, and repression throughout the world. In contrast with these laudable goals, Dr. Jasser believes, '. . .operationally, Islam is not peaceful.' His consistent support for measures that threaten and diminish religious freedoms within the United States demonstrates his deplorable lack of understanding of and commitment to religious freedom and undermines the USCIRF's express purpose.
Jasser himself identifies as a devout Muslim who is leading a necessary internal reformation of Islam. His Muslim critics see his behavior—opposing the Islamic community center near Ground Zero, testifying in support of Rep. Peter King's domestic radicalization hearings focused on Muslims, supporting the NYPD's surveillance of local Muslim communities, associating with anti-Muslim figures like Frank Gaffney and, as Mother Jones recently reported, taking money from right-wing sources—as legitimizing anti-Muslim narratives. Furthermore, much of Jasser's politics—he refers to the West Bank as "Judea and Samaria," much as the way a right-wing Israel hawk would—are substantially to the right of the average American Muslim. That, after all, is why Republicans like him.
The Commission is tasked with studying religious freedom in foreign countries and offering "policy recommendations" to Congress and the president. Nevertheless, the commission itself has something of a controversial history. The Washington Post reported last year that the commission has "long been accused of focusing too much on the persecution of Christians and not enough on smaller religious groups," and two years ago was sued for discrimination by one of its Muslim policy analysts. Still, the appointment elevates Jasser to an official position with the US government, and perhaps Republicans are grooming him for even bigger things.