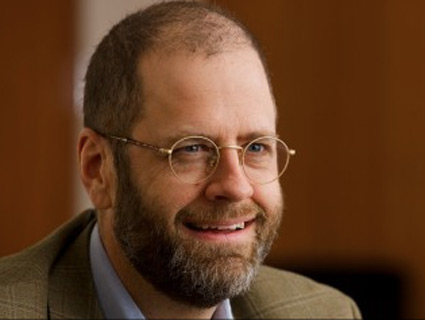 Fight disinformation:
Sign up
for the free
Mother Jones Daily
newsletter and follow the news that matters.
If you're a deep-pocketed political donor, contributing vast sums of money to advance your own ideology is just what you do. Pouring money into TV ads and get-out-the-vote efforts on behalf of politicians you thoroughly and completely disagree with? Not so much.
But the Campaign for Primary Accountability isn't your typical super-PAC, and its top donor, Houston construction magnate Leo Linbeck III, isn't your typical conservative sugar daddy. While groups like American Crossroads and Priorities USA have sprouted up in the last two years to boost specific values and candidates, the CFPA has a different goal entirely: electoral mayhem.
Led by Linbeck, the group's aim is to use the power of the purse to do what political parties and state redistricting panels won't—make congressional races competitive again. CFPA, which has raised $1.8 million to date, is targeting at least 10 Republican and Democratic incumbents in half a dozen states, with plans to increase that number over the next few months. And it's starting to work. The group has taken credit for the Super Tuesday defeat of Rep. Jean Schmidt (R-Ohio) and the retirement of another Republican, Dan Burton of Indiana.
"It's not just a matter of 'Hey, they've been there a long time, let's get rid of them,'" Linbeck says. "It's more like they've been there a long time and they're disconnected from the voters in their district, and they would win without some other force coming in. Well, we're that other force."
The criteria is straightforward. For CFPA to take action, it looks at four factors: The district must be solidly red or blue ("We're not looking to swing power from one party to the other," Linbeck says); the challenger must be credible and capable of standing on his or her own; the current incumbent must be entrenched—no freshmen; and their own private polling has to show that there's actually a chance their candidate could win.
Like most serious super-PACs, the bulk of the group's funding has come from a small cohort—four major contributors, in this case. Linbeck, the son of fair tax crusader Leo Linbeck Jr., gave the group $775,042; TD Ameritrade founder Joe Ricketts, whose family owns the Chicago Cubs*, ponied up $500,000; Tim Dunn, CEO of Crownquest Inc., a Midland-based oil and gas company, chipped in another $350,000. And $100,000 came from Eric O'Keefe, a Wisconsin philanthropist who's given generously to groups like the Club for Growth and US Term Limits. What makes the group unique—and what baffles incumbents who find themselves in the crosshairs—is that there's no discernible partisan motive behind CFPA's interventions.
"It's not just a matter of 'Hey, they've been there a long time, let's get rid of them,'" Linbeck says. "It's more like they've been there a long time and they're disconnected from the voters in their district, and they would win without some other force coming in. Well, we're that other force."
On the Democratic side of the aisle, the group has targeted lawmakers Like Jesse Jackson Jr. (Ill.), Eddie Bernice Johnson (Texas), and Marcy Kaptur (Ohio). But CFPA is also going after GOP Reps. Don Manzullo of Illinois and Spencer Bacchus of Alabama. When Schmidt, a four-term Republican, unexpectedly lost her primary on Tuesday, Linbeck and Co. claimed their second victory—the first coming when Burton ("the guy that shot a watermelon—that maniac," in CFPA spokesman Curtis Ellis' words) opted to retire after two decades on the Hill. "He saw that there's a million bucks in the bank that was gonna be aimed right at him," Ellis says.
Kaptur, a 15-term incumbent who survived her Tuesday primary against Rep. Dennis Kucinich, typified the bewildered attitude toward CFPA, telling the Toledo Blade she was under attack by "anarchists from Texas."
Linbeck and most of his accomplices are, in fact, from Texas, but it'd be a mistake to say they just want to watch the world burn. A self-described "conservative communitarian," his larger political ideal is rooted in local control. As Mother Jones' Stephanie Mencimer has reported, his one previous foray in political activism came in 2011, when he unveiled the Health Care Compact Alliance, a proposal that would delegate all health care policy and funding decisions from the federal government to the states. He'd like to see the federal government less involved in decisions where more immediate authorities could just as well step in.
Which is what makes the idea of contested primaries so appealing. Linbeck believes that, through gerrymandering and uncontested incumbency, communities have lost their ability to choose representatives that actually represent them. Rattling off statistics on congressional approval (17 percent) and the incumbency rate (around 90 percent), Linbeck frames his mission as restoring an extra level of oversight to the people's house. Viewed in that light, his super-PAC is more a privately funded public financing venture than a conventional effort to promote conservative values.
"If it's a progressive district, they should have a progressive representative," he says. "I have no qualms. I am all in with the people and the voters, right? And I just think that if the elected officials are accountable to the voters in their district and feel like they have to do what the voters want them to do, I feel like we're going to end up with a much better, more functional system than the kind of co-opted, centrally dominated, lobbyist-controlled system that we have now."
Still, the group's involvement has met resistance. Politicos who find themselves in the group's crosshairs tend to accuse Linbeck et al. of leading an elaborate dirty tricks campaign—on behalf of the tea party, or Obama, or some other such camp. And that, in turn, can create headaches for the candidates CFPA is trying to boost. Take, for example, the case of Beto O'Rourke.
O'Rourke, an El Paso city councilman who's hoping to unseat eight-term Rep. Silvestre Reyes (D-Texas), is a classic case of an up-and-coming insurgent taking on the machine. The 39-year-old progressive knocks Reyes for taking a hands-off approach to constituent services such as the Veterans Administration, whose facilities in the 16th district rank among the nation's worst. He notes that two of the six bills Reyes has passed in 16 years in Congress have been to rename buildings. And, in a nod to the evolving policy debate in his border district, O'Rourke's written a book making the case for marijuana legalization and an overhaul of the Drug War. Nothing about him suggests that he'd be a magnet for a band of conservative millionaires.
But CFPA began reaching out to voters in El Paso in February, and Reyes quickly found a wedge. O'Rourke took fierce criticism when it was discovered that a number of his biggest contributors—including his father-in-law—had given to the Campaign for Primary Accountability. Reyes alleged that the super-PAC was being used simply as a conduit to funnel more money to his opponent's cause, telling the Texas Tribune that the group amounted to little more than "special interest money and family wealth" that was being used to "undermine the vote and will of the people." (Ellis emphasizes that those donations accounted for just a small fraction of the group's haul and had no bearing on their decision to take on Reyes.)
O'Rourke calls Citizens United a "terrible decision" and says he's "opposed to everything that has led to this." He notes that it's Reyes who's benefited most from outside contributions—in the form of the Democratic Congressional Campaign Committee—and that his own contributions have come mostly from within the district.
But it underscores the challenges Linbeck and his campaign face. What will it take for Linbeck, scion of a billionaire political activist, to prove that there's no top-secret motive behind his plan for primary chaos?
"Look, it's natural for people to be skeptical about things that are novel, right?" Linbeck says of his plan. "I mean, look, if you went back and rolled back the clock to the 19th century, a lot of people were skeptical about this radical notion that women should be allowed to vote, you know—I mean, wow, women had never voted before! Of course it's natural to be skeptical."
He continues, "But we hope that our actions, and the things that we do, start to make people to realize…that it's not some sort of deep game that's being played here. We really want the democratic election process that's at the heart of our republic to work."
Correction: This story originally misidentified Joe Ricketts' son, Tom Ricketts, as the owner of the Chicago Cubs. Tom Ricketts serves as chairman; the club is owned by the Ricketts family trust.