American goldfinch: Mdf via Wikimedia Commons.
There's an interesting database online through the US Forest Service called the Climate Change Bird Atlas. It's based on another database, the Climate Change Tree Atlas (both are forecasts for eastern forests and birds). One leads to the other, since the fate of forests will affect the future of many species of birds. From the USDA/Forest Service site:
Changing forests mean changing habitat for the wildlife species that depends on them. The current and modelled distribution of 150 bird species is presented in the accompanying Climate Change Bird Atlas.
The database is interactive and reasonably easy to figure out. Here you can see one potential future for the American goldfinch, the iconic state bird of three widely separated states—New Jersey, Iowa, and Washington. The goldfinch is a truly common bird that's benefited greatly from living alongside us, thriving at weedy roadsides and backyard bird feeders.
But parsed against three climate change scenarios and two emissions scenarios, the future of the American goldfinch gets sketchy. The map on the left shows current abundance of the American goldfinch in the Eastern US, with pink being the most abundant.
The map on the right shows a forecast decline in abundance based on high climate change/emissions scenarios… Looks like the "Canadian goldfinch" could be set to become the iconic provincial bird of Quebec, New Brunswick, and Ontario.
If you visit the Climate Change Bird Atlas you can play around with the outcomes for many eastern birds, compare projections, and run basic animations.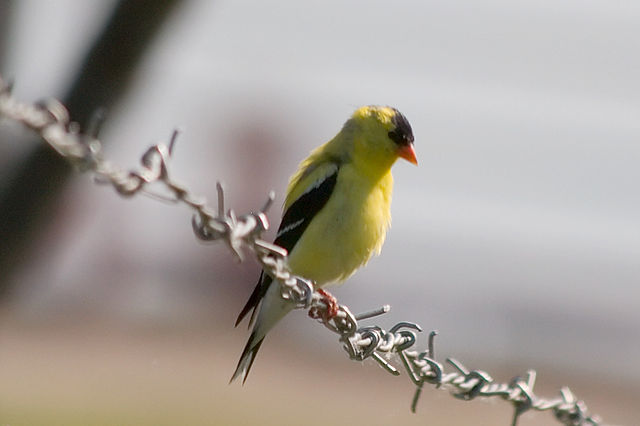 The atlas is derived from a paper in the science journal Ecography. Here's an excerpt:
Mounting evidence shows that organisms have already begun to respond to global climate change… We therefore developed statistical models of 147 bird species distributions in the eastern United States, using climate, elevation, and the distributions of 39 tree species to predict contemporary bird distributions… These models were then projected onto three models of climate change under high and low emission scenarios for both climate and the projected change in suitable habitat for the 39 tree species.
The paper is open access if you want to read more about the authors' modeling methods and the climate change/emissions scenarios they worked with. Their overall findings:
Breeding habitat will decrease by at least 10% for 61-79 species.
Breeding habitat will increase by at least 10% for 38-52 species in the eastern United States.
Most interesting about this paper was how it expanded the envelope beyond the usual climate/elevation-only models to include the effects of changing forests/vegetation. In some cases, refugia of forests may keep birds in places we are accustomed to seeing them, even when most of their kind have moved away or dwindled away.
The paper:
Matthews, S. N., Iverson, L. R., Prasad, A. M. and Peters, M. P. 2011. Changes in potential habitat of 147 North American breeding bird species in response to redistribution of trees and climate following predicted climate change. Ecography, 34: no. DOI:10.1111/j.1600-0587.2010.06803.x