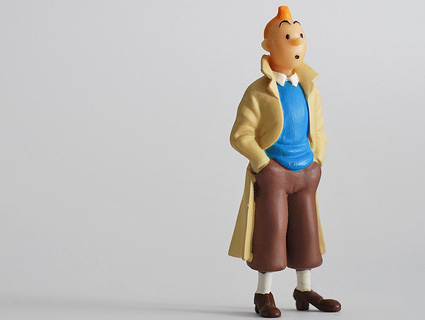 Fight disinformation:
Sign up
for the free
Mother Jones Daily
newsletter and follow the news that matters.
After seeing The Adventures of Tintin, my colleague Kiera Butler raised an interesting question: If Tintin's supposed to be a reporter, why don't we see him writing up his big story at the end of the movie? For that matter, why don't we see him ever doing anything vaguely resembling journalism?
That never occurred to me during my preadolescent years of following the Belgian boy reporter's comic adventures. Yet as Benoît Peeters notes in his new biography of Tintin's creator Hergé (AKA Georges Remi), over a career spanning more than four decades, Tintin is only shown doing reporting in his first strip, 1929's Tintin in the Land of the Soviets. "Moreover," Peeters writes," his is a relatively unorthodox and quite athletic interpretation of the profession of journalism…[H]e causes events more often than he writes about them, launching himself across the pages and into one improbable scrape after another."
Which suggests that Tintin is in fact a very bad reporter. I'd like to propose another theory: Tintin is a gonzo journalist. The evidence:
• He packs heat: In many of his adventures, Tintin eventually gives up the niceties of investigative journalism and begins pursuing his subjects with firearms. Very unorthodox, very gonzo. (Maybe the real reason Tintin wears those baggy plus-fours is because they're perfect for concealing a weapon.) In fact, you're more likely to see Tintin holding a pistol than a pen or notepad. Which brings us to…
• He never takes notes. Years before Truman Capote claimed he could memorize his interviews ("the taking of notes, much less the use of a tape recorder, creates artifice"), Tintin perfected the art of notebook-free reportage. Which is all the more remarkable considering that he suffers some kind of head trauma in just about every adventure.
• His sidekick is a raging drunk: While Tintin is notably abstemious, his friend and companion Captain Haddock is prone to bouts of apoplectic, alcoholic rage. But his whiskey-soaked rants have their journalistic benefits. In The Adventures of Tintin, the Captain relates an elaborate story about 17th-century pirate treasure that really helps Tintin with his "reporting." The catch: He only remembers the tale when he's murderously shitfaced. I pity the fact checker who had to handle that one: "So that crazy 400-year-old story has only one source, and he has to be totally drunk to confirm the details."
• He never files expense reports. Considering that Tintin's preferred modes of travel are hijacking small aircraft and being kidnapped and stuffed in the hold of cargo ships, is it any wonder he can't be bothered to collect receipts? (Related: He never talks to his editors. Does he even have editors?)
• He's 14. Or maybe he's 17. Or 20. Tintin's age is subject to debate. (See here for an amusingly exhaustive attempt to nail it down.) Anyway, his precociousness has an Almost Famous edge to it. Without the rock'n'roll or groupies (or any girls for that matter).
• The story is always about him: As Peeters notes, every Tintin story is ultimately about Tintin. Even if it starts off as an investigation of drug smugglers or gun runners or a junket to the moon, Tintin's the one who ends up getting a ticker-tape parade or front page stories about his derring-do. That doesn't explain why he never gets around to actually writing anything. Perhaps he suffered from writer's block—another effect of all those concussions?
Of course, the truth is that Tintin's supposed profession is irrelevant to his exploits. (Hergé eventually dispensed with the boy reporter charade altogether.) But it's entertaining to imagine that—to paraphrase Hunter S. Thompson—when the going got tough, the tufted turned pro.