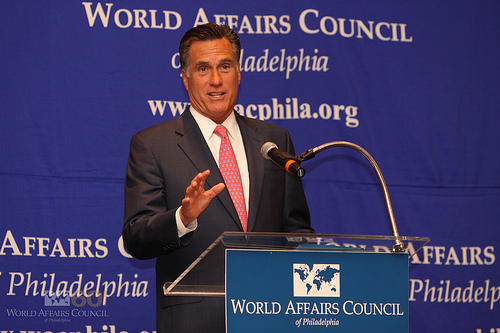 Fight disinformation:
Sign up
for the free
Mother Jones Daily
newsletter and follow the news that matters.
At the NBC presidential debate Monday night, former Massachusetts governor Mitt Romney wasted no time attacking his main competitor, Newt Gingrich. In particular, Romney took aim at the former speaker's $1.6 million contract with government housing corporation Freddie Mac, blasting Gingrich as an "influence peddler."
Gingrich rejected Romney's attacks, saying he made only $35,000 a year from his Freddie gig. (The rest, he said, went to his firm.) As for the "influence peddler" claim, Gingrich went on, "I have never, ever gone and done any lobbying."
Hours before the debate, Gingrich's campaign released one of the candidate's contracts with Freddie. The contract, dated February 8, 2006, called for paying the Gingrich Group $25,000 a month that year, and lists Freddie's top lobbyist at the time, Craig Thomas, as Gingrich's main contact at the housing corporation. The contract raises fresh questions about whether Gingrich traded on his network of Capitol Hill contacts or engaged in actual lobbying.
After Gingrich's campaign released the 2006 contract, a top Romney aide, Eric Fehrnstrom, tweeted, "Newt's K Street firm finally released the Freddie contract, but only for 2006. Where are missing years? He started there in 99."
Here is Newt's 2006 contract: