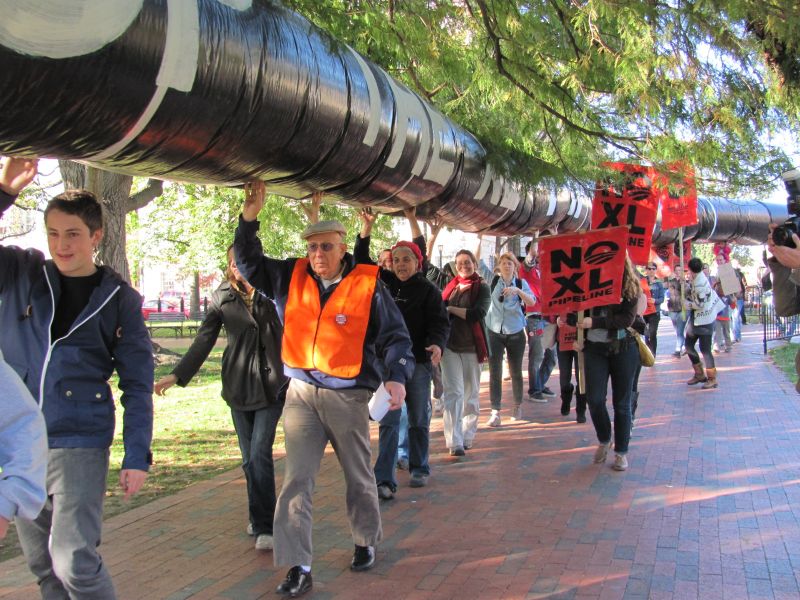 This article has been updated and expanded since it was originally posted.
The Obama administration formally rejected the Keystone XL pipeline proposal on Wednesday—news that is not at all surprising, given the situation congressional Republicans created for it. Both the State Department and President Obama issued statements that said they have denied a permit for the controversial pipeline project, but put the blame on the limited time frame Congress gave them to make a decision.
"As the State Department made clear last month, the rushed and arbitrary deadline insisted on by Congressional Republicans prevented a full assessment of the pipeline's impact, especially the health and safety of the American people, as well as our environment," said Obama. "As a result, the Secretary of State has recommended that the application be denied. And after reviewing the State Department's report, I agree."
Obama also sought to emphasize that he did not see the rejection as a definitive statement on the pipeline project itself. "This announcement is not a judgment on the merits of the pipeline, but the arbitrary nature of a deadline that prevented the State Department from gathering the information necessary to approve the project and protect the American people," he said. "I'm disappointed that Republicans in Congress forced this decision, but it does not change my Administration's commitment to American-made energy that creates jobs and reduces our dependence on oil."
Under a provision passed in December, the Obama administration was given until February 21 to make its final decision on the proposed 1,661-mile pipeline. Republicans in Congress demanded that the 60-day deadline be included in a payroll tax cut extension passed last month. On Tuesday, the White House confirmed basically what I reported last week, which is that Obama can't grant permission for the pipeline in that time frame because doing so would violate a bunch of other laws.
In a press briefing, White House spokesman Jay Carney reemphasized that the bill demanding a decision is counterproductive. A possible alternative route through Nebraska that avoids some of the most ecologically sensitive areas—which the state's Republican governor requested—hasn't even been plotted out yet. That means that the mandatory federal analysis of that route can't be completed.
"Everyone—a lot of people, and certainly we—made clear back in December that a political effort to short-circuit that process for ideological reasons would be counterproductive because a proper review that weighed all the important issues in this case could not be achieved in 60 days—according to the State Department, which, again, runs this review process," said Carney.
In its statement on Wednesday, the State Department made clear that its denial of the permit application "does not preclude any subsequent permit application or applications for similar projects." So TransCanada can apply again, after it works out an alternative route through Nebraska.
For more of our coverage of the Keystone XL debate, see:
What's All the Fuss About the Keystone XL Pipeline?
A Giant Pipeline Carrying Dirty Oil From Canada to Texas. What Could Go Wrong?
TransCanada Agrees to Reroute Keystone XL Pipeline
Senate Republicans to Obama: Approve Keystone XL or Else!