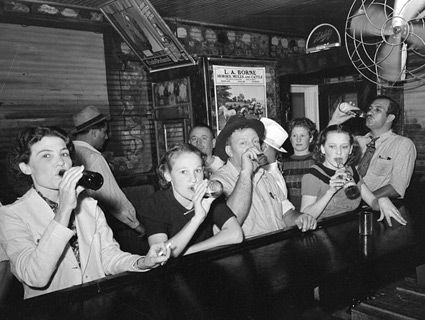 Fight disinformation:
Sign up
for the free
Mother Jones Daily
newsletter and follow the news that matters.
Monday marks the 78th anniversary of the ratification of the 21st Amendment, which officially ended Prohibition in the United States. On December 5, 1933, the federal government brought to a close a 13-year era deeply scarred by Mafia power grabs and draconian law enforcement measures…and all the American people got for it were some cool movies, an HBO series, and this stupid T-shirt.
To commemorate the abrogation of the "Noble Experiment," here's a round-up of the best songs about getting tanked, pie-eyed, crapulent, and loaded. Some tracks are mellow and emotional, others are noisy and visceral—all are guaranteed to put you in the mood to party like FDR just got into office. And, no, Blake Shelton's "The More I Drink" will not be appearing anywhere on this list. Ditto, that damn Jimmy Buffett song.
1. The Rolling Stones, featuring Buddy Guy, "Champagne and Reefer": In this killer jam from Martin Scorsese's 2008 concert film Shine a Light, the Stones and Buddy Guy take a Muddy Waters favorite out for a spin, riffing on the simple pleasures in life: women, dope, and gallons upon gallons of white sparkling wine.
2. The Gourds, "Gin and Juice": In 1996, the Austin alt-country outfit released their endearing reinvention of Snoop Dogg's 1994 hit. The Gourds' cover is a gleefully down-home toast to hard debauchery and buzzed driving, as well as a bizarre hat tip to thug rap.
3. John Lee Hooker, "One Bourbon, One Scotch, One Beer": George Thurogood and the Destroyers might have the better-known, monologue-heavy rendition of songwriter Rudy Toombs' classic, but John Lee Hooker is John Lee Hooker. So enjoy the man's definitive style:
4. Etta James, "One for My Baby (and One More for the Road)": "Ol' Blue Eyes" and Billie Holiday also recorded phenomenally kick-ass versions of "One for My Baby." In 1961, the incomparable Etta James tweaked the torch-song staple into an upbeat R&B orchestral. Sample lyric: "We're drinking, my friend, to the end of a brief episode."
5. The Jeff Beck Group, "I've Been Drinking": This British blues lament is one of the most overlooked drinking tunes of the late '60s. But since this song evinces the qualities of loneliness, heartbreak, and self-destructive consumption, it's probably best to blare this after the party has died down.
6. N.W.A. "8 Ball": When you're celebrating your constitutional right to get ruthlessly drunk, don't play this one while your kids are in the room. You wouldn't want to upset them.
7. Tom Waits, "The Piano Has Been Drinking": Some say every Tom Waits song is a drinking song. Here's one of them, in a clip from the 1977 program Fernwood Tonight:
8. Punch Brothers, "Rye Whiskey": This progressive bluegrass group cleverly builds on a tradition of whiskey-focused folk, taking a cue from genre icons like Woody Guthrie and Pete Seeger.
9. The Pogues, "Streams Of Whiskey": If you're compiling a list of firewater-sodden music, it would be something of a defeat to not include a pro-Irish-Republican Celtic punk band with a drinking problem.
10. Dean Martin, "Little Ole Wine Drinker Me": Dean Martin was perpetually hammered and even more perpetually charming. Here's concert footage proving it.
11. Janis Joplin, "What Good Can Drinkin' Do": This is reportedly the earliest known recording of the singer Rolling Stone once dubbed "the iconoclast who could rewrite songs with a single scream." Joplin's stripped-down, raw howl is on full display in this live performance of a song she wrote "one night after drinking [herself] into a stupor."
12. AC/DC, "Have a Drink on Me": Sample lyrics: "I'm dizzy drunk and fightin'/On tequila white lightnin'/Yes my glass is getting shorter/On whiskey, ice, and water/Yeah so c'mon have a good time/And get blinded outta your mind." If there's one thing AC/DC sure knows, it's subtlety.
13. Booker T. & the M.G.'s, "Boot-Leg": It's an instrumental number, but you get the idea. Here's the song, with its old-school dance floor groove, featured on an episode of Hollywood a Go-Go.
14. The Doors, "Roadhouse Blues": Check out this live cut of the Doors' hottest bar song, from a gig in New York City in early 1970.
15. Elton John, "Saturday Night's Alright for Fighting": Ignore the covers by Nickelback, W.A.S.P., and other newbies; Elton's 1973 original is the wild one. Lyricist Bernie Taupin keeps the words reliably macho: "A couple of the sounds that I really like/Are the sounds of a switchblade and a motorbike/I'm a juvenile product of the working class/Whose best friend floats in the bottom of a glass."
16. ZZ Top, "Beer Drinkers & Hell Raisers": In 1973, that little ol' band from Texas released this ditty, tailor-made for the tavern jukebox. Its blues-boogie drive works just as well in a dingy bar as it does at an arena during a world tour.
17. Faces, "Borstal Boys": This one's actually about a juvie cell block. But it gets an honorable mention for—more so than any other song—sounding like a bar fight put to music.
BONUS TRACK
18. DJ Topcat, "Dec. 4th, Oh What A Night": The Four Seasons single "December, 1963 (Oh, What a Night)" was actually first written as an ode to the death of the Prohibition era, with the original title of "December 5th, 1933." But due to creative differences, the theme was scrapped, and the song was overhauled into a disco hit about some dude losing his V card through the magic of anonymous sex in the early '60s. Instead of posting the Four Seasons recording that you've heard thousands of times on the radio, on Broadway, and at every Bar Mitzvah you ever went to, here it is mashed-up with Jay-Z's "December 4th" by DJ Topcat, whose work has been included in the popular "Best of Bootie" mash-up compilations.
Please recommend your own favorite drinking songs in the comments section.
Happy December 5, MoJo readers, and remember to click here for more music features from Mother Jones.