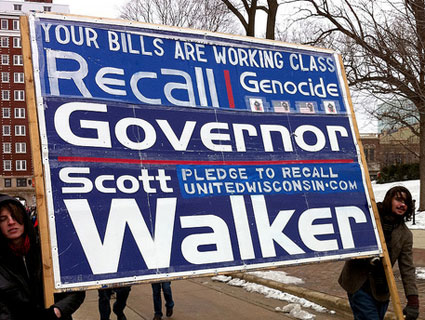 Fight disinformation:
Sign up
for the free
Mother Jones Daily
newsletter and follow the news that matters.
In late September, Democratic pollster Paul Maslin met with staffers from the Democratic Party of Wisconsin in a bright conference room with a view of the state Capitol in Madison. He sensed disappointment in the room. That summer, the party had forced recall elections for six Republican state senators but unseated just two of them—one short of retaking control of the majority. Maslin's reason for visiting was to discuss his new poll for a different recall effort, one targeting the most controversial man in Wisconsin: Republican Gov. Scott Walker.
Ninety percent of those from both parties polled said they'd vote in a Walker recall election, with 77 percent of those saying they'd "definitely" vote. The energy is there, Maslin told the staffers. And so, more crucially, was the anger: 51 percent said they'd vote for Walker's opponent, while just 42 percent said they'd vote for Walker. The governor could be beaten, Maslin suggested.
Maslin tried to rouse the staffers with a historical analogy. He asked who had heard of Dieppe; the response was crickets. Dieppe, Maslin explained, was a French port controlled by the Germans during World War II. In August 1942, Allied forces launched an amphibious assault and aerial raid on Dieppe, only to be routed with heavy casualties. But the Dieppe disaster, Maslin went on, was a prelude to a larger victory. Lessons learned there helped the Allies succeed on D-Day two years later and go on to win the war.
When asked later about the analogy, Maslin says he wasn't comparing Walker or the Republicans to the Germans. "My point was, the Senate recalls were never the final deal," he says. "In terms of what people are thinking in the state, it's always been about Walker. Those are the bumper stickers you're seeing Madison and Milwaukee. That's always been the topic of conversation: Scott Walker, Scott Walker." He added: "The real thing is W-Day—that's the real fight."
That fight begins at 12:01 a.m. on Tuesday with the launch of the official Walker recall campaign. Organizers have 60 days to collect at least 540,208 signatures to trigger a recall election for Walker. (Another 540,208 additional signatures are needed to recall Lt. Gov. Rebecca Kleefisch.) The grassroots groups spearheading the recall effort under the "United Wisconsin" banner say they hope to collect as many as 700,000 or 800,000 signatures by mid-January. That's roughly 12,000 or 13,000 a day. If they do, it will set up a bruising, cash-flooded, two-month recall campaign next spring, and an actual election between early April and early June, depending on legal challenges and potential primary races on either the Democratic or Republican side.
The first inkling of a Walker recall appeared last winter, with the introduction of the governor's controversial "budget repair" bill. The bill curbed bargaining rights for most of the state's public-sector unions—a policy Walker never mentioned on the campaign trail. The move curtailed wage increases, and it made it harder for unions to collect dues and recertify each year. His threat to sic the National Guard on would-be protesters of the bill badly backfired, only stoking the bubbling unrest. In the weeks after, teachers staged "sick-outs," unions rallied their members, tens of thousands of protesters flooded the streets surrounding the state Capitol, and thousands more occupied the Capitol rotunda for more than two weeks. In the end, though, Walker and Republican legislators prevailed, and he signed his "repair" bill into law in March.
That was just the beginning. Walker's full budget, passed in June, closed a two-year shortfall of $3 billion by slashing almost $800 million from public schools, trimming tax credits for the poor, rewriting state pension law while cutting investment and corporate taxes. He passed a controversial voter ID bill that critics say disenfranchises students and seniors, and signed two GOP-friendly redistricting bills. Also looming large is a John Doe investigation into possible campaigning by employees for Milwaukee County while on the clock when Walker was the county executive. (Eleven people have been granted immunity in the probe.) In September, the investigation captured national headlines when the home of a close Walker aide, Cynthia Archer, was raided by FBI agents.
Today, Wisconsin is as divided as it was during the fight over Walker's "repair" bill. In August, the left-leaning Public Policy Polling found that 93 percent of Democrats disliked Walker and 87 percent of Republicans liked him. His overall approval rating remains mediocre, with 47 percent approving and 51 percent disapproving, according to an October PPP survey (PDF). Another October poll, by the conservative Wisconsin Policy Research Institute (WPRI), found that Walker's standing has barely changed since late February and March.
PPP's and WPRI's surveys detected a similar split on recalling Walker—48 percent of respondents favored it and 49 percent opposed in PPP's poll, while WPRI reported a 47-49 split. But Maslin, who worked as former California Gov. Gray Davis' pollster during his own recall election (which led to his replacement by Arnold Schwarzenegger), dismissed these findings as the work of "fly-by-night cheap pollsters." He repeated his belief that Walker is vulnerable and said that his experience in California convinced him that Walker has only a five- or six-week window to win over angry voters before their attitudes are frozen in place as the recall effort ramps up.
"The very things that are vexing Obama, or the things that are hurting the Republican brand in Congress, is the fact that nothing is working well anywhere," Maslin says. "Can Walker somehow regain public confidence that he's the one doing things right?"
Grassroots—for Better or Worse
By day, Julie Wells drives a forklift at a factory in Fort Atkinson. Nights and weekends, she spends her time building the movement to convince voters that Scott Walker needs to go. Wells, 52, is the Jefferson County co-coordinator for United Wisconsin, the grassroots effort to gather signatures to recall Walker. Wells finds volunteers, trains signature collectors, and organizes sign-painting parties in her mostly white, politically moderate county.
United Wisconsin's five-member board and 100 county-level coordinators are almost all volunteers (it has two and a half paid positions). It has received more than 4,000 donations to date, 89 percent from in-state donors. The average donation is $40. More notably, United Wisconsin has already gathered more than 200,000 pledges to sign a Walker recall petition and signed up 7,000 volunteers for the signature-gathering effort.
While United Wisconsin's grassroots nature gives it credibility, it has also come off as amateurish. At a mid-October press conference officially announcing the recall effort, the group's co-chairs struggled to answer basic questions: What's your strategy? What's your message? How big is your organization? When do you think the election would be?
Kevin Straka, one of the group's co-chairs, says it has gotten more savvy, and that its message is simple: Walker's assault on unions, public education, and voting rights is an "injustice." United Wisconsin will partner with anyone, Straka says, who will help it achieve its singular mission: kicking Walker out of office. "We won't sign onto anyone's agenda, but if their goal is that mission, we welcome them to join us," he says.
Joining them is the Democratic Party of Wisconsin. The DPW will act as the clearinghouse for all the recall signatures, collecting and processing them as they come in. The DPW also launched "Recall Walker HQ," which includes a volunteer sign-up, events calendar, a map of 23 different recall office locations, and a list of "Walker's failures" ("deception," "corruption," "cronyism," and "incompetence," to name a few). The DPW's recall Walker fundraising page lists a goal of $60,000; by the end of Friday, $56,596 had been raised. The party has also trained signature gatherers.
And then there are the state's labor unions, which were the driving force behind the massive protests in Madison last winter. Labor leaders say their members are fully behind the recall effort and are encouraged to get involved any way they can. Bryan Kennedy, president of the state chapter of the American Federation of Teachers, says his union recently unanimously voted to support the recall effort. "Basically, we're telling our members, 'This is our No. 1 priority,'" he says. "We're making sure that the union is front and center to our members in the recall of Walker."
The Challenger
Privately, labor leaders, Democratic party officials, and other Wisconsin politicos say they're confident United Wisconsin and its allies will gather enough signatures to recall Walker. Even Brad Courtney, the chairman of the Republican Party of Wisconsin, said last month that Walker opponents would get their recall election.
But unlike Ohio's recent union fight, this won't be a yes-or-no referendum on a controversial bill. This will be Scott Walker against…some Democrat.
Who that Democrat will be makes all the difference. Do Walker foes pick a lawmaker with decades of experience, like outgoing US Sen. Herb Kohl, a wealthy businessman with name recognition, or former congressman David Obey, the gruff, tough moderate who represented Wisconsin's 7th District for 41 years? Do they rally behind a more local figure like Dane County executive Kathleen Falk? Or a fresh face like Mahlon Mitchell? The young president of Wisconsin's firefighters union, Mitchell exploded onto the state's political scene last winter with his inspirational speeches rallying foes of Walker's "repair" bill even it wouldn't affect cops and firefighters. As Mother Jones first reported on October 27, Mitchell says he is "strongly considering a run" against Walker in a potential recall election and will decide whether to run "very soon."
The most competitive candidate in a Walker recall election, according Maslin's internal polling, is Milwaukee mayor Tom Barrett, the man Walker beat in 2010. In Maslin's poll, Barrett beat Walker 51 percent to 43 percent in a hypothetical recall held in September. A former five-term US congressman, Barrett enjoys wide support in Milwaukee, where he has served as mayor since April 2004. In 2008, he cruised to reelection with 79 percent of the vote—the most support received by a Milwaukee mayoral candidate in four decades.
Barrett, who faces reelection next spring, has been mum about another run. A source close to the mayor, who requested anonymity to discuss private conversations, says Barrett's 2010 loss to Walker is seen not as a drawback but in fact as his biggest weapon in a potential recall. "He can say, 'I ran against this guy last year, I warned you all, now we need a do-over,'" the source says. Barrett's decision, the source continues, will hinge on whether that polling advantage seen in Maslin's September poll is still there in January, when the recall signatures are turned in. "He's going to want to see a pathway to victory," the source says, "and if the polling's not there, then he'll get behind whoever the best candidate is."
A Money Torrent
The biggest factor in the Walker recall may not be the Democratic candidate but money. Thanks to a quirk in Wisconsin state law, Walker can accept unlimited donations for his recall war chest until the Government Accountability Board, the state election watchdog, picks an election date. That date might be settled until February or March, giving Walker months to rake in donations. What's more, a Walker donor filed a phony recall petition on November 4, giving Walker a week-and-a-half head start to raise funds before the serious recall effort begins.
Walker has said that raising a prodigious amount of money is central to his recall defense, according to Courtney, chair of the Wisconsin GOP. At an event last month in Milwaukee, as Mother Jones first reported, Courtney told the audience, "What Scott says is we're gonna raise a lot of money—we can accept unlimited money for a 60-day time period, so you're gonna see a lot of positive, wonderful ads about what's going on in Wisconsin."
Last summer's state Senate recall elections gave a glimpse of just how much money deluge could flood in. Total spending in the nine recalls reached $44 million, more than double the previous record set in 2008, when $20.25 million was spent on 115 legislative races. Six of the nine races smashed the previous spending record of $3 million for a single state Senate race. Mike McCabe, director of the Wisconsin Democracy Campaign, which tracks money in state politics, says he's hearing people say $100 million could be spent in a recall. (In contrast, just $37 million was spent in the Walker-Barrett 2010 gubernatorial race.) McCabe declined to break down how much of that money would be spent by left- and right-leaning groups—Republicans were slightly outspent in the summer recalls—but suggested that Walker would likely dominate the spending war.
"Scott Walker's going to be rolling in cash," McCabe says. Exactly how much is anyone's guess. "I don't you can look at any past election for governor," he says, "and in any way predict what might happen in this upcoming election for governor."