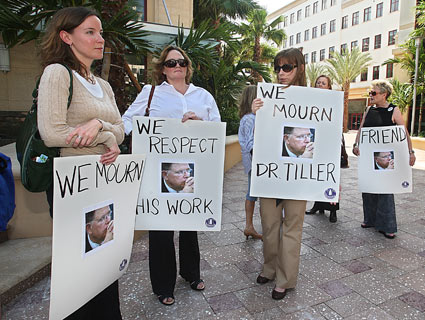 Fight disinformation:
Sign up
for the free
Mother Jones Daily
newsletter and follow the news that matters.
Until he was shot dead in his church in May 2009 by anti-abortion extremist Scott Roeder, Dr. George Tiller was the No. 1 target of anti-abortion groups in Kansas and around the country. Since then, abortion foes have relentlessly pursued one of his former colleagues, Dr. Ann Kristin Neuhaus; this Friday, a state panel that includes appointees of Kansas' anti-abortion governor will hold another hearing to decide whether Neuhaus will be allowed to keep her medical license.
From 1999 through 2007, Neuhaus spent one day a week in Tiller's clinic providing the legally required second opinion on whether there was a medical need for a woman to have a third-trimester abortion. She did not provide these later-term abortions herself at Tiller's clinic. In October 2006, Cheryl Sullenger, an anti-abortion activist and convicted felon, filed a complaint, alleging that Neuhaus did not adequately evaluate the women who came to Tiller's clinic or properly document their cases in her files. That led to an investigation by the Kansas State Board of Healing Arts, which regulates medical services in the state.
Given the origins of the complaint and the anti-abortion views of some of the panel's members, Neuhaus' supporters worry she has little chance of a fair hearing. They also fear that the state isn't doing enough to protect her from potential violence.
They have a point: Sullenger, who filed the complaint, is a senior policy adviser for Operation Rescue, an anti-abortion group that relocated to Wichita for the purpose of shutting down Tiller's clinic. She served time in federal prison for her role in a 1988 plot to blow up a California abortion clinic and was in contact with Roeder not long before he killed Tiller. The Board of Healing Arts, which took Sullenger's complaint against Neuhaus seriously and opened an investigation, has been accused of bias against abortion providers. Sam Brownback, the state's Republican governor and a staunch abortion foe, recently appointed Rick Macias, a lawyer for Operation Rescue and other anti-abortion groups that harassed Tiller, to serve on the board.
Neuhaus, who previously provided first trimester abortions, no longer does so. She placed her license on inactive status in 2009, when she returned to school at the University of Kansas Medical Center to pursue a master's degree in public health, and is only taking charity cases currently. She would like to resume a full license to practice medicine when her fellowship ends in December. There were five days of testimony in September, and on Friday, the Board of Healing Arts will hold a sixth day of hearings to determine whether Neuhaus will be allowed to resume practicing medicine.
Neuhaus' husband, Michael Caddell, worries that even if the allegations against his wife aren't substantiated, she will remain a target for anti-abortion activists. "If she wins, she keeps her license, but she'll move higher up on the threat level," Caddell says. But if she loses her license, he fears they won't be able to keep their house and 10 acres of farmland about 38 miles north of Lawrence. "They're battering my wife—professionally, legally, beating her—mainly because of association with Dr. Tiller," he says.
While there is a need to investigate legitimate complaints against doctors, those "shouldn't be something that's anybody's business," says Dr. Anne Davis, the medical director of Physicians for Reproductive Choice and Health, an advocacy group for abortion providers and their patients. The investigation of Neuhaus is part of a broader effort to make abortions harder to obtain, Davis says: "It discourages [doctors] from providing services when you see the relentless attempts to close people down, take away their license, or try to discredit their medical career."
The board's investigation of Neuhaus focuses on 11 files, all from 2003, that involve women—girls, really—ages 10 to 18. Under a Kansas law at the time, an abortion could only be performed after 22 weeks if two doctors have certified that continuing the pregnancy would cause "substantial and irreversible impairment of a major bodily function of the pregnant woman." At the time these abortions were performed, mental health could be considered a major bodily function; since then, the state Legislature has changed the law to exclude mental health as grounds to approve a third-trimester abortion. In each case, Neuhaus certified that yes, these young women would face significant harm if they were forced to carry their fetus to term.
Neuhaus found the girls to be suffering from depression, anxiety, or stress related to the pregnancy, and she issued a letter to Tiller approving the procedure. The hearings—and much of the coverage of them—have focused on selective aspects of those cases. One of the girls, 15, had been a barrel racer and worried that having a baby would end her ambitions of becoming a rodeo professional. Another girl had lost interest in things she used to do, like basketball. But, Neuhaus contends, those stories have concentrated on details taken out of context and don't convey the complex reasons these girls came to Tiller's clinic so far along in their pregnancies.
Nor are the files representative of the women who came to Tiller's clinic for third-trimester abortions, around 300 a year. Neuhaus would usually come in one day a week, on a Monday or Tuesday. Most days she would see two or three patients. On busy days, it could be eight or nine. She met with each woman for an hour and talked through her individual situation. At the time, there were only three facilities in the United States that performed late-term abortions, and the clinics' patients included women from all over the US and other countries. Before arriving in Wichita, the women had already been through a phone screening session. At the clinic, they would usually see a staff member, then Neuhaus, then a social worker. Tiller was also known for the group sessions he held with third-trimester patients—gatherings he treated much like an Alcoholics Anonymous meeting.
Deciding whether continuing a pregnancy would cause "substantial" and "irreversible" impairment of a major bodily function was a judgment call—though one made on a professional and individual basis, Neuhaus says. "All I have to do is be able to say that in my best judgment that they will have an impairment of some bodily function that is substantial and irreversible," she says. "It was so vague, it was hard. I didn't really know how to approach it for a long time."
Many of the younger girls either didn't realize they were pregnant until pretty far along, were in denial, or thought they could keep hiding it. There was also the social context to consider. Should the prospect of single motherhood, poverty, and diminished educational or job opportunities be a consideration? And there were the difficult factors concerning how the woman might react should she carry to term. Would she cut her wrists or take a fistfull of pills? Would the baby end up in a dumpster somewhere, or be abused? "It's quite a task," Neuhaus says. "There are not very clear goal posts. Somebody had to do it, and I was asked to, and I felt like I needed to."
Still, there were many women whose need was straightforward. One woman found herself in Neuhaus' office on September 11, 2001. She was a statuesque African American woman, wearing a red bandanna, and she was in the middle of chemotherapy for ovarian cancer that had metastasized. She didn't think she could even get pregnant, and she didn't find out she was until a CAT scan before a round of chemo indicated that she was six months along. She was probably going to die from the disease and didn't want to leave behind a potentially ill infant with no mother.
"For them to belittle it, to say that its okay for a 10-year-old have a kid by her uncle, and no harm is going to come from it, that's just beyond the realm of decency," says Neuhaus.
Then there was the young woman who had been roofied and raped by multiple men, including an ex-boyfriend. She passed out, and they raped her on top of a pool table in a beach house and videotaped the whole ordeal. There had been a court case, but the judge had ruled against her because she'd had consensual sex with one of the men in the past, and because she wasn't resisting in the video. "She was pregnant as a consequence of that and had horrible PTSD," Neuhaus says. "The trial was like a re-rape. She was literally being raped in public, as the videotape was being shown. That's the kind of backstory I didn't put in the records."
One time, Neuhaus evaluated a 10-year-old girl who had been raped by her uncle, which is one of the files the medical board is investigating. This girl was tiny, maybe 4'8″, Neuhaus recalls. There had already been a police investigation, and the uncle was in jail, but it took until the third trimester for the girl to make it to the clinic. "For them to belittle it, to say that its okay for a 10-year-old have a kid by her uncle, and no harm is going to come from it, that's just beyond the realm of decency," she says.
Not all of those details were in the paperwork, however, because Neuhaus says she knew that records weren't truly confidential given the anti-abortion leanings of Kansas law enforcement officials. "I chose to sacrifice details," Neuhaus says. "I risked nothing but my license. I didn't compromise their health care."
At the clinic, Neuhaus' decisions were made in a place that was constantly under threat. Tiller was shot in both arms outside the facility in 1993. To enter, patients had to go through a metal detector. For a while, Neuhaus says, she wore a bulletproof vest to work. She even carried a .40 caliber pistol in her scrubs for a short period and took up target practice. "I was a reasonably decent shot," she says. "I would not have had too much trouble shooting one of those people if I had to." There were also bomb threats. But as time went by, she got more comfortable with the situation: "I think at some point, you get used to it, and you don't have anxiety."
In 2007, Kansas charged Tiller with 19 misdemeanor violations of state abortion law, arguing that Neuhaus wasn't really an independent physician, as the state law required, because she used his office and because Tiller had once sold her a car for $300. But the photos of the banged-up 1994 Toyota Camry with yellow tape holding the bumper together—which Neuhaus still drives today—failed to convince the jury. Tiller was acquitted in March 2009, after jurors deliberated for less than an hour. Shortly after the criminal trial, the Board of Healing Arts—the same group now investigating Neuhaus—began looking into similar charges. But two months later, Tiller was dead. The files that the board is considering in Neuhaus' hearings were released in the course of the case against Tiller.
Neuhaus and Caddell worry about her safety at the hearings. The most recent hearings were held in the basement of a state office building in Topeka, without a metal detector on site. The dates, times, and locations for these hearings are posted online on the board's website and often publicized by anti-abortion groups. Operation Rescue staffers—including Sullenger—were present for the first week of hearings, tweeting from just behind Neuhaus.
In response to a question about safety at the hearings from Mother Jones, the panel's executive director, Kathleen Selzler Lippert, noted that since Tiller's murder, the board "has enhanced security and will endeavor to continue to provide safe and appropriate environments to fulfill our statutory mission."
Neuhaus says she's not interested in providing abortions anymore. "I have too much PTSD about the whole thing," she says. It's not the fear of being shot at. It's the fear of having to deal with hostile abortion rights opponents both inside and outside of the Kansas government. "It makes me feel panicky and sick when I think about it. It's not logically in my interest to deal with."