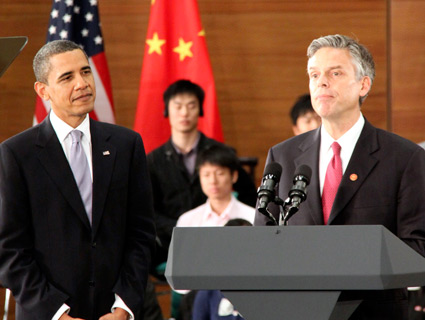 Fight disinformation:
Sign up
for the free
Mother Jones Daily
newsletter and follow the news that matters.
During Saturday's CBS News/National Journal "Commander-In-Chief" debate—the first 2012 GOP debate to focus exclusively on foreign policy—the candidates were thrown a couple questions on the War in Afghanistan.
For the most part, the Republican contenders responded as expected. Mitt Romney said that "the right course is for us to do our very best to secure the victory that has been so hard-won" through sacrifice and hundreds of American lives, which is exactly what he's been saying about both Afghanistan and Iraq for a while now.
Unsurprisingly, perennial back-runner Jon Huntsman responded by echoing his standard, dovish line on the war: get the troops out ASAP. But what was mildly surprising was that he answered the question in Barack Obama's words.
"We've had free elections in 2004, we've uprooted the Taliban, we've…killed Osama Bin Laden," Huntsman said. "This nation's future isn't Afghanistan; this nation's future isn't Iran." He went on to state that he has no interest in "nation-building overseas" when "we so desperately need it at home."
During Obama's address to the nation on the Afghanistan drawdown in late June, the president spoke of how it was time to allow foreign allies to "determine their [own] destiny," and how the American mission was rapidly coming to its end. Also, there was this:
Now, we must invest in America's greatest resource—our people. We must unleash innovation that creates new jobs and industry, while living within our means. We must rebuild our infrastructure and find new and clean sources of energy…America, it is time to focus on nation building here at home.
Perhaps Huntsman's former employer has been rubbing off on him more than he'd like to admit.