The International Pacific Research Center (IPRC) in Hawaii reports that somewhere between 5 and 20 million tons of tsunami debris from the March earthquake and tsunami in Japan is migrating quickly across the Pacific Ocean.
Crew from the Russian tall ship STS Pallada spotted furniture, appliances, and a fishing boat with the home port 'Fukushima' painted on it after passing the Midway islands, part of the Hawaiian Island Archipelago, last month. That's 2,000 miles from the epicenter of the quake. 
This is the first confirmed sighting since shortly after the disaster, when the massive floating remnants of coastal Japanese towns—more than 200,000 buildings—simply disappeared from view.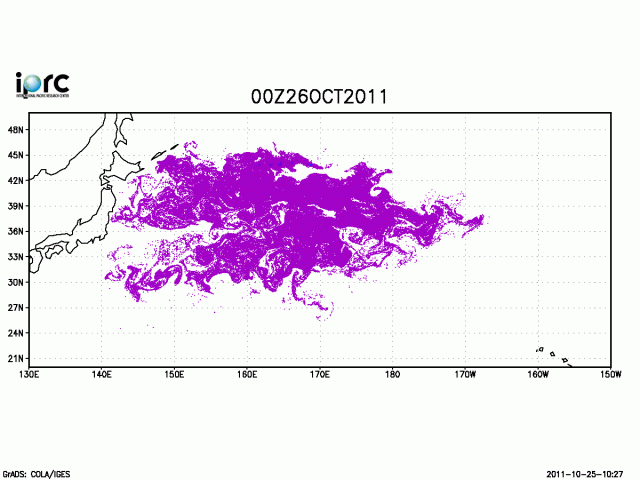 The image above shows the likely path of tsunami debris as of 25 Oct 2011. The IPRC research suggests this path based on 678,305 tracers released from the northeast coast of Japan beginning 11 March 2011, the same day as the quake.
You can watch an animation of the full dispersal here. The fluid dynamics are beautiful.
This video shows the IPRC prediction of the long-term—5
-year-plus—
travels of the tsunami debris.
The original animation for the statistical model is here.
As you can see from the video, the debris, after bouncing off the west coast of North America, is likely to get trapped in the North Pacific Gyre along with all the other garbage collecting there. The plastics will last close to forever.
As an interesting aside, monstrously huge rafts of tsunami debris may well be one of the mechanisms by which life originally dispersed to the Hawaiian Islands. 
A new analysis of the genome of Hawaiian honeycreepers reveals they're not descended, as thought, from the honeycreepers of the Americas, but are instead a sister taxon to the Eurasian rosefinches of the genus Carpodacus.
Based on a genetic analysis, the precursors of Hawaiian honeycreepers probably arrived on Kauai and Niihau about 5.7 million years ago and continued to diverge into different species after Oahu emerged from the sea.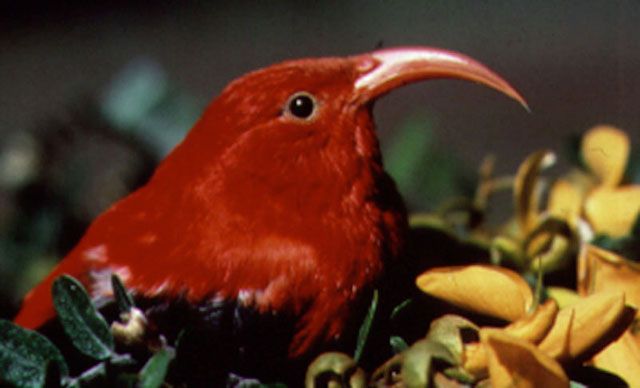 It's possible that huge floating mats of tsunami debris—perhaps from Japan—brought the ancestors of Hawaii's present-day honeycreepers to the islands.
Those of you who've spent time at sea know how land birds get blown off course and will rest on any platform at sea—ship, boat, raft, the backs of sleeping whales—as they fight to stay alive.
Maybe the current tsunami debris will transport some newcomers to the Hawaiian Islands.
Would we recognize them as naturally-delivered refugees? Or would we try to exterminate them as human-introduced aliens?
The papers:
Nikolai Maximenko and Jan Hafner. Marine Debris. IPRC Climate, vol. 8, no. 2, 2008. pdf.

Heather R.L. Lerner, Matthias Meyer, Helen F. James, Michael Hofreiter, and Robert C. Fleischer. Multilocus Resolution of Phylogeny and Timescale in the Extant Adaptive Radiation of Hawaiian Honeycreepers. DOI:10.1016/j.cub.2011.09.039.