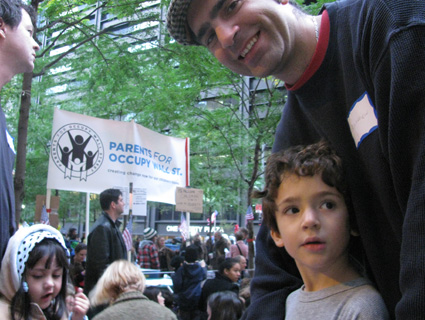 Fight disinformation:
Sign up
for the free
Mother Jones Daily
newsletter and follow the news that matters.
Zuccotti Park, like most public places in New York City, can be dangerous late at night. Midnight attacks by street people, stolen laptops, dozing women who've been groped or propositioned: Sesame Street it is not. But with a little bit of coordinated self-policing, Occupy Wall Street can be a safe place to bed down for anyone. That, at least, was the idea on Friday night when 68 families with young children showed up at the park, blankets and cupcakes in tow, for a sleepover.
"The idea is to let parents have a voice in Occupy Wall Street, because normally they cannot be here and also be at home taking care of their families," says Kirby Desmarais, a record label owner from Brooklyn who founded the Parents for Occupy Wall Street Facebook group a few weeks ago. She was standing inside a roped-off area near the park steps—a cardboard sign dubbed it a "Child Safe Zone"—where her 18-month-old daughter and dozens of other children played with comics, alphabet blocks, and glow sticks.
"I hope that the nation will see that the movement is not only the radical, the young, and the unemployed," Desmarais went on. "It's regular citizens like us, and it's time that our voices be heard."
The kiddie occupation kicked off around 5:30 p.m. with a free concert by all-ages alt-rocker Dan Zanes, backed by his bongo drummer and violinists. Wearing a purple vest and his trademark spiky gray mop of hair, Zanes played "I Don't Want Your Millions, Mister," an old Labor Party song from the '40s, when, he figured, "there was a similar feeling in the air."
Standing nearby, Zoe Kashner collected the sippy cup that her three-year old daughter, Rafa, had thrown to the ground. A sign on the backpack of her five-year-old son said, "Play fair Wall Street. Don't steal my future." She'd found the concept of theft the easiest way to explain the protest to her youngsters: "They're like, 'They steal people's money?' I'm like, 'Yeah.' Even kids get that it's not fair."
Outside the cordon of the kids area, protesters waved signs and cops harried passersby, keeping them moving. A loud meeting of Occupy Wall Street's General Assembly debated how to restructure itself into something less chaotic. After a while, a line of 10 or so fire engines screamed past and blocked the street to battle a blaze in a nearby office building.
Among the children, however, more pressing concerns prevailed: Kathleen Reyes, a former investment banker and mother of two from Brooklyn, had brought freshly iced cupcakes. "Do you want this one?" asked a mother of a girl in rabbit face paint just before the toddler reached in to grab it. "Say thank you!"
Cake was not enough for some occupier families. I found 21-year-old Cesar Ortiz near the edge of the park, dragging on a cigarette as his daughter wiggled in her stroller. She'd been born in jail about a year ago to a mother who was still serving time. The demands of caring for her caused Ortiz to lose his cashier job, then his apartment, but he hadn't found a reliable place in a homeless shelter and now resorted to sleeping with his daughter most nights in a hospital or subway train.
Some Zuccotti occupiers worry that the camp's free food and détente with the police will make it a magnet for the homeless and all the problems that they can bring. Last week, Ted Hall, a recent graduate of Bard College, was shoved to the ground by a man who angrily claimed he'd stolen his sleeping spot. The camp works with police to evict troublemakers, and it has been beefing up its in-house security crew. Still, the parents weren't leaving anything to chance. Guards at the kids zone wore neon shirts that said "Parent Security," carding families that wanted to enter. But that wasn't enough to prevent one heckler from loudly accusing the group of child abuse.
"The people we voted in, they are not working for us," said the mother of a three-month-old.
As midnight arrived beneath the relentless streetlights, most kids had fallen asleep. The parents, not so much. "I have a newborn, so I don't get to sleep anyway," said Sol Soto, the wife of an IT worker from Long Island. Her chubby three-month-old in a rainbow-striped hoodie was expressing his displeasure about something, which Soto translated into protest lingo: "I want to be heard!"
Soto had come to Zuccotti, in part, to protest the death of a friend; his brain tumor had gone untreated because he had no health insurance. She also worried that government cutbacks would mean that her children wouldn't have the same kind of educational and work opportunities that had been available to her. "The people we voted in, they are not working for us," she told me, then pointed up to the office towers around the park: "They are working for all of them."
After a while, the nearby bars emptied out. A drunk stopped by to loudly sing "God Bless America" before the police hauled him off. Then another man lobbed a roll of duct tape into the group, briefly rousing five-year-old Diego Curinga. I found his father, Matt, still awake, at 2:15 a.m., the kids zone having run out of available strips of pavement. We watched a street sweeper swish past and puzzled over what sounded like an industrial vacuum cleaner roaring to life. "It's just one night," Curinga figured.
As dawn approached, Dylan Spoestra, a man whose ID lists him as a Canadian Special Forces officer, climbed 30 feet up artist Mark di Suvero's red "Joie de Vivre" sculpture to demand a meeting with Mayor Michael Bloomberg. The families began packing up to make room for a police cordon; the urgings of occupiers and a cop in a cherry picker hadn't been able to coax Spoestra off. The disruption didn't really bother young Diego, who, Curinga notes, is "interested in trucks."
Though exausting, Curinga believes spending the night boosted the morale of other longtime occupiers and taught his kids important lessons about helping people. As for the future: "We are definitely talking about when to go back."