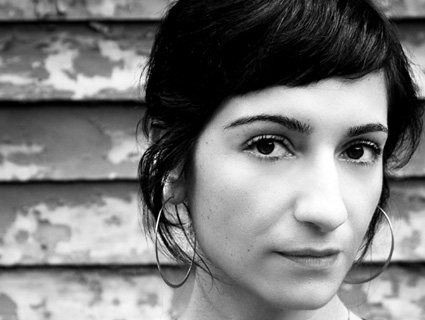 Only in San Francisco would you find a poetry reading so packed, it requires bouncers to turn away bookish crowds at the door. Saturday night's Lit Crawl in San Francisco's Mission District was the crowning event of the city's annual, week-long literary festival, Litquake. Though Lit Crawl bars were brimming with sweaty revelers, events earlier in the week provided enough breathing room for contemplation. At last Thursday night's "Writing Human Rights: Literature as a Window into Iran," held at the San Francisco Public Library, panel moderator Anita Amirrezvani asked her fellow Iranian authors on stage the million-dollar question: "How has your Iranian identity shaped your writing?"
"I hope that in 100 years you don't have to ask this," Laleh Khadivi responded. "We're just humanist writers." But until then, as an Iranian writer, Khadivi said she felt responsible for representing her identity. "I don't know how literature can be a window into a culture. I do know, when the sound of the media is so loud vilifying your country, [writing literature] is the best we can do."
The event drew an assorted crowd of about 40 members, from women bespectacled in chic red glasses to old men sporting ponytails. To begin, moderator Amirrezvani gave a breezy intro to 20th Century Iran, from the hostage crisis of 1979 to the Green Revolution in 2009. "Since then, alas, a deteriorating human rights record in Iran," she said. "This is the backdrop against which these writers are working." Khadivi, along with the three other authors, have sublimated Iranians' struggles at home and abroad into literature. Excerpts from their recent publications, which often recount Iranian human rights violations such as censorship and secret executions, captivated the audience.
Persis Karim, who teaches at San Jose State University, read from a collection of lyrical poetry. In a solemn voice, she told the story of a 16-year-old girl executed for adultery in 2004, Atefah Sahaaleh: "That night her body lay in the hot, humid ground./ Someone, perhaps the men, dug her up,/ Fearful that her skin and bones/ Might eat away at the earth/ where mortal saviors walk." Karim said her Iranian past is unavoidable in her writing. "Because of the events that shaped me as a young adult, I haven't been able to escape that lens."
Nazy Kaviani, a human rights reporter, works at a newsroom "on my dining room table in San Francisco." She shared the true story of how she confirmed the execution of a Iranian man by calling his family over Skype. When calling his brother, she heard an unusual message: "'This account has been restricted.' Even all these miles from Iran, I feel a sense of dread…Restricted by whom?" Eventually, Kaviani reached the man's daughter, only to discover that her mother, sister, and uncle had been arrested simply for asking about her father at the prison where he was being held.
Khadivi, wearing cowboys boots and a fringed bob, read mellifluous prose from her trilogy about three generations of Kurdish men. Her latest novel, The Walking, follows a Kurdish boy's move to the United States, set against the backdrop of the Iranian mass exodus to America. In the past century, Iranians moved "most specifically, for some reason I cannot understand, to Los Angeles," Khadivi said, eliciting chuckles from the Bay Area crowd. Her story shows the melding of immigrant cultures in Southern California. "Imagine our shock when we realized we had not become American," Khadivi read, "but America had become more like us."