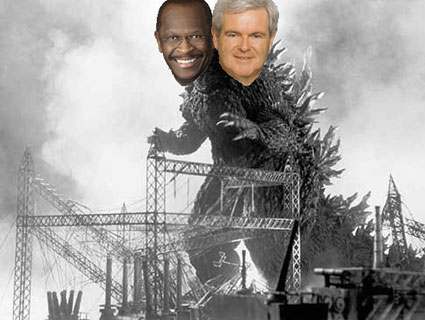 Let our journalists help you make sense of the noise: Subscribe to the
Mother Jones Daily
newsletter and get a recap of news that matters.
Perhaps the strangest moment of Thursday's Fox News/Google debate came when Texas Gov. Rick Perry was asked who he would pick as his running mate. His reply: "I don't know how you would do this, but if you could take Herman Cain and mate him up with Newt Gingrich, I think you would have a couple of really interesting guys to work with."
Former Massachussetts Governor Mitt Romney quipped, "There are a couple of images I'm going to have a hard time getting out of my mind."
I suspect Perry's plan to "mate up" Gingrich and Cain (who actually did say he would choose Gingrich as his running mate) doesn't actually signify a shift in Perry's views on marriage equality. But if the image of a mutant spawn of Cain and Gingrich running alongside Perry doesn't frighten you, consider that Perry didn't exactly excel in his animal science major in college, receiving "a D in veterinary anatomy, a F in a second course on organic chemistry and a C in animal breeding." We can only hope that when this Hermewt Caingrich emerges, Tokyo will be spared.