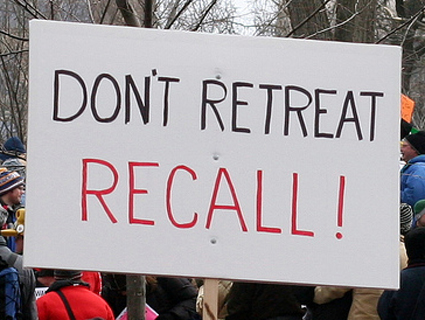 Fight disinformation:
Sign up
for the free
Mother Jones Daily
newsletter and follow the news that matters.
A few thousand votes.
That, in the end, was all that separated Wisconsin Democrats from winning three of Tuesday's six recall elections and reclaiming the majority in the state Senate. Democrats won two races, in the 18th and 32nd districts, but fell short in the remaining four, including a gutting loss in the most high profile election. That race, in the 8th District on the northern outskirts of Milwaukee, pitted Democratic Rep. Sandy Pasch against GOP Sen. Alberta Darling. Democrats called Darling's seat the "crown jewel" of the recalls, given the veteran senator's role as the co-chair of the powerful Joint Finance Committee, which stood behind Gov. Scott Walker's anti-union budget repair bill.
But Darling managed to fend off a spirited and volunteer-fueled Pasch campaign. In a race filled with vicious radio and TV ads and allegations of fraud leveled by both sides, strong support in Republican-leaning counties in her district delivered for Darling when she needed it most. "Clearly the unions tried to take me out, and they didn't," Darling told a local TV network Tuesday night. For her part, Pasch cast her defeat as "a victory nonetheless." She said in a statement, "Against the longest odds, on Republican turf and facing on onslaught of special-interest cash, a coalition of grassroots voters stood an entrenched Republican to a virtual tie."
Elsewhere, GOP Sens. Luther Olsen, Sheila Harsdorf, and Robert Cowles defended their seats. Two Democrats, Jessica King in the 18th and Rep. Jen Schilling in the 32nd, unseated Republican incumbents Randy Hopper and Dan Kapanke, respectively. "On Tuesday night, Wisconsin spoke loud and clear with the recall of two entrenched Republicans," said Mike Tate, chair of the Democratic Party of Wisconsin.
With tonight's results, Democrats have shrunk the GOP's state Senate majority to a single seat. That gap, however, could reopen if either of the two Democratic incumbents lose their recalls scheduled for next Tuesday. (Both are expected to win.) Left-leaning pundits and politicos are describing the night's results a victory, considering that the two Democratic victories came on Republican-friendly turf. The mood at Democratic-friendly election night events belied that assessment, with plenty of tears shed and consoling among friends. There's no doubt Democrats' failure to win three seats comes a major disappointment after the party and unions spent tens of millions of dollars on the recalls and mounted a Herculean get-out-the-vote effort in recent weeks.
But despite the disappointment, there was already talk of the next fight—recalling Gov. Scott Walker—among the stragglers heading home in the wee morning hours on Wednesday.
***
Election Liveblog:
11:37 p.m. CST: Mike Tate, chair of the Democratic Party of Wisconsin, has accused the clerk of Waukesha County, a public official who found herself at the center of an election controversy this spring, of "once more tampering with the results of a consequential election." Tate didn't say what exactly the clerk, Kathy Nickolaus, is guilty of but goes on to say that "a dark cloud hangs over these important results."
Nickolaus found herself in the headlines during this spring's Wisconsin Supreme Court race. After it appeared that progressive candidate JoAnne Kloppenburg had won the race, Nickolaus announced that she had failed to report more than 14,000 votes in the Supreme Court race. Those votes ultimately gave conservative Justice David Prosser the victory, and so earned Nickolaus the vitriol and anger of Democrats.
That episode is no doubt the driving factor behind Tate's statement. He says Dems are deciding whether to take action.
11:17 p.m. CST: With 80 percent of precincts reporting, Sen. Alberta Darling (R) has moved into the lead over Rep. Sandy Pasch (D). Darling now leads by 3,108 votes with 16 precincts still to report.
11:06 p.m. CST: The sixth and final recall election in Wisconsin is an absolute nail-biter, with Rep. Sandy Pasch (D) leading Sen. Alberta Darling (R) by a slim 1,111-vote margin. But that's only with 68 percent of precincts reporting, and local media are reporting that the remaining votes to be tallied were cast in solidly red districts. There are, however, several precincts still to be recorded from northern Milwaukee, which could boost Pasch's chances.
10:44 p.m. CST: Democrats have notched their second win of the night, with the AP calling the 18th district race for Jessica King. She leads Sen. Randy Hopper (R) 51 percent to 49 percent with 97 percent of precincts reporting.
That brings Democrats' total wins to two. GOPers have won in three races, and just a single race now remains, the 8th district in north Milwaukee and nearby suburbs. With 67 percent of precincts reporting, Rep. Sandy Pasch (D) leads Sen. Alberta Darling (R) by 1,738 votes in that race.
10:13 p.m. CST: The AP has called the 32nd district recall election for Rep. Jen Schilling (D), giving Democrats their first win of the night. With 82 percent of precincts reporting, Schilling leads Sen. Dan Kapanke (R) 55 percent to 45 percent. Schilling was considered the lone sure win for Democrats.
There are now two remaining races, the 8th and 18th districts. Rep. Sandy Pasch (D) leads by 10 percentage points in the 8th district, while Jessica King (D) and Sen. Randy Hopper (R) tied in the 18th.
9:58 p.m. CST: Local media outlets have called the 14th district recall election for incumbent Sen. Luther Olsen (R). With 95 percent of precincts reporting, Olsen leads Rep. Fred Clark (D) by 8 percentage points, 54 percent to 46 percent.
That brings the GOP's victories to three out of six races in Tuesday's recall elections. Democrats must now sweep the remaining three races—they currently lead in two of three—to keep any hope alive of reclaiming the state Senate majority.
9:45 p.m. CST: A senior labor source emails to say, "We remain cautiously optimistic. This is tough terrain. We have done the work on the ground, and we await the results."
9:30 p.m. CST: The Associated Press has called the recall race in the 10th senate district for Sen. Sheila Harsdorf, the GOP incumbent. With 75 percent of precincts reporting, Harsdorf leads Democrat and union activist Shelly Moore by 16 percentage points.
Harsdorf is the second unofficial GOP victory of the night, after the AP called the 2nd district for Sen. Robert Cowles (R) over Nancy Nusbaum (D). Neither victory will be surprising for Democrats or labor officials, who had predicted Cowles and Harsdorf's wins. But that leaves four races to be decided, and Democrats need to win at least three of them to gain control of the State Senate.
9:25 p.m. CST: A group of labor supporters march around the Wisconsin state capital singing "Solidarity forever" an hour after polls closed on Tuesday night:
9:08 p.m. CST: Here are the unofficial results in all six districts so far:
Sen. Robert Cowles (R) v. Nancy Nusbaum (D): 57-43, with 52 percent of precincts reporting
Sen. Alberta Darling (R) v. Rep. Sandy Pasch (D): 71-29, with 9 percent reporting
Sen. Sheila Harsdorf (R) v. Shelly Moore (D): 58-42, with 54 percent reporting
Sen. Luther Olsen (R) v. Rep. Fred Clark (D): 55-54 45, with 39 percent reporting
Sen. Randy Hopper (R) v. Jessica King (D): 54-46, with 7 percent reporting
Sen. Dan Kapanke (R) v. Rep. Jen Schilling (D): 51-49, with 24 percent reporting
8:29 p.m. CST: GOP Sen. Alberta Darling pocketed 942 votes in the village of Thiensville, north of Milwaukee, while Rep. Sandy Pasch (D) won 585,  SE Wisconsin Patch reports. The website tweets, "Darling total in Thiensville is higher than David Prosser's 761 in April. Sandy Pasch also tops JoAnne Kloppenburg's 363 votes." These are, of course, very, very early results, with a slim percentage of districts reporting at this time.
8:02 p.m. CST: As recall voting comes to a close, an official with We Are Wisconsin, the powerful union coalition, emails to say that volunteers knocked on 92,332 doors across Wisconsin on Tuesday afternoon. That's an impressive number, and it's part of an even more impressive GOTV effort put together by left-leaning groups that I wrote about here.
7:41 p.m. CST: Daily Kos goes deep into the weeds with this analysis of the six senate districts at play tonight in Wisconsin. Well worth a read.
6:58 p.m. CST: Earlier this afternoon, Republican Gov. Scott Walker signed into law a redistricting bill that redraws Wisconsin's political playing field to help state and federal Republican lawmakers. Walker said the bill was constitutional, but progressives have already filed a federal lawsuit challenging the constitutionality of the bill's changes.
The bill directly impacts several of the senate districts at play in tonight's recalls. For instance, if Democratic Reps. Fred Clark (14th District) and Sandy Pasch (8th) win their recall races, they would be either redistricted out of their current districts or left in significantly more Republican districts.
6:47 p.m. CST: GOP Sen. Randy Hopper, who faces Democrat Jessica King in Wisconsin's 18th District, tells TV station WITI Fox 6, "Win or lose tonight, I'm proud of the things I've done."