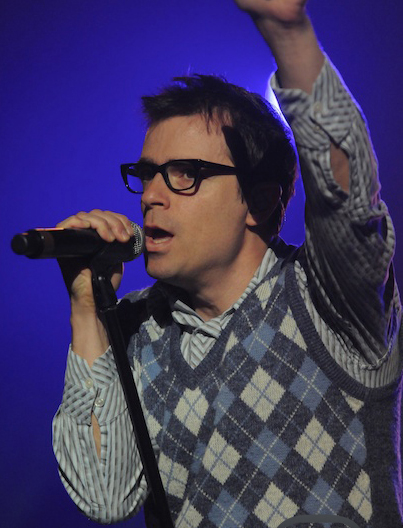 Fight disinformation:
Sign up
for the free
Mother Jones Daily
newsletter and follow the news that matters.
Last year, beloved geek-rock band Weezer hit the road with a "Memories Tour," playing The Blue Album (1994) and Pinkerton (1996) in their entirety over two nights. Front man Rivers Cuomo told MTV that the tour was an "emotional, cathartic experience" and that "to see 5,500 people singing along to every last word through every song on the album, even the really difficult ones, was incredibly validating for me."
Similarly, in 2005 the Lemonheads regrouped after a nine-year hiatus and are now touring exclusively to the tunes of their 19-year-old It's A Shame About Ray. Likewise, after a 12-year breakup, the Pixies reunited in 2004, and have spent parts of the past two years on the road celebrating their 1989 release, Doolittle, by playing the 15-song album in its entirety. All of these bands are selling out shows. But are they also, well, selling out?
The answer lies somewhere between rock and a hard place. There's a reason why certain albums are described as timeless. (Not gonna lie—just reading reviews of the Memories Tour made me want to break out The Blue Album, and I haven't listened to Weezer in years. Say it ain't so, whoa-oh!) It's not unusual for touring bands to focus on the hits that made them legendary, and indeed, if one is going to have a decades-long career, it's practically a necessity to revert to the classics from time to time. But a time-travel tour also feels a bit like the band has given up, or that they've become, as MoJo editor Mike Mechanic puts it, "the antithesis of RAWK."
The flashback tour isn't just about boosting rock star egos or tickling fans' wistfulness for times gone by. It's also about making money, of course. With music sales declining, artists are making more of their moolah by touring. Concert sales are on the rise, despite rising ticket prices. Part of this uptick in concert-going involves the nostalgia-industrial complex. Jimmy Buffett perhaps encapsulates this best. No one goes to a Buffett concert to hear new music. They go to don Hawaiian shirts, get wasted, and sing and dance like no one's watching. I will never forget the day I was heading home on the El in Chicago after a Jimmy Buffet concert. It was like entering a menopause-themed karaoke bar the size of a walk-in closet. These people were enthralled. They were serenading the world, regardless of whether anyone actually wanted to hear it. The average ticket price for a Jimmy Buffett concert this summer is $216. Two hundred sixteen dollars! He's clearly not wasting away in Margaritaville anymore. (Journey tickets are selling for a pretty penny as well, clocking in at $148.)
On the flip side, it's not a new phenomenon for bands to shun their hits in favor of playing only new music. Kate Nash, MGMT, and Radiohead come to mind. Refusing to play songs that fans have paid oodles to hear smacks of egotism, but is the same true of seasoned bands only playing oldies? I mean, you didn't often hear anyone complaining about the set lists of Dead concerts, and don't say it's because they were too stoned to care.
The concert experience, unlike endlessly playing your iTunes tracks on repeat, is one that never ages. This is especially refreshing in the heyday of Auto-Tune, where even Rebecca Black can be made to sound halfway decent. For this reason, nothing beats the unique, however blemished, familiarity of a live show from a favored musician or band. Case in point: Bob Dylan sounds like he's been eating asphalt for a quarter century when he sings now, but still—it's Dylan! I will gladly raise my cemen-tini glass to salute him.
I took the reunion tour question to Facebook. My fellow music fans seemed pretty on the fence. One friend said, "I went to see Weezer in '02 and they pretty much only played songs from The Green Album. Needless to say, I was disappointed. I think the fact that they're touring with their old songs says that they've realized their new music is crap, but do the fans even care anymore? I don't." Another put it this way, "Profitable though it may be, I can never get behind the dinosaur act tour model. I was thrilled when I saw Soundgarden reunite at Lollapalooza last year and found their set to be spiced up with several deep cuts and early tracks. I also give Paul McCartney much respect for playing Wrigley Field last week and still having the gall to play his 1980 travesty 'Temporary Secretary.'" Another friend was more favorable, noting, "Sometimes it's a nice treat, like when They Might Be Giants posed as their own opening band to play Flood all the way through." Another was less forgiving: "Pure laziness."
Whether old bands performing exclusively old tunes is a gimmick, a validation tool, or a genuine desire to appease reminiscing fans, the staying power of music relies on so much more than its usefulness as a commodity. Isn't the tried and true marker of rock legacy the ability to play something written years ago and still be able to blow someone's mind?
Click here for more music features from Mother Jones.