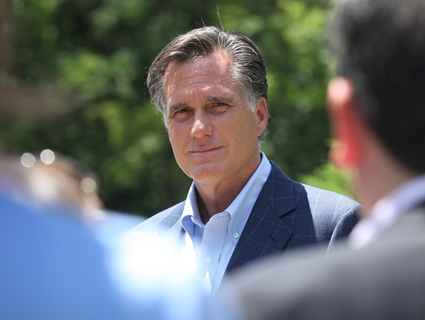 Fight disinformation:
Sign up
for the free
Mother Jones Daily
newsletter and follow the news that matters.
On Thursday, NBC's Michael Isikoff broke the story about a mysterious, recently dissolved company that donated $1 million to a super PAC affiliated with Republican presidential candidate Mitt Romney. That company, W Spann LLC, was formed in March, donated to the super PAC—called Restore Our Future—in April, and dissolved in July.
Now, the campaign watchdogs are barking back. Reuters reports that Democracy 21 and the Campaign Legal Center filed a complaint with the Federal Election Commission and Department of Justice on Friday asking the agencies to investigate the mysterious donation. The complaint alleges that the company, whose owners and true purpose remain unknown, violated FEC rules by falsifying the true nature of its identity.
But that's not all. Democracy 21 and the CLC contend that the brief, wondrous life of W Spann appears to have had no purpose other than to raise a massive chunk of change for Romney. They allege that W Spann was an entity created primarily to influence elections, and note that it made more than $1,000 in campaign expenditures. If that's true, the watchdogs argue, then W Spann should have registered as a political action committee.
"If W Spann LLC itself meets the definition of a political committee, then it should've showed up at the FEC to tell the public and the world where it got its million," said Paul Ryan, a lawyer with the CLC. The argument has some merit: after all, the folks who brought us W Spann have yet to explain why the company existed for only a matter of weeks, or why its signature investment was in Romney's political future.
Democracy 21 and the CLC see the short life of W Spann as a direct result of the Supreme Court's Citizens United decision, which allowed corporations to spend unlimited sums of money to influence elections. We won't know for sure whether any existing regulations were violated unless the FEC and DOJ decide to weigh in. But in the meantime, the watchdog groups' decision to push for an official investigation should send a clear warning to would-be W Spann copycats: following W Spann's lead might not be as easy, or as legal, as you think.