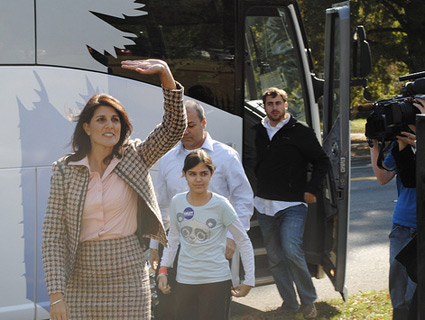 Conservatives just got something new to cycle through their outrage machine: The National Labor Relations Board is doing its job, again. On Thursday, the federal board handed down a new regulation instructing companies to conspicuously display posters reminding employees of their union rights. Politico reports that the letters "must tell employees that they have the right to strike and picket under certain circumstances; to form or join a union; to bargain collectively; to raise work-related complaints…; or to decline to do any of those things."
The National Federation of Independent Business, an organization with famously thin skin when it comes to regulatory-anything, released a statement insisting that the move demonstrates how the NLRB "has reached a new low in its zeal to punish small-business owners" and that the rule "sets up a 'gotcha' situation for millions of businesses which are unaware of the new rule or unable to immediately comply."
But that criticism reads like kids' stuff compared to what South Carolina's Republican governor Nikki Haley had to say about the NLRB this past week. Having previously deemed the NLRB a "rogue agency" during an interview on "Fox & Friends" earlier in August, the tea party governor posted the following to her official Facebook page on Friday afternoon, as her respone to the federal board's verdict on union rights notices:
Right next to that sign that is being mandated by Barack Obama's union cheerleaders at the NLRB, I encourage all S.C. employers to put up another sign: in our state, every worker has the freedom to reject the efforts to form unions and keep their paychecks for themselves and their families instead of paying dues to union bosses in Washington.
And during Haley's cameo appearance at Rep. Michele Bachmann's town hall in Charleston on Thursday, Haley seemed even more appalled by the NLRB's flexing its authority, this time blasting their decision in April to file a complaint against Boeing for the company's plan to ditch its union-represented plant in Washington and construct a factory in the right-to-work state of South Carolina:
Our president decided to allow the NLRB, which he appoints members to, to try and stop what Boeing is doing in South Carolina. It's the most un-American thing I have ever seen.
Check out Haley's comment in the video below at around the 1:20 mark:
Naturally, Bachmann responded with this anti-government chaser: "If the NLRB would also be continuing their current stance, they may not last very long," Bachmann said. "Once they see what I do to the EPA they may shape up."
Well, at least Haley didn't ask her about that light bulb thing.