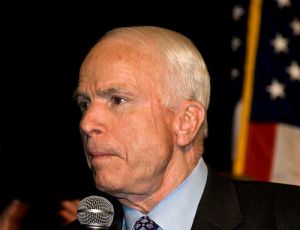 Fight disinformation:
Sign up
for the free
Mother Jones Daily
newsletter and follow the news that matters.
Congress is out of session in August, which means that America's senators and representatives are touring their home states and districts, meeting with constituents at town hall forums. It is an American tradition of sorts, in which constituents attempt to make the case that Washington politicians are irresponsible, uncivil, and ill-suited for the task of governing—by yelling insults and shouting really loudly while other people are talking, sometimes at the behest of corporate astroturf groups. Democracy!
To wit: Josh Marshall flags this gem from Arizona Sen. GOP John McCain's event earlier this week:
Kelly Townsend, a Gilbert resident and member of the Greater Phoenix Tea Party, demanded that McCain apologize for a comment made last month on the Senate floor about "tea party hobbits."
As well he should; the more apt Lord of the Rings/debt ceiling analogy would have been to this scene. Continuing on:
Tea-party activists called McCain "out of touch" when the senator said he didn't know about United Nations "Agenda 21."One man described the initiative as a "takeover of the United States of America by taking over our farms."

"First, our firearms, then our farms," another man added.

McCain said no Congress would allow that to happen, but that didn't satisfy several in the room who subscribed to the theory.
As it happens, "hobbit" is an especially sensitive term for tea partiers for reasons that go well beyond name-calling (they prefer "halfling," I believe). As I explained last week, a not insignificant number of conservatives (including, to a certain degree at least, Michele Bachmann), believe that the federal government has basically handed over our future sovereignty to the United Nations through a treaty called Agenda 21. Never mind that the agreement, which broadly outlined a number of goals to promote sustainable development, was never ratified by Senate; the fear is that rural Americans will be booted from their land and forced to, as Bachmann put it, "move to the urban core, live in tenements, [and] take light rail to their government jobs." (David Samuels captured this fear quite well in his piece on the Montana bison reserve.)
So what would these urban dwellings look like? Some activists speculate that we will be forced to live in what London mayor Boris Johnson calls "hobbit homes." He means this is in a nice way, of course—ultra-sustainable dwellings that make use of the natural environment and would probably be quite comfortable, provided they're built to scale; think some sort of combination of an Earthship and Bilbo Baggins' Bag End. But Johnson's description may have been a poor choice of words, and the anti-Agenda 21 activists have taken off with it. Unbeknownst to McCain, his use of the "h-word" hit a particularly sore spot for tea partiers.
Anyways, this all sounds kind of loopy—and it is—but it's worth keeping in mind that these views are entrenched among many on the far-right. Bachmann warned against Agenda 21 as a state senator; Glenn Beck brought the issue to Fox News; it's yet another way in which their ascendance marks a mainstreaming of the fringe.