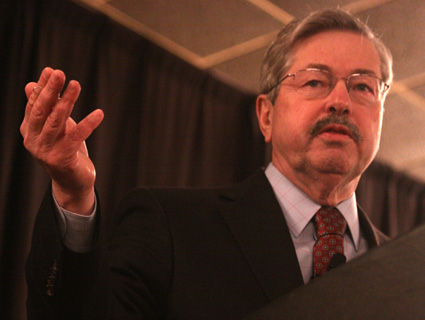 Fight disinformation:
Sign up
for the free
Mother Jones Daily
newsletter and follow the news that matters.
This morning, less than a week away from the state's GOP Straw Poll, Iowa Gov. Terry Branstad advanced an interesting theory about his state's presidential caucuses. Branstad, a Republican, warned reporters that Democrats might try to sabotage his party's nomination process by registering as Republicans en masse to vote for the weakest contender.
"That's been tried from time to time and you know what happened four years ago?" Branstad asked. "A lot of independents and even some Republicans actually got involved and that actually helped Obama beat Hillary Clinton and guess what? They actually got Obama for president. Now some of those people are having second thoughts about it."
That's something you might expect to hear out of the mouth of a jilted Hillary '08 voter. But while it's true that Barack Obama received a lot of independent and cross-party support, he was hardly a weak candidate, crushing John McCain by nearly 200 electoral votes.
That said, Branstad isn't totally off-base. Ed Fallon, a lefty former state representative who's now a local radio-show host, is encouraging Democrats to do just what Branstad warned, only for the opposite outcome. Fallon's rationale? Dems would vote for a more electable Republican, in the process restoring Iowa's leadoff caucus state reputation by helping select someone outside the social conservative fringe.*
For a Democrat, encouraging the opposition to put up the best fight against Obama in the name of Iowa seems counterintuitive. And in the unlikely event that Democrats pull off the tactic to noticeable effect, it's more likely to help Ron Paul, who's poised to surpass his 2007 fifth-place finish in the Ames Straw Poll this Saturday. Already, at least one state libertarian endorsed the plan, figuring that Dems would reward Paul for his anti-war positions.
The disproportionate influence of the religious right in Iowa primary politics is nothing new, of course. In 1988, televangelist Pat Robertson finished second to eventual 1996 nominee Bob Dole after winning the state's straw poll. More recently, Mike Huckabee's 2008 presidential bid quickly fizzled out after his Cinderella-story victory in Iowa.
With the Republican National Committee rejecting sanctions against other states that are breaking the rules to try scheduling their caucuses ahead of Iowa's, some state pundits worry that if Minnesota Rep. Michele Bachmann wins Iowa, then falters like Huckabee, Iowa's presidential kingmaker role will be further called into question.
*Full disclosure: Before getting into journalism, I volunteered on Fallon's unsuccessful 2006 campaign for governor.