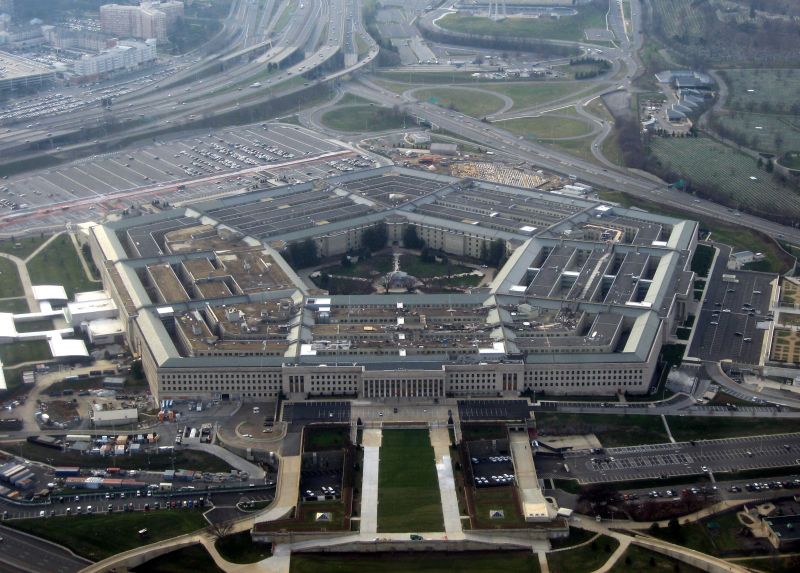 Will the just-passed debt-ceiling deal put the United States on a path to national security ruin? That's what defense hawks are saying. "Our senior military commanders have been unanimous in their concerns that deeper cuts could break the force," House Armed Services Committee Chairman Buck McKeon (R-Calif.) said yesterday, predicting that the proposal would "turn a debt crisis into a national security crisis." Tom Donnelly, an analyst at the American Enterprise Institute, ominously told the USA Today that the Pentagon cuts embedded in the compromise wouldn't call for "long knives so much as chain saws." And Sen. John Kyl (R-Ariz.) said Tuesday that President Obama had used the debt bill to "not just promote, but insist on the knowing destruction of the US military." He added, "We will need to work very hard to restore spending necessary for our national security and commit to reject the threat of Armageddon inserted into this bill by the White House." (McKeon and Kyl voted for the plan nonetheless.)
Yet the Department of Defense might make out surprisingly well in the deal. It's long been prepared for deep cuts and has already started focusing on doing more with less. But it may not even come to that: Its congressional allies will have plenty of time to water down any potential reductions. According an assessment by Winslow Wheeler, director of the Center for Defense Information, "The debt deal kicks the defense budget can down the road for this and future Congresses."
In theory, the debt deal will cut discretionary security spending by $7 billion over the next two years. How would those cuts impact the Pentagon? The Pentagon's base operating budget typically runs between $500 and 600 billion a year. $7 billion is roughly the cost of 3 submarines, or 20 fighter jets, or one-fifth of one KBR contract in Iraq. In other words, chump change. And that's if the cuts actually come from the DOD. According to the text of the debt bill (PDF), it's up to Congress to decide what parts of the total security and defense budget—which includes the Veterans Administration, Homeland Security, international affairs, and nuclear weapons—actually take a hit. One thing that won't take a hit is the funding for the wars in Iraq and Afghanistan, which is specifically preserved in the bill.
The White House and Congressional leaders insist that the debt compromise will slash $350 billion from the Pentagon over the next 10 years. Additionally, if Congress doesn't cut another $1.2 trillion across the board by December, a "trigger" in the bill is supposed to kick in, reducing the defense budget by another $500 to 600 billion.
But those hard numbers aren't spelled out in the bill. "The actual amount will be decided by Congress in the future," Wheeler says. And there's no guarantee that Congress, particularly Rep. McKeon and his pork-loving Armed Services Committee members, will take any cuts out of the Pentagon's hide. The bill "is classic Washington Kabuki theater," Gordon Adams, a political science professor who worked as a security budget expert for the Clinton White House, tells Foreign Policy. "The whole deal is designed to be opaque about the things you really want to know, such as how much defense will be cut."
The trigger may never be pulled, anyway. A bipartisan "super-committee" will look for the $1.2 trillion savings Congress is supposed to consider later this year. "While gridlock in Congress is surely a good bet, it is also likely that the joint congressional committee to be established will recommend a selection of cuts that do not hit DOD as hard," Wheeler says. In other words, whatever comes out of the panel's findings is likely to be pretty defense-friendly—which will make it more palatable to congressional hawks.
None of this is surprising to military brass. Before passing command to the budget-minded Leon Panetta, former defense secretary Robert Gates warned the services to prepare for big cuts, and he zealously targeted pet projects and weapons platforms. "We must come to realize that not every defense program is necessary, not every defense dollar is sacred or well-spent, and more of everything is simply not sustainable," he said after announcing a round of cuts last year.
Even if the DOD is forced to cut the full amounts advertised by the debt bill's supporters, that would still be a smaller reduction in the military complex than the $1 trillion that's been recommended recently by two bipartisan commissions and the archconservative Sen. Tom Coburn (R-Okla.). And there's always plenty of room for trimming fighter-jet programs with cost overruns, unwanted Humvees, and price-gouging contractors.
Bottom line: "This is a good deal for defense when you probe under the numbers," Lawrence Korb, a Clinton-era assistant defense secretary and analyst at the Center for American Progress, tells McClatchy. "It's better than what the Defense Department was expecting." The Grand Compromise basically amounts to mood music; when the time comes for really slashing defense, we'll see if anyone in Congress wants to dance.