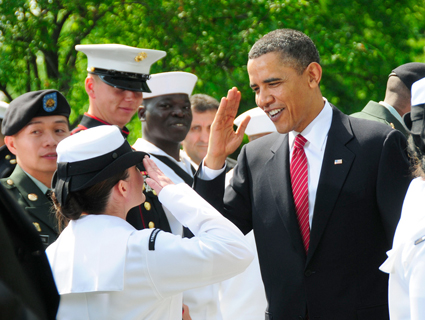 [UPDATE: It turns out Staff Sgt. Moran misrepresented himself as "AWOL" or missing work; he's actually on approved leave pending separation from the service…for mental health issues, according to his own account. See the full update below.]
It seems so mundane it shouldn't qualify as news: A mid-echelon Air Force enlistee is staging a sick-in from his job as an ophthalmology technician on a medical base in Germany. But Staff Sgt. Daryn J. Moran's decision to go AWOL this week is getting some attention among conservatives in the United States. "My stated goal," he tweeted Saturday, "is to have B. Obama held responsible for his forged birth certificate and not be in the Oval Office for the next election." He later added, "Now it's plain and simple. Arrest B. Obama or arrest me. I'm waiting in my house."
Birther service members have come and gone since Obama's election, but Moran is different in two big respects: He's the first active-duty, overseas-serving veteran to refuse to serve; and rather than pursuing legal means, he's taking his angry case to the airwaves and internet. A self-professed conservative Christian, he has called in to a birther web show (see the video below), sent multiple emails to the site obamareleaseyourrecords.blogspot.com, vented on a Twitter account, and ultimately been profiled by his hometown newspaper, the Omaha (Neb.) World-Herald. (In that article, Moran's father—also an Air Force vet—defends the birther ideal. "Quite frankly, my son is right," he says.)
Those activities may give Moran bigger problems than shirking his sworn duties. Under Article 88 of the Uniform Code of Military Justice, service members can be court-martialed for speaking against elected or appointed US leaders with language that's "insulting, rude, disdainful or otherwise disrespectfully attributing to another qualities of meanness, disreputableness, or worthlessness." Another rule, Article 134, bars speech that's "prejudicial to good order and discipline." Moran's public posts on the conservative bulletin board Red County could arguably qualify on both counts; they show that, rather than taking a principled constitutional stand, the airman has an intense enmity for Obama:
There's a third difference between Moran and previous military birthers, of course: He's the first to insist on Obama's foreignness after the president deigned to release his birth certificate to the public, back in April. In publicizing his long-form birth certificate, the president hoped to finally dispel criticisms that he might not be a natural-born US citizen. "We do not have time for this kind of silliness," he told reporters at the time.
Moran, though, is steadfast in his conviction that the public birth certificate is a fake. "B. Obama is a criminal," he wrote Saturday, adding: "That's as simple as it gets. My wife doesn't like me to use the word 'enemy', but he acts like one, so why not? Anyway, arrest him or me." Yet the airman insists his crusade isn't racially motivated. "There's no such thing as racism as far as I'm concerned. There's people and hate and kindness," he wrote elsewhere on Red County.
He added: "It's easy to see who is kind and who hates."
UPDATE, 1:00 p.m. EDT, August 17: The Air Force put out a statement today attempting to clarify the situation: Moran is not missing work, he's on approved leave pending his separation. Writes the Air Force Times:
"He is currently outprocessing for discharge from the Air Force which was previously approved by his commander on August 4th," the statement reads. "While we are aware of the comments that appear on various Web sites attributed to Staff Sgt. Moran, officials with United States Air Forces in Europe will not discuss nor characterize those comments."…

Moran wrote on The Blaze that he would soon receive an "administrative and honorable discharge for a 'personality disorder'" because he told his leadership that homosexuality is a sin.

He wrote a letter to BirtherReport.com the following day that his discharge was "basically paperwork."

His first sergeant "passed on the advice to refrain from more internet activity," Moran wrote. "She knows I cannot do that, because I want to end this crisis. For my family, and for the Constitution and my country, and for B. Obama".
It's unclear whether Moran's telling the truth – this time – about being discharged for anti-gay bias.