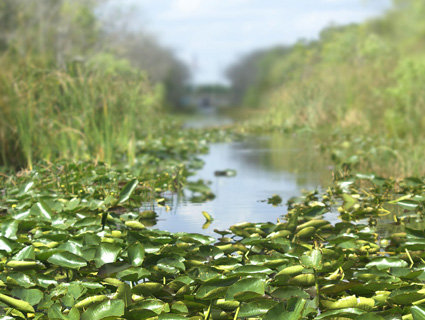 The Florida Everglades are a largest subtropical wilderness in the country. They're home to a number of endangered and rare species, and they're already threatened by habitat destruction, encroaching development, and agricultural run-off. But GOP presidential candidate Michele Bachmann thinks we should drill there—if we can do so "responsibly."
Bachmann discussed this at a campaign stop in Florida this weekend. She added the caveat that, "If we can't responsibly access energy in the Everglades then we shouldn't do it."
"No one wants to hurt or contaminate the earth," she continued. "We don't want to harm our water, our ecosystems or the air. That is a minimum bar." But Bachmann wants to abolish the Environmental Protection Agency. So it's not entirely clear who would be charged with ensuring that we are protecting the environment in our bid to drill in the Everglades and any other part of the US.
The Bush administration allowed oil companies to explore for oil in other ecologically sensitive areas of Florida's wetlands. The question of whether to drill in the Everglades pops up every campaign season. But drilling there is not very popular; Everglades restoration is much more popular among Floridians. Besides, there's not a whole lot of oil there to be had anyway.
The Everglades Foundation issued a press statement responding to Bachmann's comment on Monday morning:
NRA card-carrying hunters, fishermen, waterfowlers, and other outdoors enthusiasts do not want to see oil drilling in their Everglades wildlife paradise. In addition, the Everglades is the source of fresh, clean drinking water for more than 7 million Floridians. Congresswoman Bachmann needs to understand that oil and drinking water do not mix.
Perhaps Bachmann's desire to drill in the Everglades is just a stealth attempt to protect us from the fearsome manatee overlords that Florida tea partiers are so worried about.