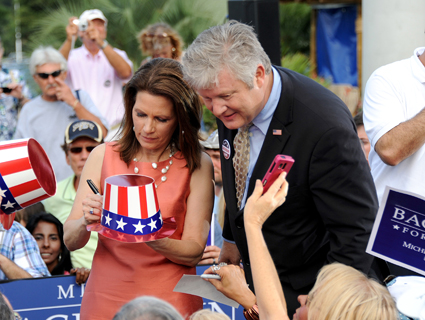 Fight disinformation:
Sign up
for the free
Mother Jones Daily
newsletter and follow the news that matters.
Rep. Michele Bachmann (R-Minn.) has been notoriously outspoken when it comes to her position on gays, contending that homosexuality is a "dysfunction," that it is a satanic evil to even use the word "gay" to describe homosexuals, and that gays and lesbians use public schools to recruit children to their sinful ranks. But when I caught up with Bachmann this afternoon on a Washington, DC, street and asked her about media reports by The Nation and ABC News' Nightline reporting that her family's counseling clinics practice controversial "reparative" therapy to turn gay people straight through the power of prayer, the Republican presidential candidate was uncharacteristically silent.
Statements from a former patient of Bachmann & Associates and undercover video made public by an LGBT activist who secretly filmed his therapy sessions both indicate that the clinic (which has received $130,000 in state and federal funding) does engage in reparative therapy—despite an unequivocal denial from Bachmann's husband, Marcus, in 2006. Reparative therapy, based on the premise that homosexuality is a deviant lifestyle caused by psychological troubles and sexual abuse, has been rejected by every major psychological and psychiatric association. Some studies have suggested it could have harmful effects on patients who undergo such treatment.
Bachmann, who touts her ownership of this small business in her stump speech, has not been keen on answering questions about what Bachmann & Associates actually does. The congresswoman declined to comment to The Nation; her presidential campaign, though, did issue a statement to ABC News: "Those matters are protected by patient-client confidentiality. The Bachmanns are in no position ethically, legally, or morally to discuss specific courses of treatment concerning the clinic's patients." Though it would breach a patient's privacy rights for the Bachmanns to discuss treatment provided to a specific person, they are certainly free to talk generally about their methods and services. Pressed by a local ABC affiliate at a Monday campaign stop in Iowa, Bachmann dodged the subject, saying, "We're very proud of our business, and we're proud of all job creators in the United States. That's what people really care about."
Today, I encountered Bachmann near MoJo's bureau in downtown DC. She was having lunch with an aide in a sandwich shop. After they departed the restaurant, I asked if she would respond to these recent reports. She said nothing—not a word—and would not even look in my direction. She kept walking at a brisk pace. I repeated the question a few times, as her aide tried to prevent me from getting too close to the congresswoman. The aide noted repeatedly that Bachmann was not taking questions. At no time did Bachmann break her stride.
You can watch the exchange for yourself below. (Warning: My flip-cam skills need improvement.)