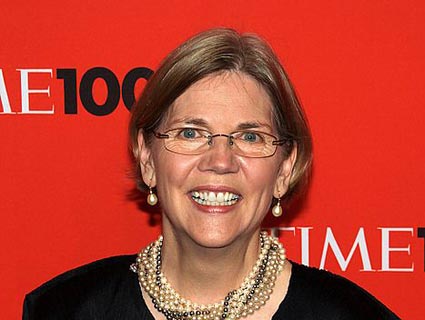 Fight disinformation:
Sign up
for the free
Mother Jones Daily
newsletter and follow the news that matters.
The Sunday afternoon news that the White House would not be nominating Elizabeth Warren to head the Consumer Finance Protection Bureau (CFPB) certainly has the potential to trigger outrage from progressives who believe President Barack Obama too often declines to confront Republican extremism. Warren, the populist Harvard professor who birthed the idea for a government agency that would protect consumers from tricks and traps perpetrated by banks, mortgage firms, and credit card companies, was the right person for the job. So much so that congressional Republicans have been howling about the prospect of her leading the agency even before the bureau was created last year by the Wall Street reform legislation. Which is why Obama's decision not to fight for her—and it would have been a titanic fight—may disappoint. But there's an upside to the move: the possibility that Warren will end up in the US Senate. And there's this: The fellow Obama picked for the position, Richard Cordray, can be expected to do a fine job pursuing abusive financial firms.
Cordray was recruited for his current position of chief of enforcement by Warren, who last year was asked by the administration to set up the agency. Naturally, Warren is a fan of Cordray, a former attorney general of Ohio. In a statement released on Sunday, Warren said, "Rich has a proven track record of fighting for families during his time as head of the CFPB enforcement division, as Attorney General of Ohio, and throughout his career. He was one of the first senior executives I recruited for the agency, and his hard work and deep commitment make it clear that he can make many important contributions in leading this agency. He will make a stellar director." The AFL-CIO noted that it was "disappointed" that Obama did not select Warren, but it declared its strong support for Cordray, based on his "outstanding record of protecting the public interest." ProgressOhio, a progressive outfit, said, "Ohioans who have long known Rich Cordray understand the integrity, intelligence and fairness he will bring to the office." A longtime consumer advocate told me that Cordray is a "great" pick.
The bureau will be in fine hands—if Cordray can win confirmation (see below). But did Obama concede too much by eschewing Warren for the post? It was clear she wanted the position. But Warren knew that she was a lightning rod for the GOP, and that Republican senators would fight her nomination as if the fate of the world depended upon de-Warrenizing the CFPB. In May, 44 senators signed a letter asserting they would block any CFPB director unless the administration would agree to changes that would weaken the independent office. They may well stick to that vow when it comes to Cordray, but he will certainly have an easier go of it than Warren would have. And the bureau, per the law that created it, will not assume key authorities until it has a director. Consequently, avoiding a battle royal over a director, if possible, will yield a real benefit.
Fans of Warren had raised the possibility of a recess appointment for her. In response, congressional Republicans have prevented Congress from officially going into recess—even during scheduled breaks—to block the president from deploying this option. Some bloggers and others have suggested that there is a way the White House still could use a recess appointment for Warren, yet White House lawyers and Warren herself had concluded that while such an action was theoretically possible, it would require an unprecedented maneuver. Within the White House, there wasn't much appetite for fighting over whether a recess appointment might be legal if congressional Republicans didn't convene a recess. Yet if the Republicans do carry out their threat to block any nomination, the White House might eventually have to resort to this course.
For months, Warren has known that it was unlikely that she would be tapped to run the agency she created. But given that some possible appointees floated for the job hardly shared Warren's vision or populist fervor—such as former Rep. Melissa Bean (D-Ill.), a Wall Street favorite—Cordray is a fine consolation prize for Warren, and for consumers. And she herself may end up with her own consolation prize.
Warren has been mentioned, as they say, as a possible candidate for the US Senate seat in Massachusetts won by Republican Scott Brown in early 2010. This seat was held by Ted Kennedy until his death. Brown won a special election to fill the vacancy, and the seat is up next year. Is Warren seriously considering a bid? She hasn't done anything to stop speculation about her possible candidacy. When I asked her about this last year, she refused to rule out a run.
If Warren were to run, she would start off in a strong position. She has a national following, and her campaign would draw country-wide attention. She could raise plenty of money via the Internet a la Obama in 2008. (And Scott Brown would soak up loads of donations from the financial sector.) Warren would be a cause, not merely a candidate. That is, of course, no guarantee of success. While her straight-talking, folksy, and authentic middle-class populism would be a tremendous asset, she doesn't have experience as a vote-for-me pol. And she'd have to decide if she's willing to do the mundane work and money-grubbing that is necessary. But the prospect of Warren reclaiming Kennedy's seat ought to hearten any progressive who's discouraged not to see Obama wage a Harry-versus-Voldemort battle on her behalf.
At the moment it does appear as if Republican extremists have once again succeeded in defying Obama and have scored a win for Wall Street against the forces of progressive populism. But there may be more to this fight, much more—should Warren decide she'd like a particular job in another branch of the federal government.