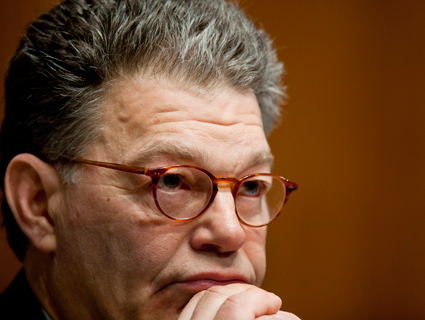 Fight disinformation:
Sign up
for the free
Mother Jones Daily
newsletter and follow the news that matters.
Following last week's verdict in the Jamie Leigh Jones rape case, is the law Sen. Al Franken (D-Minn.) pushed through Congress in her name now in jeopardy?
Jones' shocking story of being drugged and gang-raped in Iraq by fellow KBR contractors formed the inspiration for the freshman senator's first major legislative victory in October 2009. By a vote of 68 to 30, the Senate approved Franken's measure barring the military from contracting with companies that force their employees to take legal complaints to mandatory arbitration—rather than a civil jury—in cases involving sexual assault. The law would prevent what happened to Jones, who was at first blocked from taking her rape allegations to court because of an arbitration clause in her employment contract with KBR.
After a four-year legal battle, Jones was eventually allowed to present her case to a federal jury, which spent four weeks evaluating her claims. Evidence and testimony during the trial highlighted significant holes in her story, and on Friday, the jury ruled against her, finding that she had not been raped. Now, the verdict has the potential to undermine Franken's signature legislative accomplishment and to significantly set back his efforts to rid the country of unfair arbitration contracts.
"This has never been just about one court case," Franken said in a statement. "Now countless others with similar circumstances will get to have their rightful day in court. No corporation should be able to deny anyone that right."
Some liberal commentators and consumer groups have echoed that sentiment, arguing that the verdict is a victory for the legal system. In the American Prospect, Pema Levy penned an article entitled, "How women won the KBR rape case." She wrote, "While Jones lost her court case, the fact that she got a trial is a win for victims of sexual assault who, like her, had been denied their day in court."
But it's hard to see how bringing—and then losing—a dubious rape case in civil court is a win for victims of sexual assault. If anything, Jones' case, in which she asked the jury to award her $145 million, will make it even more difficult for sexual assault victims to have their claims taken seriously. And it's still an open question as to whether women working as overseas contractors will continue to have access to the civil courts.
That's because Franken's "Jamie Leigh Jones" amendment must be renewed annually as part of the Department of Defense appropriation process. While it passed easily in the Senate in 2009, the amendment was opposed by KBR, other defense contractors and business interests, and the Pentagon. At the time, the 30 GOP senators who voted against the measure were vilified as rape apologists. Now, with Jones' claims in doubt, the amendment may not garner such an outpouring of support the next time around.
"Laws are best based on general situations based on sound principle, not just what allegedly happened to one person," says Victor Schwartz, a DC lawyer who has worked with the business community to limit the rights of consumers and employees to sue big companies. "If this narrow focus is the predicate for a law, it can fall if the individual's situation turns out to lack merit or truth."
No one from the Department of Defense or the offices of Sens. Jeff Sessions (R-Ala.) or Lindsey Graham (R-S.C.), who both voted against the Franken amendment, responded to requests for comment. But when the amendment does come up for renewal, it's likely that KBR will highlight the Jones verdict as one reason why the measure should be discarded. After all, the verdict provides no better evidence for what KBR had been arguing all along: that arbitration shields corporations from spending a fortune to defend themselves from frivolous lawsuits. Indeed, a KBR spokeswoman said in an email:
KBR has always thought that the Franken Amendment was misguided and was the result of political grandstanding. Clearly, the Franken Amendment, which was motivated in no small part by Ms. Jones' testimony before Congress, was based on false allegations that even cursory questioning could have revealed as false.
In the end, the Jones case could end up becoming another piece of ammo for the tort reform crowd. Franken's amendment may only be their first target.