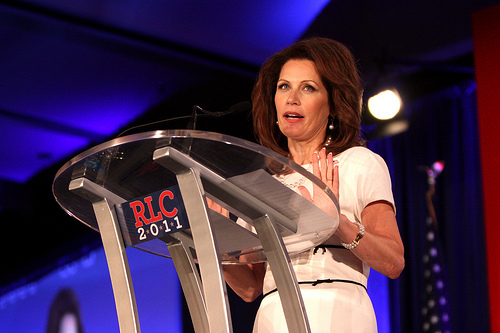 Tim Pawlenty, the former governor of Minnesota, dropped the Minnesota nice schtick on "Meet the Press" this Sunday, criticizing his state-mate, Rep. Michele Bachmann (R-Minn.), for having a "nonexistent" record as an office holder. Bachmann's campaign fired back at her fellow 2012 contender with an email later that day citing her efforts to end cap and trade as one bullet point on her record.
"I have fought the cap-and-trade agenda, rather than implement it, and I will work to end cap-and-trade as President of the United States," Bachmann wrote in the email, referring to the policy initiative developed to reduce greenhouse gas emissions. The problem? This doesn't exactly count as a resume builder, considering the fact that a federal cap and trade program is currently nonexistent.
True, Bachmann grabbed some headlines in 2009 after she called upon citizens to get "armed and dangerous" to stop the climate bill. But the bill ended up passing the House (which was under Democratic control at the time) before it died in the Senate. Cap and trade is not a national policy, and probably won't be one any time soon, so it would be pretty hard for her to "end" it.
The list of accomplishments she sent around is almost entirely things she has "fought," rather than anything she proactively accomplished. And considering that a cap and trade bill, Obamacare, and the bailout all passed in the House, she wasn't particularly effective on that front, either.