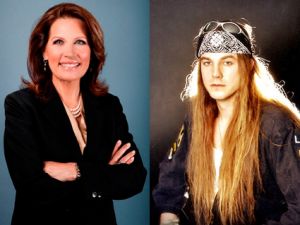 Fight disinformation:
Sign up
for the free
Mother Jones Daily
newsletter and follow the news that matters.
Bradlee Dean, a longtime ally of GOP presidential candidate Rep. Michele Bachmann, runs a heavy-metal ministry in her Minnesota district that travels to public schools on the taxpayers' dime to push students to find Christ. He has performed at fundraisers for Bachmann, and Bachmann has done the same for Dean's ministry, You Can Run But You Cannot Hide International. Long a target of local bloggers in his home state, Dean has become increasingly defensive over the last few months as national organizations have taken note of his ties to Bachmann, and he strongly hinted that he was about to push back against the criticism in a big way. And now he has. On Tuesday, Dean announced he was filing a defamation suit against MSNBC host Rachel Maddow (and the network) for $50 million.
Specifically, Dean is upset that Maddow—quoting heavily from Dean—accused him of supporting the execution of gay people. Here's his press release:
Despite the very clear disclaimer by Bradlee Dean on his ministry's website and elsewhere regarding the false accusation that he was calling for the execution of homosexuals, MSNBC's Rachel Maddow and others seized on and accused Dean on her show of supporting the killing of homosexuals, as is the practice in some radical Islamic countries. This seriously has harmed Dean and the ministry, who pride themselves on respect and love for all people…

The lawsuit is filed by attorney Larry Klayman, the founder of Judicial Watch and Freedom Watch, in DC Superior Court and seeks in excess of $50 million in damages. However, money is not the issue. "This case is filed as a matter of principle," stated Klayman. "We need more Bradlee Deans in the world and hateful left wing television commentators must be made to respect not only his mission but the law," he added.
Dean and his lawyer should get along well. Klayman recently wrote an op-ed warning that the United States was being crippled by "political heterophobia" (he also noted that he had gay friends). Anyway, what set Dean off is Maddow's citation in May of this quote, from a 2010 episode of Dean's radio show:
Muslims are calling for the executions of homosexuals in America. This just shows you they themselves are upholding the laws that are even in the Bible of the Judeo-Christian God, but they seem to be more moral than even the American Christians do, because these people are livid about enforcing their laws. They know homosexuality is an abomination…If America won't enforce the laws, God will raise up a foreign enemy to do just that.
That's pretty bad, and certainly not a condemnation of the folks who call for gays to be executed. But whatever you may think Dean meant, he did clarify his comments after the Minnesota Independent's Andy Birkey first reported them.
This may not have been as clear as we would have otherwise planned it to be. Live radio is not scripted. But everyone who knows us knows that this is our position because we have stated it consistently for years – long before we ever discussed the topic on the radio. There are board members, and other supporters who can vouch for this: We have never and will never call for the execution of homosexuals. This is a complete misinterpretation by design.
So that's the context.
As for the claim that "we need more Bradlee Deans in the world," well, we can take a crack at that. For one thing, according to public statements that Dean has not backed down from, he believes that homosexuality is illegal—which is to say, he believes the woman he's suing, Rachel Maddow, should be in prison. That sort of makes the $50 million demand seem kind of trivial. He also believes that American Muslims, like Rep. Keith Ellison (D-Minn.) are using support for gay marriage as a vehicle to eventually force a radical strain of Islamic Sharia law on the public. He has compared President Obama to Osama bin Laden and recently stated, in front of the Minnesota House, that Obama is our first non-Christian president.
A recent profile in the Minneapolis City Pages raised more questions, meanwhile, about Dean's fundraising process. You Can Run But You Cannot Hide raises much of its money by sending "street teams" of ministers to places like Walmart parking lots. According to multiple eyewitness reports, those street teams tell patrons that they're soliciting donations to fight teen suicidies—which, as my colleague Stephanie Mencimer has reported, is an especially sensitive subject in the suburbs of the Twin Cities right now. Dean's line of rhetoric, though, which posits that homosexuality is a sinful lifestyle that must be purged, is of the sort that LGBT experts and civil rights groups say could be contributing the contagion. (Dean contends that, despite his calls to imprison gays and ban them from holding public office, he has nothing but love for "homosexuals.") Dean's group has since been banned from Walmart, which revealed that the group had used a false name to gain access to the premises.
Meanwhile, via Dump Bachmann, here's an undated clip of Dean railing against the gay agenda—including the assertion that gay students are not actually gay, but instead have been corrupted by "perverts":
Update: Birkey and the Independent are also named in the suit. You can read Dean's full statement here. A sample:
In the course of doing high school assemblies, I was shocked to learn that there were those that were offended at my message to teach our nation's youth that homosexuality is not a preferred lifestyle. I do not dislike homosexuals, I seek their redemption, not there condemnation. But I have come to the position that I am not, and I cannot allow the gay lifestyle to be forced upon the nation's youth through indoctrination. My objective, as it always has been, is to protect our nation's values.

In teaching the nation's youth about the risks of homosexuality, I would make reference to how the left wing media often furthers this regrettable lifestyle through its propaganda. As a result, I was frequently attacked by the left wing media for this.

In trying to further this mission, I once made reference to how even Muslims oppose homosexuality under Shariah law. I did not suggest that I condoned the methods that radical Muslims use to enforce Shariah law, but made this analogy to prod Christians to become more concerned about what was going on in our schools with the nation's youth. In response, gay activist reporters and television political commentators, like Andy Birkey of the Minnesota Independent and Rachel Maddow of MSNBC, attacked me by making false accusations that I had called for the execution of homosexuals, "radical Muslim style."
Update II: MSNBC sends along their statement in response to Dean's suit. Here it is, in full: "This suit is baseless and we stand by our reporting."