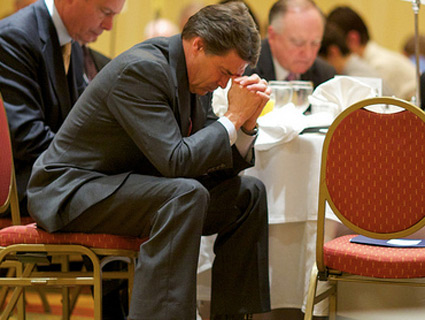 Fight disinformation:
Sign up
for the free
Mother Jones Daily
newsletter and follow the news that matters.
In early August, Texas Republican governor and possible presidential candidate Rick Perry will host a prayer summit at Reliant Stadium in Houston. The event, dubbed "The Response" and funded by the American Family Association (which was labeled a "hate group" by the Southern Poverty Law Center), is designed to combat the economic, political, and spiritual crises facing the United States by returning the nation to its Biblical roots. The Response's website proclaims, "There is hope for America. It lies in heaven, and we will find it on our knees." And in a video message Perry sent out this week, he noted, "I'm inviting you to join your fellow Americans for a day of prayer and fasting on behalf of our nation." Perhaps Perry should have clarified what sort of "fellow Americans" he meant, for at this event only Christians will be allowed to share the podium with Perry.
Since the event was first announced in early June, organizers have suggested that it would be a great opportunity to convert non-Christians. Now, they've gone even further: According to an email blasted out by The Response, only Christians will be permitted to speak at the non-denominational event. If representatives of other faiths (particularly Muslims) were to be included, the email noted, such inclusion would promote "idolatry." In a message sent out under The Response's official letterhead, Allan Parker, one of Perry's organizers, described the event in less-than-ecumenical terms:
This is an explicitly Christian event because we are going to be praying to the one true God through His son, Jesus Christ. It would be idolatry of the worst sort for Christians to gather and invite false gods like Allah and Buddha and their false prophets to be with us at that time. Because we have religious liberty in this country, they are free to have events and pray to Buddha and Allah on their own. But this is time of prayer to the One True God through His son, Jesus Christ, who is The Way, The Truth, and The Life.
With this prayerfest, Perry is associating himself with rather radical folks. The American Family Association's issues director, for instance, has said that gays are "Nazis" and that Muslims should be converted to Christianity. Another organizer, Doug Stringer, has said that 9/11 was God's punishment for the nation's creeping secularism. And then there's Jay Swallow, whose endorsement is trumpeted on The Response's website, and who runs "A Christian Military Training Camp for the purpose of dealing with the occult and territorial enemy strong holds in America" (his description). Consequently, it's not much of a mystery why only one of the nation's other 49 governors has so far accepted Perry's invitation to attend the event (Perry invited all of them)—arch-conservative Sam Brownback of Kansas.
Still, there may be a method to all this. In mid-2009, when it looked as if Perry's chances of winning a third term as governor of Texas were completely shot, he made a tactical decision: He'd shift even further to the right and become an unabashed tea party cheerleader. Empty threats of secession? Check. Anti-stimulus crusading? Check. Bragging to reporters about shooting a coyote while on his morning jog? Check. It worked: After trailing GOP Senator Kay Bailey Hutchison by 30 points, he easily won a three-way primary and cruised to reelection. Perry defied reports of his demise by anticipating the coming tea-party wave and hopping on his surf board.
Now Perry is running for president—maybe—and looks to be adopting a similar approach: swerve to the far right. The GOP field is already crowded with conservatives (real and pretend), and that includes several who do appeal or who are trying to appeal to the religious right, such as Representative Michele Bachmann and former Senator Rick Santorum. Should Perry saddle up and enter the race, he will be in direct competition with a rising-in-the-polls Bachmann for these voters. Hosting an only-Christians-speak rally—which is sure to draw media attention and be much noticed by, say, Iowa Republican caucus attendees—will certainly give Perry a prayer of chance of rustling social conservative voters from the Bachmann ranch.