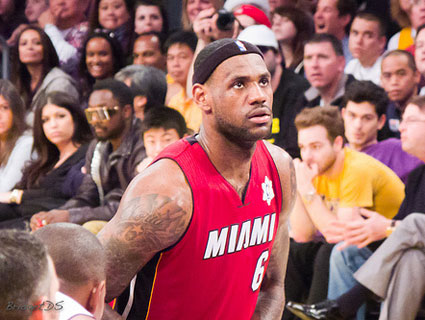 MoJo human rights reporter Mac McClelland is in Ohio this month covering labor issues. That's good, because the Ohio media is way more focused on Lebron James. It's been nearly a year since James made his now-infamous Decision on national TV, yet Ohio continues to simmer over James' move to Miami. Even the President has noticed: Before a June 7 interview with a Cleveland area news station, Obama asked the reporter, "Is Cleveland still rooting against [the Miami Heat]?"
I've also taken notice of the city's undying hatred of James. After James left Cleveland, fans filled the street, burning jerseys, and an enormous Nike mural featuring James was immediately removed. A search for "Lebron James" on the website of The Plain Dealer (the local daily) yields a surprisingly large number of recent stories about James, even though he's been playing for a different team all season. A Facebook group titled "Fuck You, Lebron James. Sincerely, the state of Ohio" has more than 26,000 members and still gets anti-James comments. Twitterer "CavsforMavs" (a reference to the Heat's opponents in the finals), gained 6,000 followers in a little over a week with his motto: "Defeat. Pure. Evil."
That such impassioned hatred of James continues to flow from Ohio is perplexing, considering that arguably more-relevant issues—and bigger demons—face the state. Take Gov. John Kasich's recent gift of $7.7 million in state-funded cash incentives (including loans) to help Bob Evans, a corporate restaurant chain worth $1.68 billion, relocate to a rich suburb of Columbus.
Kasich insists the incentives were necessary to keep Bob Evans' headquarters in Ohio. But how good is Bob Evans for the state? A recent study by Policy Matters estimates that Ohio pays $20 million a year in cash assistance to Bob Evans employees due to their low pay and benefits. (Also read how Walmart benefits from the public safety net in Sasha Abramsky's "America on $195 a Week.") The governor's cash incentive came without any labor stipulations. How did the state's strapped residents respond? One protest at a Bob Evans restaurant brought out 35 people.
It's understandable for Ohioans to be upset with James for leaving their team—and their biggest city. But given the state of the Ohio economy, perhaps some of that scrutiny should land on the folks who are sticking around and feeding at the public trough.