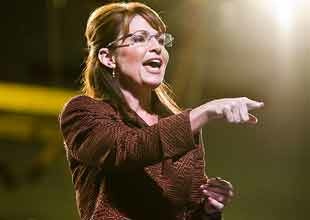 Before a friendly crowd at Colorado Christian University on Monday night, Sarah Palin lauded President George W. Bush for the killing of Osama bin Laden without mentioning President Obama's name a single time. Describing bin Laden as "the public face of Islamic terrorism," Palin said American troops' "courage and their determination brought us justice." She went on to say, "We thank President Bush for having made the right calls to set up this victory."
As the Denver Post reported, Palin did get her jabs in at Obama and his administration. She criticized the president's handling of the conflict in Libya for a "lack of clarity" and for overreaching. "We can't fight every war," she said. "We can't undo every injustice in the world. We don't go looking for dragons to slay."
Indeed, Palin's speech came off as a platform for her to lay out foreign policy vision. Here's more from Politico:
Still, Palin clearly stated a foreign policy philosophy that she says dates back to the Reagan administration—but in many ways came off as a five-point folksy version of the Powell Doctrine.

First, Palin said, "we should only commit our forces when clear and vital American interests are at stake. Period." That point led to her second, dismissing nation-building as a "nice idea in theory," but not the "main purpose" guiding American foreign policy.

Palin continued down that track by insisting that a president must be able to articulate "clearly defined objectives" before foreign interventions—a standard she has recently Obama failed to live up to in Libya. As her fourth point, Palin declared that "American soldiers must never be put under foreign command."

Palin's concluding statement deviated somewhat from ideology she had been espousing, as she stated that while "sending our armed forces should be our last resort…we will encourage the forces of freedom in the world." That last point is somewhat consistent with the non-interventionist ideology Palin has been growing fond of in recent weeks—but also provides her a clever escape clause from her stated theory that has allowed her to criticize Obama for, as she has said, acting too slowly in Libya.