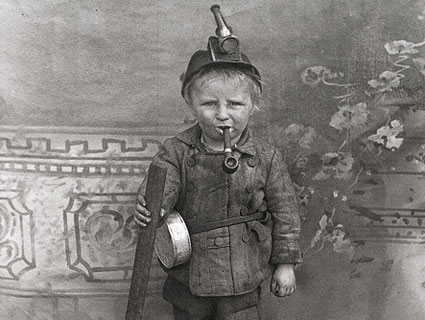 Fight disinformation:
Sign up
for the free
Mother Jones Daily
newsletter and follow the news that matters.
Environmental groups are going after the world's largest publisher of children's books for teaming up with the American Coal Foundation to produce "The United States of Energy," a lesson plan designed for fourth-graders. The foundation, online at Teachcoal.org, is devoted to creating "coal-related educational materials and programs designed for teachers and students."
"We hope that you and your students enjoy this energizing program!" proclaims the teaching guide. The materials use coal, oil, natural gas, and renewables as a starting point for lessons on geography, science, and math, and promise to teach students "that different types of energy (e.g., solar, fossil fuels) have different advantages and disadvantages." But the materials are decidedly lacking on that latter front. The worksheets ask kids to explore the question, "What are the benefits of this kind of energy?" without ever entertaining the possibility that there might be problems to consider as well.
The magazine Rethinking Schools published a scathing critique of the lesson plan in its latest issue, accusing Scholastic of producing "propaganda for the coal industry." They argue that the material "lies through omission" because it doesn't include problems like warming the planet, destroying mountain ranges, killing miners, or causing respiratory problems, to name a few.
The materials include a poster showing students where various energy sources are most commonly used, along with the worksheets. There's even a bonus worksheet for students to take home to their families.
The biggest concern, critics say, is that Scholastic would affix its seal of approval—a reputable one at that—to a product designed to promote an industry. "Simply put, the coal industry is renting Scholastic's credibility and recognition," writes Rethinking Schools editor Bill Bigelow. The magazine, along with the Campaign for a Commercial-Free Childhood and Friends of the Earth, has launched a letter-writing campaign to get Scholastic to discontinue the product.
The endeavor has been a success for the coal industry. Alma Hale Paty, executive director of the American Coal Foundation (ACF), wrote in a blog post last fall that the Scholastic partnership has dramatically increased her group's presence in schools. While ACF previously provided materials for no more than 7,000 teachers, the Scholastic partnership allowed them to reach 66,000 teachers last year. Another 82,000 teachers received emails from Scholastic about the availability of the program online, Paty wrote. It's also increased the traffic to ACF's website from 8,000 per month to more than 24,000.
Paty attributes this to Scholastic's credibility and popularity, noting that it is the brand behind such favorites as The Magic School Bus and Harry Potter. "Over 90% of America's K-12 classrooms use Scholastic products," Paty wrote. "Four out of five parents know and trust the Scholastic brand."
Scholastic vice president for corporate communications Kyle Good told Mother Jones via email that the materials were distributed last fall, and there is not an on-going partnership between the company and the foundation. "[W]e have no plans to repeat the program," wrote Good. The company also issued a statement:
The United States of Energy, designed for students in grade 4, is a 4-page program and poster that simply shows which energy sources—nuclear, coal, solar, hydroelectric, etc.—are available and in use throughout the U.S. Since the program is designed for elementary schoolchildren, the materials do not attempt to cover all of the complex issues around the sourcing and consumption of energy. Rather, they focus on grade-appropriate information about the geography of energy sources in the U.S. and provide links to additional resources, including those provided by the federal government, for teachers who want to pursue a deeper, more complex discussion about energy.
But Susan Linn, the director of Campaign for a Commercial-Free Childhood, argued that the ACF-Scholastic partnership amounted to "predatory marketing," designed with the express purpose of promoting coal to school kids. "By working for the coal industry, Scholastic clearly abuses parents' trust," Linn said in a press release. "There's a clear difference between industry driven PR and teaching materials that are objective and genuinely educational."
UPDATE 2:00 PM EST FRIDAY, MAY 13: Scholastic has issued another statement, acknowledging that they "were not vigilant enough" about the effect of ACF's sponsorship. The full statement:
Scholastic's children's books, magazines, reading programs and website content are used in most American classrooms, a responsibility and trust that we built through painstaking work through 90 years of service to teachers and schools. A tiny percentage of this material is produced with sponsors, including government agencies, non-profit associations and some corporations. This week, Scholastic came under criticism for an 11×16 poster map which displays different sources of energy—coal, nuclear, hydroelectric, solar, wind and natural gas—not so much for the content of the poster but primarily its sponsorship by the American Coal Foundation. We acknowledge that the mere fact of sponsorship may call into question the authenticity of the information, and therefore conclude that we were not vigilant enough as to the effect of sponsorship in this instance. We have no plans to further distribute this particular program. Because we have always been guided by our belief that we can do better, we are undertaking a thorough review of our policy and editorial procedures on sponsored content, and we will publish only those materials which are worthy of our reputation as the most trusted name in learning.