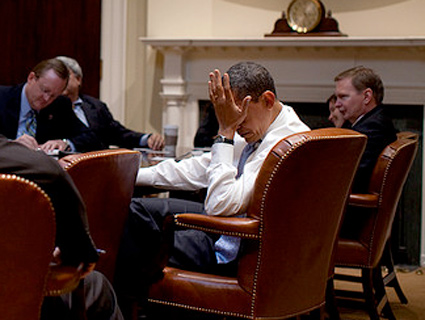 Fight disinformation:
Sign up
for the free
Mother Jones Daily
newsletter and follow the news that matters.
Mitt Romney has tried to be the adult in the 2012 GOP race. He hasn't echoed the extreme rhetoric of other Republican presidential wannabes or that of his party's tea party base. In mid-April—before President Barack Obama eviscerated the birther movement by releasing his longform birth certificate (and ordering the raid that killed Osama bin Laden)—Romney declared he would have none of that birther nonsense: "I think the citizenship test has been passed. I believe the president was born in the United States." Yet the former Massachusetts governor is still playing footsie with a popular conservative meme: Obama's not really one of us.
His most recent effort to cast Obama as an outsider didn't draw much media notice. It occurred last week, during Romney's much-watched speech on health care. The political class focused on his refusal to apologize for the health care plan (with mandates!) that he enacted in Massachusetts and for his attempt to bash Obama's health care overhaul, which was similar to Romney's Mass-Care. Overall, the reviews weren't positive. Romney didn't satisfy his right-wing critics. Nor did he put the issue to rest. He will have to explain again—and again and again.
Yet Romney did take the occasion to widen his assault on Obama beyond health care. During his speech, Romney used a PowerPoint presentation. And toward the start, he zeroed in on broader themes. His first slide noted that "the American Experiment" poses a choice—"Government or People?"—and that "'Free Enterprise' propels America to world leadership." Romney's point: Obama's health care initiative was un-American, for it enlarged the federal government's role in the health care system and forced policy upon the states. But Romney went further than debating the details of Obama's reform. The fourth slide made a fierce pronouncement:
The Obama Administration fundamentally does not believe in the American Experiment.
That's a rather grand criticism. Romney didn't truly define the "American Experiment." But to many it might seem that the biracial son of a Kenyan and a Kansan, who rose to become the first African American president of the United States, would presumably appreciate such a thing. Yet here was Romney saying that the president doesn't understand the country he governs. (Romney, in another slide, also branded "Obamacare" a "government takeover of health care"—a description that Politifact.org branded 2010's lie of the year.)

Romney was engaging in what can be called otherism, a big cousin to birtherism. Otherism can be more virulent than birtherism (Obama is a secret Muslim socialist!) or more subtle (Hey, this Obama guy just doesn't get America), but the main contention is that somehow he's not a true American. It's not a matter of his birth records, but of his attitude.
Newt Gingrich has helped set a benchmark for otherism. Last year, he opined,
What if [Obama] is so outside our comprehension, that only if you understand Kenyan, anti-colonial behavior, can you begin to piece together [his actions]? That is the most accurate, predictive model for his behavior… This is a person who is fundamentally out of touch with how the world works, who happened to have played a wonderful con, as a result of which he is now president.
In other words, Obama was more Kenyan than American. Asked about this comment during his disastrous Meet the Press appearance this past Sunday—days after he had announced his presidential bid—Gingrich bobbed and weaved, first noting that "the comment was made in reference to a book" (as if that was mitigation). He then remarked, quite accurately, that "one of the tests on this campaign trail is going to be whether I have the discipline and the judgment to be president. I think that's a perfectly fair question." But Gingrich didn't retract the remark or explain how it was justified.
Anti-Obama otherists have wrapped themselves in the flag of American exceptionalism, contending that Obama is different because he doesn't believe that the United States is special and superior to other nations. Last summer, former Arkansas Gov. Mike Huckabee, who at the time was mulling a bid for the GOP's 2012 presidential nomination, told Politico that Obama's "worldview is dramatically different than any president, Republican or Democrat, we've had… He grew up more as a globalist than an American. To deny American exceptionalism is in essence to deny the heart and soul of this nation." (In March, Huckabee, à la Gingrich, claimed, wrongly, that Obama had grown up in Kenya and had thus absorbed an anti-colonialist sentiment that prompted him to have a "very different view" of the British than "the average American.") In November, former GOP Sen. Rick Santorum, another 2012 wannabe, told College Republicans at American University, "America is exceptional, and Americans are concerned that there are a group of people in Washington who don't believe that any more."
Romney has toyed with this theme, writing a book entitled, No Apology: The Case for American Greatness. In it, Romney slammed Obama for apologizing for "American misdeeds, both real and imagined." (Romney didn't explain what was wrong with apologizing for real misdeeds.) His bottom-line message: Real Americans don't apologize. And the obvious conclusion is that if Obama does apologize, he's not a you-know-what.
During a speech at the annual Conservative Political Action Conference in February, Romney explained further: "I don't apologize for America because I believe in America!" (The exclamation point was in the text of the speech.) The inverse of Romney's logic—if it can be called that—was that Obama doesn't believe in America. Romney didn't state it explicitly, but otherism is all about creating or bolstering this kind of an impression. Romney did say that "under the pressure of a crisis, people turn to what they really believe," and he noted that when the economy hits a crisis, "the president and his fellow liberals turned to Europe for their answers… Theirs is a European-style solution to an American problem. It does not work there, and it will never work here!" (Perhaps Romney should ask GM.)
Birtherism is (was?) fundamentally about delegitimizing Barack Obama—proving him a complete fraud. (It's been hard not to assume there was a racial component to the endeavor.) Yet the birthers, dependent on conspiracy theories, were easily done in by basic facts. Seen as reality-denying extremists, the birthers became a drag upon the GOP; only Donald Trump would embrace them fully—and that hardly turned out well.
Yet otherism continues and thrives. This line of attack is far more in sync with routine political practices. Otherism can be advanced with hints and suggestions. It comes in different guises. It can be gussied up with other questions: Does Obama really believe in America the Experiment, or America the Exceptional? The strategy is to fuel suspicion, not prove a conspiracy. But the goal is the same: to encourage voters to believe Obama is not a real American.
The key audience for otherists, though, is not the general public. Obama, according to the polls, remains popular, even when voters disapprove of his policies or his handling of key matters. But many tea partiers and other conservatives do view Obama as an interloper and harbor deep fears about him and his agenda. GOP presidential contenders and party leaders need to appeal to these sentiments, and some, no doubt, seek to exploit them. Otherism offers a way to do so.
Unlike birtherism, otherism remains quite useful to the Republicans. Not even the adults of the party can resist its ugly temptations.