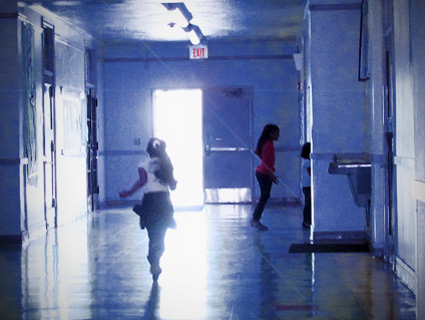 As I was packing to go to Compton a month ago to report on the impact of the "parent trigger" law there, I was surprised by how many friends, colleagues, and Mission High School teachers and parents hadn't heard about this pretty radical new law. After I gave them a brief rundown, two questions kept coming up among more progressive types: Was this desire for change real in Compton, or some staged campaign by outsiders (i.e. "astroturf")? And what are parents of McKinley Elementary really unhappy about in their school? (For more on that, check out my Compton feature.)
Manuel Criollo, director of organizing at the Los Angeles-based Labor and Community Strategy Center, spoke with me about these issues at the end of my reporting trip. (As an editor of Wiretap, I frequently covered the work of young community organizers. They often mentioned the Strategy Center—the home of the Bus Riders Union—as a "real grassroots" organization, meaning its leadership and members come from the communities that the nonprofit represents.)
Criollo, who works on education, labor, and civil rights issues, told me that Parent Revolution and the "parent trigger" law wouldn't gather support if all schools and local PTAs were strong examples of inclusive communities. "We haven't democratized our schools yet to allow parents of color and young people to design them as extensions of our communities," he said. "There is real hunger for change in Compton and South Central, and the leaders of education reform are authentic."
Criollo also believes that as education reform pushes forward, it's important that organizers, policy makers, and funders figure out what defines a school in a crisis. The current version of the "parent trigger" law relies heavily on test scores to label "failing schools," and follows the blueprint of Obama's Race to the Top initiative. But Criollo argues that we need to figure out how to measure failing schools in a more accurate way. "Are we just looking at the test scores, or are we looking at suspensions, expulsions, arrests, and the general culture of a school community?" We need more authentic accountability so that parents can use multiple measures when they compare their current school with a list of potential solutions, he said.
As I flew back to San Francisco, I thought about what Criollo said—and the fact that when McKinley parents (on both sides of the new law) brought up examples of what mattered to them in a school, they spent far more time on a school's general culture than its test scores. Of course, Oralia Velasquez, a pro-Parent Revolution leader, told me she wants her daughter Amie to go to college. But she talked much more about the tone of the conversations between teachers and parents, the follow-up on her requests, and the quality of individualized attention to students. Pastor Lee Finnie, who is opposed to the way "parent trigger" was implemented in Compton, also spent more time talking about individualized attention to Josiah at different schools than test scores.
Having spent months as a reporter at Mission High School, I've found that there are many other quantitative measures that can help schools and communities make deeper assessments. Grades, attendance, and turnover rates among students and teachers, for example. Or an overview of parent requests from the school or the district. Not to mention the history of student suspension and expulsion and school success with special needs and English learning students, among others.
After reporting on the impact of the "parent trigger" law in Compton, the law definitely seems like a hastily passed bill of 480 words that needs to be strengthened to include requirements for public forums facilitated by independent parties and broader, meaningful public information, as well as real protections for parents on both sides of the issue. While the law is imperfect, it appears that Parent Revolution and McKinley Parents for Change followed these regulations, and their work on the ground has illuminated many areas for improvements. It does seem that if implemented correctly, it could provide parents with a strong voice in the districts where, historically, district bureaucrats, DC policymakers, billionaire funders, and teacher unions have had more political power when it comes to school policies and reform. In some ways, it has the potential to subvert top-down reforms and give local voices more power to define real problems beyond test scores and request specific solutions. The law just says, if the school falls within the 5-10 percent of the lowest-performing schools in the state, parents—not Barack Obama, Arne Duncan, Bill Gates, district officials, or administrators—have the right to organize and decide what kind of reforms they want to implement.
California's state Board of Education is already adding new regulations to the parent trigger law, but it remains to be seen if it will become a stronger law with a broader view and authentic community input. What if there was a clearer version of the law? What if it required public forums with broader information about the rights of the parents, and more authentic markers measuring the quality of a school before a petition-gathering process began? Would you support the 'parent trigger' law in your state then? Since some version of it is popping up in several states, your input matters.