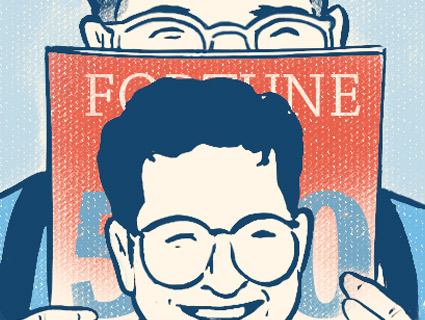 Fight disinformation:
Sign up
for the free
Mother Jones Daily
newsletter and follow the news that matters.
Before he became the 15th-richest American, Michael Dell was hailed as a corporate wunderkind. His eponymous computer company's "dazzlingly efficient" factory in Austin, Texas, "may be the best hope of keeping blue-collar jobs in the United States," proclaimed the New York Times in 2004. Recently, Dell Inc. has been better known for gobbling up federal contracts and pulling financial shenanigans to line its executives' pockets—all while exploiting tax loopholes, outsourcing production, and laying off American workers.
1984

19-year-old Michael Dell builds and sells computers from his University of Texas-Austin dorm room. He drops out, and by 1987 Dell Computer's sales hit $60 million.

1992

At 27, Dell becomes the youngest CEO to ever make the Fortune 500.

1993

Dell Inc. builds its HQ in an Austin suburb, lured by sales-tax rebates, property-tax cuts, and $50 million in tax-free financing. Austin's mayor calls Dell, known for his "made in the USA" computers, "a model corporate citizen."

1997

Dell and his wife, Susan, build a $30 million, 33,000- square-foot granite and stainless-steel mansion with 8 bedrooms, a gym, an indoor pool, and (reportedly) 21 bathrooms. Dubbed "the castle" for its elaborate security, it's appraised at $22 million; the Dells argue it's worth only $6.5 million, and the county eventually settles at $12 million.

Feds fine (PDF) Dell Inc. $50,000 for selling computers in Iran in violation of sanctions.

1998

Michael Dell forms a private-equity firm, MSD Capital, to manage his family's money. Today, their $12 billion in assets include a $100 million collection of Magnum photos; Dollar Rent-a-Car; real estate in Hawaii, Mexico, and California; and the companies that run Applebee's, IHOP, and Domino's.

Dell Inc. opens a production and sales center in China, overseen by a subsidiary. By 2010, it has subsidiaries in 77 countries, including holding companies in tax shelters such as Bermuda and the Caymans that allow it to avoid at least $3.7 billion in US taxes. In 2010, it paid an effective tax rate of 7.5% on its foreign income.

1999

Dell Inc. gets an estimated $200 million in city and state incentives to build a factory in Nashville, Tenn. Three years later, half of the plant's jobs are relocated to a nearby town, where Dell gets $6 million in tax breaks.

George W. Bush names Michael Dell to head his campaign's information technology advisory council.

Dell Inc. becomes the country's top PC seller. Dell writes the bestselling Direct From Dell: Strategies That Revolutionized an Industry.

2000

Dell Inc.'s stock price hits all-time high.

The New York Times declares Michael Dell the richest Texan ever. (He's now No. 2.)

Dell buys two ranches outside Austin for an estimated $75 million. One gets its property taxes slashed 99.8% by claiming an agricultural exemption (proof: turkey feeders, birdhouses, and deer "habitat control"). Recently asked by Time about reducing his carbon footprint, Dell answered, "I'm sequestering way, way more than I'm using. I have a lot of land and a lot of trees."

Dell and his wife give $250,000 to the Republican National Committee.

2001

Susan Dell's personal fashion label, Phi, makes Jenna and Barbara Bush's inaugural gowns.

President Bush appoints Dell to his President's Council of Advisors on Science and Technology, which warns that outsourcing is destroying the US tech industry.

Dell builds a four-story villa on the exclusive Caribbean island of Anguilla.

2003

Dell Inc. replaces its call-center employees with part-time temps. Annual turnover soars to 300%.

The Michael and Susan Dell Foundation gives $250,000 to a charity run by then-House Majority Leader Tom DeLay (R-Texas), who's later convicted of illegally funneling corporate money to candidates.

The "Dell Dude" actor is busted for pot possession.

2004

Dell Inc. employs more workers overseas (23,800) than it does in the US (22,200).

After heavy lobbying by Dell Inc., Congress passes the American Jobs Creation Act, which lets US companies "repatriate" overseas profits at a one-time tax rate of 5.25%, rather than the normal 35%. The company brings home $4 billion.

2005

Michael and Susan Dell give $250,000 for President Bush's second inaugural celebration.

2006

President Bush: "It's tough in a time of war, when people see carnage on their Dell television screens."

Dell Inc. recalls 4.1 million fire-prone laptop batteries.

Dell Inc. discloses that it's been audited by the SEC, says it won't reveal details of any "misconduct," but revises four years' worth of financials.

Dell Inc. says it's doubling its factory and call-center staff in India to 20,000.

2007

Michael Dell returns as CEO after a three-year hiatus. Less than six months later, his compensation exceeds $153 million, making him the sixth-highest-paid CEO in the US. His benefits include more than $1 million for security, second only to Oracle's Larry Ellison.

By year's end, Dell Inc. announces 8,800 layoffs, about 10 percent of its global workforce.

Investors sue Dell Inc.'s executives, alleging inflated profits and billions in secret kickbacks from chip maker Intel. The company will settle for $40 million.

Customer service employees file a class-action lawsuit claiming that Dell Inc. routinely underpaid them. The case also is settled out of court.

New York Attorney General Andrew Cuomo sues Dell Inc. for luring customers into expensive finance plans. In 2009, Dell Inc. settles another case with 34 state AGs and agrees to reform its marketing and financing practices.

2008

Dell Inc. announces $3 billion in cuts, including the closure of an Austin plant, eliminating 900 jobs. It imposes a hiring freeze, offers buyouts, and asks workers to take unpaid days off.

Four former middle managers file (PDF) a sex- and age-discrimination suit. None of Dell Inc.'s 14 top executives are women.

2009

Dell Inc.'s quarterly profits fall by nearly half; its shares have lost 80% of their value since 2004. The company announces another $1 billion in cuts.

Opposition by Michael Dell helps defeat a proposal that would require federal stimulus money to be spent on American-made goods. Dell Inc., the 43rd-largest federal contractor, now makes most of its computers abroad.

Lebanon, Tenn., threatens to sue Dell Inc. for eliminating 700 of the 1,000 jobs it had offered as part of a tax deal. Dell Inc. then shutters its last large US factory, in North Carolina, and sends its 900 jobs abroad.

Michael Dell's MSD Capital and other investors buy the remains of the failed IndyMac Bank from the FDIC, putting up $1.3 billion for a $158 billion mortgage-servicing portfolio. The FDIC, which expects to lose up to $9.4 billion on the deal, promises to reimburse the investors for their potential losses. By year's end, the new bank has made $700 million in profits and a New York judge excoriates its "harsh, repugnant, shocking, and repulsive" practices.

Susan Dell closes Phi, citing the poor market for items such as $1,495 suede harem shorts.

Michael Dell's net worth hits $14.5 billion. He bills his company $4 million for using his private jet, reportedly the priciest flying habit of any public company's CEO.

2010

Since 2008, Dell Inc. has cut 7,300 jobs in the US while creating 4,300 jobs overseas.

Dell Inc. announces a "flagship" factory and customer center in China that will employ 3,000. It plans to spend $100 billion in China over the next decade. Foxconn, the Taiwanese company that makes many Dell PCs, erects suicide nets around its dorms' roofs after 12 workers jump to their deaths.

White House seeks to end a tax loophole that has let Dell Inc. save $546 million in three years by transferring patents and other properties to foreign subsidiaries. According to Bloomberg Businessweek, Dell lobbyists targeted the plan; the company denies it.

Dell Inc. discloses (PDF) that it's received nearly $1 billion in "tax holidays" from governments around the world in the past three years.

Dell Inc. and Michael Dell agree to pay $100 million and $4 million, respectively, to settle SEC charges they improperly hid $6 billion in payments from Intel.

Michael Dell gives $2,000 to Senate Republican Leader Mitch McConnell (Ky.), bringing his family's total federal campaign contributions to more than $920,000—99% of which went to Republicans and GOP-leaning groups.

By the end of 2010, Dell Inc. shares have gained nearly 80% from February 2009's low. Michael Dell tells Reuters that one of his biggest problems is finding skilled American workers: "I want to put a massive 'we're hiring' sign out."

2013

By January, Dell Inc. has lost a third of its value since Michael Dell returned as CEO. Analysts fault him for responding too slowly to the rise of smartphones, tablets, and high-margin business services.

Blackstone Group LP and billionaire Carl Ichan offer to purchase Dell Inc. for roughly half of its 2007 share price, and without retaining Dell as chief executive.
Illustrations: Jason Schneider.