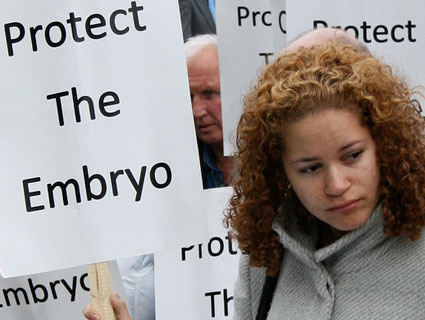 Fight disinformation:
Sign up
for the free
Mother Jones Daily
newsletter and follow the news that matters.
Last week, South Dakota's legislature shelved a controversial bill that appeared to legalize the killing of abortion doctors. But South Dakota's powerful anti-abortion lobby and its political allies didn't let one defeat stop them from pursuing their agenda. Far from it: on Tuesday, the state's house of representatives voted 49 to 19 to approve HB 1217, a first-of-its-kind law that supporters hope will drastically restrict access to abortion in the Mount Rushmore State.
The legislation, which is expected to face a vote in the state senate in the next few weeks, would require women to visit crisis pregnancy centers (CPCs)—facilities that are most often run by anti-abortion groups—before obtaining an abortion. A woman would need to first consult with the doctor providing the abortion, then visit a CPC and wait 72 hours before undergoing the actual procedure. There has been controversy at the federal level about taxpayer dollars going to support CPCs, but this would mark the first time that a state would force women to visit such a center.
CPCs are not regulated, and are generally run by anti-abortion Christian groups. They are staffed by volunteers—not doctors or nurses—with the explicit goal of discouraging women from having abortions. (See Maddie Oatman's post on a documentary detailing what happens at CPCs.) A congressional investigation into CPCs in 2006 found that the centers often provide "false or misleading information about the health risks of an abortion." Many make false claims about ties between abortion and breast cancer, decreased fertility, and mental illness. "This may advance the mission of the pregnancy resource centers, which are typically pro-life organizations dedicated to preventing abortion," the congressional report concluded, "but it is an inappropriate public health practice."
The text of HB 1217 doesn't mince words about the bill's purpose: the law is intended to help women "maintain and keep their relationship with their unborn children." It goes on to explain: "It is a necessary and proper exercise of the state's authority to give precedence to the mother's fundamental interest in her relationship with her child over the irrevocable method of termination of that relationship by induced abortion."
The bill's sponsors have been equally clear about their goals. "We feel that with proper assessment and hearing both sides of the story, that the number of abortions in South Dakota will be seriously and drastically reduced, which of course is admittedly is an objective of this type of legislation," state Rep. Roger Hunt told the Christian radio program VCY America in an recent interview.
Besides requiring women to visit CPCs, HB 1217 would also require doctors to develop an analysis of "risk factors associated with abortion" for each woman. Critics of this measure say it is intentionally vague, and may expose abortion providers to lawsuits. The Nebraska legislature passed a similar measure last spring, but a federal judge threw it out it last July after finding that it would "require medical providers to give untruthful, misleading and irrelevant information to patients" and create "substantial, likely insurmountable, obstacles" for women seeking abortions. Pro-choice groups in South Dakota are hoping that, should this bill become law, it will suffer a similar fate in the courts.
As written, HB 1217 would force women to be "pounded to a pulp emotionally, psychologically" after they have already consulted with their doctor, says Sarah Stoesz, the president of Planned Parenthood for the upper Midwest. "This is not about options. This is about brutality," she added. "By the time [women] are 72 hours away from their procedure, they have already made their choice." Under a 2005 law, the state already requires doctors to read a script to women that states that an abortion "will terminate the life of a whole, separate, unique, living human being."
In South Dakota, where Stoesz's organization is the only abortion provider, the new law would also create a significant logistical burden. Extending the wait time and requiring a woman to consult first with the doctor, then with the CPC, and then meet with the doctor again before obtaining an abortion isn't exactly easy in South Dakota. Planned Parenthood flies in a doctor once a week to its clinic in Sioux Falls, and women may have to drive up to six hours to reach this lone clinic offering abortion services. But if you take Rep. Hunt at his word, those sorts of barriers to access are exactly what HB 1217's supporters have in mind.