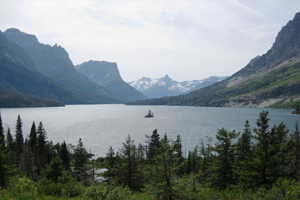 Fight disinformation:
Sign up
for the free
Mother Jones Daily
newsletter and follow the news that matters.
This week, global warming is getting some love from Montana State Rep. Joe Read, a Republican, who has introduced legislation claiming that "global warming is beneficial to the welfare and business climate" of his state. Yes, that's the same state where Glacier National Park is currently melting. Scientists predict that the park's glaciers could disappear by 2030 or even sooner.
Read, who believes that global warming is natural and not caused by humans, did not immediately return a call requesting comment. He did, however, speak with Think Progress's Brad Johnson and expressed par-for-the-course GOP skepticism about the science behind climate change:
The science is driven by grant money. It's all on the side for writing studies that global warming is happening. There's nothing on the side that says I wish to write a paper that global warming is not an issue. Money has been flowing into the grant purse.
He also told Johnson that he's opposed to "pushing the agenda of global warming," which is "about directing levies and fees for carbon credits so the federal government gets an income source" and "potentially could destroy the economy of Montana and the United States."
State Rep. Mike Phillips, a Democrat and vice chairman of the Fish, Wildlife and Parks committee, told Mother Jones that "the whole notion that we will somehow benefit from climate change is absolutely ludicrous and this bill is a waste of the Legislature's time."