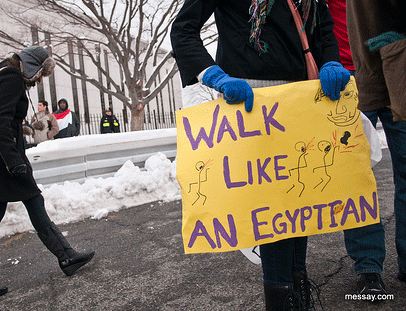 Fight disinformation:
Sign up
for the free
Mother Jones Daily
newsletter and follow the news that matters.
One cause of the revolts in Tunisia and Egypt is popular outrage over the monopolization of wealth by a small cadre of elites. The grievances of the Middle East's dispossessed probably seem justified to most Americans, who view the the region as a relic of feudalism and stomping ground for despots. But what about America itself? As has been widely noted over the past few days, income inequality in the United States is actually much worse than in Egypt, Tunisia, or Pakistan. Could the US government feel the push of inequality's domino effect?
The too-simple answer is that the US is immunized to unrest by its comparative prosperity. Over at Economix, Catherine Rampell presents a fascinating graph that illustrates how America's poor are, as a group, about as wealthy as India's richest. Yet those arguments neglect some of the major disadvantages of being modestly middle class in a wealthy country: A much higher cost of living and a perceived need to keep up with the Joneses, which fueled the explosion of subprime home loans that caused the recession.
"Global unemployment remains at record highs, with widening income inequality adding to social strains," Dominique Strauss-Kahn, the chief of the IMF, said this week during a speech in Singapore, citing turmoil in North Africa as a prelude to what may happen elsewhere. "We could see rising social and political instability within nations—even war."
He wasn't just talking about banana republics. While India and China have mostly bounced back from the recession, the recovery in the United States has been more uneven, with corporate profits skyrocketing despite entrenched joblessness. "The recovery that is underway is not the recovery we wanted. It is a recovery beset by tensions and strains—which could even sow the seeds of the next crisis,"Strauss-Kahn said. A recent paper (pdf) by two IMF economists warned of "disastrous consequences" if developed economies continue to neglect their eroding middle classes.
While certainly no solution to inequality, the tea party, with its seething anti-establishment resentments, is clearly a product of it. Time will tell whether its quixotic brand of populism gives way to a fiercer kind of class warfare.